These recipes were contributed by Le'Andre "Lee" Jones , a Burleson resident, and originally appeared in the BurlesonNOW June 2015 issue.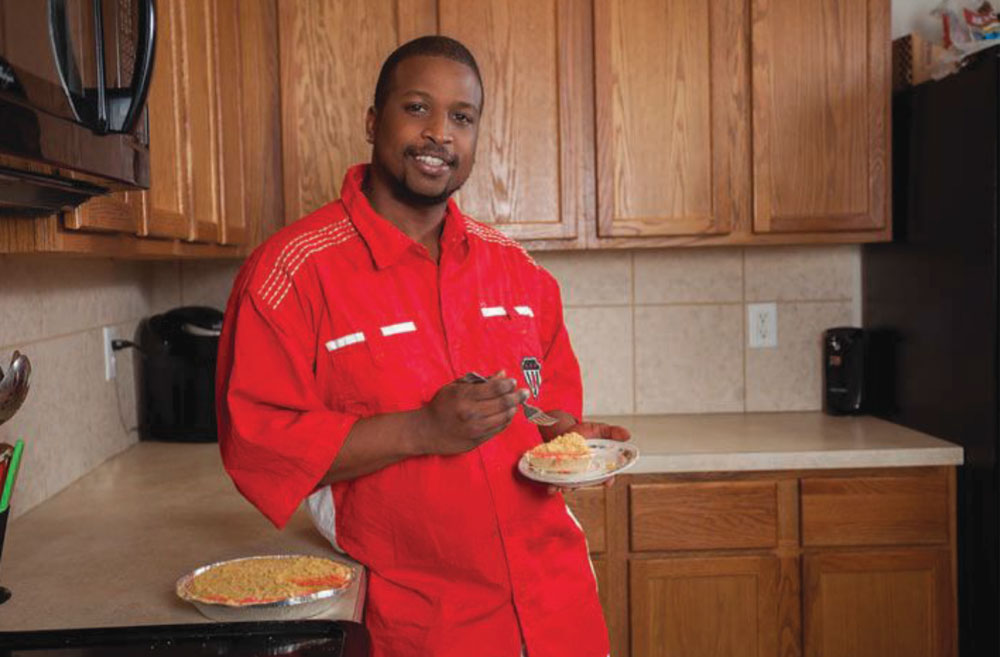 Kool-Aid Pie 
1 8-oz. block cream cheese
1 14-oz. can sweetened condensed milk
1 13-oz. pkg. strawberry Kool-Aid
2 9-inch graham cracker crusts
In a bowl, mix cream cheese with condensed milk.
Once blended, add strawberry Kool-Aid. Mix well and spread into 1 graham cracker crust.
Crunch up the other crust and sprinkle as much as you like atop the filling.
Cover and refrigerate at least an hour, until firm enough to slice and serve.
Seven-layer Salad
1 head iceberg lettuce
8 eggs, hardboiled
1 large red onion
1 large jar Kraft mayonnaise
1 big bag frozen peas, defrosted and drained
3 cups sharp cheddar cheese, shredded
8-oz. bacon bits
Wash and dry each leaf of lettuce.
Peel eggs and slice in rings. Slice onion in rings.
Using an 8×10-inch pan, layer all ingredients. Start with lettuce, followed by spreading mayonnaise on as though you're icing a cake. (The more you use, the easier it is to spread.) The rest of the ingredients may be layered in whatever order you desire, making sure you end with lettuce, shredded cheese and bacon bits.
Chill in the refrigerator or serve immediately.
Mac & Cheese 
12 oz. Velveeta
1 cup whole milk
4 oz. cream cheese
2 Tbsp. butter
1/3 cup flour
4 Tbsp. black pepper
2 Tbsp. salt
1 Vidalia sweet onion, chopped (optional)
1 quart water
1 1-lb. box elbow or shell noodles
In a saucepan, combine dairy products with flour and seasonings; stir over medium heat until cheeses and butter have melted and all is blended.
Turn heat to low and stir until thickened. If desired, add chopped, sautéed Vidalia onion.
Once cheese mixture is on low, start boiling water for the noodles. Continue stirring cheese sauce to ensure that it does not burn on the bottom of the pan.
Preheat oven to 375 F.
Cook noodles in boiling water to al dente, firm and not soggy. Drain. (Continue to stir cheese sauce while noodles are cooking.)
Pour noodles into a deep cake pan; spread creamy cheese sauce over noodles.
Bake uncovered for 30 minutes, or until the top is golden brown.
Lee's Marinated Ribs
3 slabs pork spare ribs or baby back ribs
3 12-oz. cans Jumex Papaya-Pineapple Nectar
1 12-oz. can Jumex Mango Nectar
12 oz. Mrs. Dash Garlic Herb Blend dry rub (or dry rub of your choice)
Using a covered marinating container, soak ribs in the two nectars overnight. The ribs must be fully submerged. This ensures moist, tender meat with no injections or tin foil wrapping.
About 2 hours before eating, take ribs out of the juice and rub them down with the dry rub. For salt-free seasoning, use Mrs. Dash Garlic Herb Blend dry rub.
Grill slabs, uncovered, over a charcoal grill brought to 275 F to 300 F. Cook 1 1/2 to 2 hours, or until meat reaches 165 F.
Fresh Vegetables 
1 gallon water
2 large bags green beans (or your choice of 2 large bunches fresh collard or turnip greens or 1 large head cabbage)
2 large smoked ham shanks
2 Tbsp. salt
2 Tbsp. pepper
Fill a deep pot with water.
Chop vegetables, if necessary, according to which ones you choose to prepare.
Add smoked ham shanks, seasonings and vegetables to pot all at the same time. Bring to a boil.
Turn temperature to low and cook for up to 2 hours, until vegetables are at your desired tenderness.