These recipes were contributed by Stephen Boynton, a Granbury resident, and originally appeared in the GranburyNOW June 2015 issue.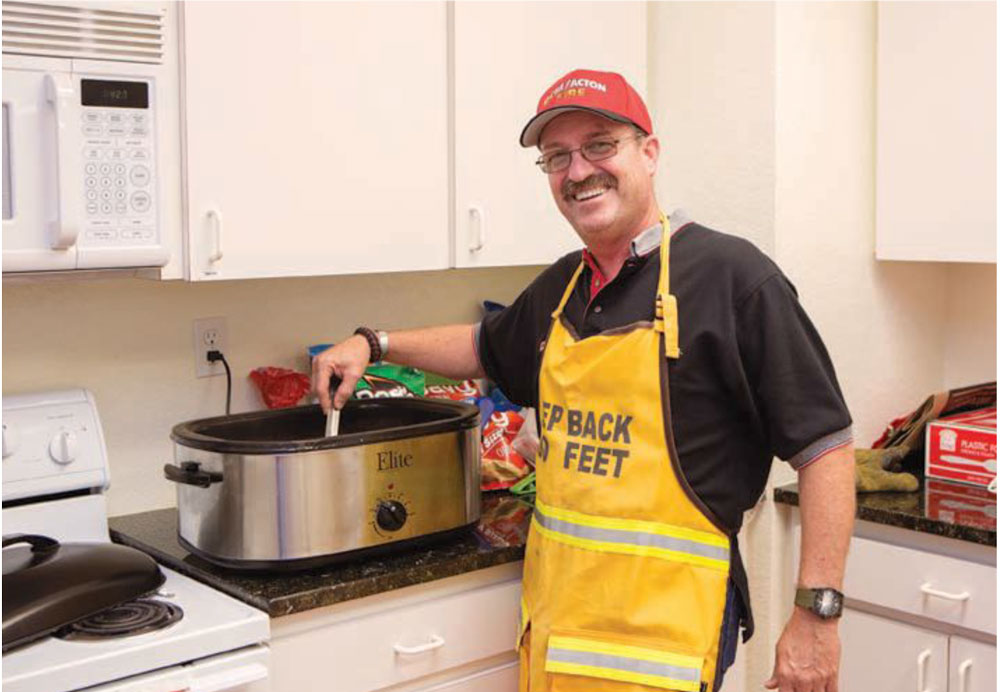 Captain Ridlehoover's Hot Sauce
Makes approximately 1 gallon.
Handful of serrano peppers
10-15 jalapeño peppers
1 medium onion
1 bunch green onions, tops and all
1 bell pepper
1 tsp. cumin
1 Tbsp. cilantro
1 tsp. seasoning salt
1 tsp. chili powder
1 tsp. garlic salt
1 tsp. black pepper
3 15-oz. cans crushed tomatoes
1 8-oz. can tomato puree
Boil peppers until they change colors.
Blend all ingredients, except tomatoes and tomato puree, in a blender.
Mix with crushed tomatoes and tomato puree.
Easy Peach Cobbler
2 cups flour
2 cups sugar
2 cups milk
2-4 tsp. baking powder
1 29-oz. can sliced peaches
1 stick butter
1 Tbsp. cinnamon
Mix flour, sugar, milk and baking powder in a bowl. Pour mixture into a 9×13-inch baking pan.
Pour peaches on top of mixture after draining off some of the liquid.
Melt butter and pour over peaches. Sprinkle cinnamon on top.
Cook for 1 hour at 350 F.
King Ranch Beef
1-2 lbs. ground beef
1 small onion, chopped (optional)
2 10.5-oz. cans cream of chicken soup
1 10.75-oz. can Ro-Tel tomatoes
1 bag tortilla chips, or 24 corn tortillas
12 oz. cheese, shredded
Brown beef, with onions, if desired, and drain excess grease.
Add soup and Ro-Tel. Heat until mixed thoroughly.
Line a 9×13-inch baking pan with shredded corn tortillas or crushed chips.
Pour beef mixture into pan, spreading evenly.
Add a layer of tortillas or chips on top of beef mixture. Cover with cheese.
Cook at 350 F until it starts to boil up the sides.
Crock-Pot Chicken Tortilla Soup
4-5 boneless skinless chicken breasts
1 can mild green chilies, diced
1 onion, diced
2 15-oz. cans diced tomatoes
2 cloves garlic, diced
1 tsp. cumin
Salt and pepper, to taste
2-4 cups chicken broth
One bunch cilantro
12 corn tortillas
1 cup cheese, shredded (optional)
Put chicken in a Crock-Pot. Add chilies, onion, tomatoes, garlic, cumin, salt, pepper and half the broth. Cook on high for 3-4 hours.
Remove chicken and shred using fork tines (chicken will be hot).
Add shredded chicken and rest of broth, cook on high for 30 minutes to 1 hour.
Just before serving, chop cilantro leaves and add to the soup.
Cut tortillas into small slices and arrange in servings bowls. Pour soup over tortilla strips. Top each serving with cheese, if desired.
Chicken Stuff
2 small chicken breasts
2 10.5-oz. cans cream of chicken soup
1 10.5-oz. can nacho cheese or cream of cheese soup
1 onion, chopped (optional)
1 12-oz. pkg. extra-wide egg noodles
1 box crackers (optional)
1 bottle Tabasco Sauce (optional)
Grill or boil the chicken breasts and shred.
Combine soups in a skillet, using medium heat. Once heated, add shredded chicken. Slowly heat until it is evenly mixed. Chopped onion can be cooked with soup/chicken mixture.
Cook and drain the noodles. For a larger volume meal, you can double the egg noodles. Combine with chicken mixture in the noodle pot. Mix well and serve. Crackers and Tabasco Sauce are great additions to the meal.