What is art? Merriam-Webster says it best: "Art is something that is created with imagination and skill that is beautiful or that expresses important ideas or feelings." Rae Whitehead, Ninth Grade Academy's visual arts teacher, is art in the human form. She takes the dictionary's definition out of the book and brings it to life each day for her students. "I guess I was born with an artistic gene," Rae admitted. "My grandmothers and my mom were all crafty. My dad is a creative problem solver, and so was my grandfather." As one can see, she comes by her love of all things art naturally.
Rae had aspirations to study to become a band director, but after her freshman year in college, she knew without a doubt that was not the career path for her. During her sophomore year, she took an art class that woke up the artistic monster within her. Not long into the course, her instructor gave her words of encouragement that served as confirmation. She changed her major and graduated with a BFA in art education from Texas State University.
When it was time to put her education to work in a classroom, Rae returned home to the district from which she graduated. Her teaching career began at Waxahachie's Ninth Grade Academy, and it's been her home away from home ever since. "My time of student teaching was spent with junior high students, but when I got to my own ninth grade classroom, I knew I was where I was supposed to be," Rae shared. "Ninth grade students are trying to find their way in high school as freshman."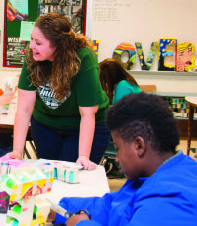 Being able to take on responsibility and own the choices they make as students is important in Rae's classroom. Throughout the year, she will instruct her students on the fundamentals of each phase or area of art, then it's up to the students to take what they've learned and add their imaginations and artistic abilities to produce a beautiful and, in many cases, meaningful piece of artwork.
Rae begins each new school year with foundations units that include 2-D design, 3-D design, color theory and drawing. 2-D design teaches students how to make a good composition. "The artwork needs to be visually appealing," Rae explained, "and interesting for people to look at."
Each of her classes during the day will incorporate the same art lesson, but the way Rae teaches each class will vary because each group of children is different. "The abilities vary with each class and, sometimes, with each individual student," she reiterated. "I gear what I say and how I say it to accommodate the group of kids in front of me at the time. It takes me at least a month at the beginning of the school year to understand all my students."
The understanding comes as Rae builds the early one-on-one relationships she feels are important when tapping into a child's creativity and artistic ability. "I think teaching art allows me to develop these relationships faster than any other subject I could teach," Rae said. "I get to move freely around the room as I talk to the students." If students meet her requirements — process and effort, not final product and grade — they will be successful in her class. And the most difficult part of her job is trying to convince her young artists there is no "one right" answer. "It's difficult for them to understand that one student's answer or completed artwork can be different from another's," she stated. "In my class, individuality is a plus!"
Rae does have the ability to "write her own curriculum" as long as she addresses and includes TEKS. She has guidelines to follow, but she is not limited to the sequence in which they are taught. As the first semester begins, students are given a sketch book that actually becomes their personal art book. Rae has been keeping her own sketch books for the past several years as visual examples for her students, and these books are a testament to her vivid imagination and talent in all areas of visual arts.
Methods shared in the first semester include lessons on pencil and shading, basic composition rules, color theory and available mediums. Pencil and shading teach students value and depth, while basic rules teach them how to put things together for interest. During color theory units, Rae instructs on how to mix colors using the three basic colors found on the color wheel, plus black and white. Mediums include colored pencils, watercolor pencils, collage, oil pastel, chalk pastel, acrylic, print making, water color and painting with coffee and tea. As students learn each new method, they draw, paint or create a sample in their sketch books. "I give them the techniques, and then tell them to play," she added. "They get the chance to be creative." Every element and principle learned throughout the school year has its own page in their sketch books.
Some of the more popular methods Rae has incorporated into her lesson plans include stop motion animation, decalcomania, plastic bag printing, zentangles, the history of graffiti and steampunk, the most recent art form directly related to the evolution of students. Stop motion animation is similar to a digital flip book. Decalcomania is the art of drawing over tinted glue after it's dried. Zentagles are made up of millions of different patterns, but students focus on just 16 in class. The students' assignment is to create four individual tiles using at least five of the 16 patterns per tile and a pattern can only be used twice within the four tiles. "I teach them how to break down any pattern they come across by practicing on 16 of them," she explained further. Steampunk art mixes modern ideas and technology with those from the past that are based on steam power prevalent in the 19th century and taking place in a recognizable historical time or a fantasy world.
Each of the mediums taught and learned requires students to use their imagination. "I try to expose them to as many techniques as I can to, hopefully, inspire them to want to continue on," Rae said. "I personally don't have a favorite method. I love to play with new things I find. I experiment, and then I introduce it to the students. My joy comes when I see faces light up with each new media introduced."
Rae has found that some students love it all, while others may not. The same goes with art criticism. One person can love the piece and another might not. "Teaching them about art criticism helps students think about multiple solutions," Rae impressed, but this has proven to be one of the hardest things for her ninth grade charges to grasp. They want only one right way, and art is not that cut and dry. Art really is in the eye of the beholder.
Written by Sandra Strong.