Some people have a knack for taking the ordinary, everyday routines of life and turning them into something extraordinary. Bonnie Lloyd is one of those people. She is a native of Waxahachie and a graduate of Waxahachie High School. Since 1995, she has worked for the Waxahachie Independent School District. After a few years working in the area of food services, she accepted an assignment as a crossing guard for Northside Elementary. Her son, Russell, was in sixth grade at the time, so this was the perfect way to make a little money since she was already taking him to school. Russell would grab Bert, their little dog, every morning to ride along. The two would wait in Bonnie's Explorer until she completed her duties.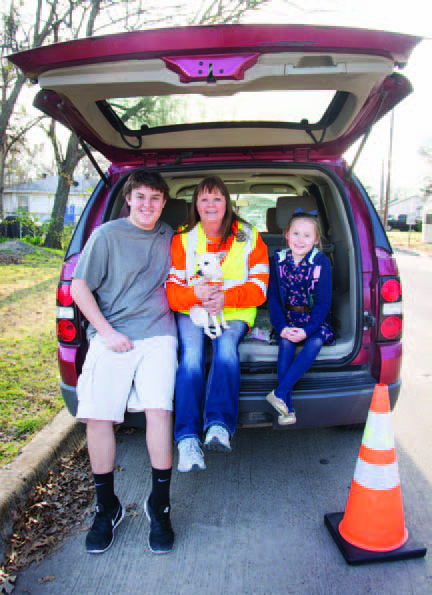 Each morning, Bert would stand up in the window and bark as people passed. Many would stop and be playful with Bert as they were walking their kids to and from school. Moms would stop to hold him, and he would lean in waiting for a little kiss. Some people would bring their own dogs to stop and visit with Bert and Bonnie. Eventually, Bonnie got Bert a crossing guard outfit made especially for his unique physique. "Even though my son graduated a few years ago," Bonnie said, "Bert would follow me to the bathroom each morning, climb onto the vanity and sit in a begging position until I asked him if he wanted to go. He would then wait patiently at the door."
He would become so sad when she had to leave him at home because of the heat. People would always notice when Bert was not there. Little Bert became a relationship-builder between Bonnie and the community she served. Before long, people were conversing with her and sharing their stories of pets and life. While visiting with people each day, she would learn about difficulties they were facing. While some might have gone on their way after completing their duties, Bonnie went the extra mile. She would take time to help wherever she saw a need. One memory Bonnie shared was about a young boy who would come by looking very sad. "He would tell me if he got in trouble or if his grades were low," she remembered. "I began asking him about his day, and he began showing me his report card."
She began to encourage him and ask him how he was doing from day to day. The next report went from D's to B's. "He was proud, and I was proud," she said. Now, this little boy has grown up and walks his own child to school each day, greeting Bonnie and Bert along the way. Another time, while waiting for children to come and cross, Bonnie spotted a cat carrying kittens from a place underneath a part of the school building to a tree across the street. One by one, the cat carried several kittens, climbed the tree and put them in a nook. Carrying the last kitten, the cat hesitated as if tired.
Bonnie took off running, anticipating the tired mother dropping her kitten, and created a soft landing in her cupped hands under the branch. "I became attached right away and took it, his brother and sister home with me," Bonnie remembered. Sometimes, parents park over by her Explorer and walk their children across. This is how she became friends with one particular parent who became seriously ill and was unable to pick her child up from school for a while. Bonnie offered to take the child home until things were better.
While waiting for Bonnie to be finished at the end of one particular day, this student shared with her that she was being teased by some children because she had difficulty pronouncing some words. "She would say things like twee instead of tree," Bonnie explained. "So each day, we worked on her speech. I'll never forget the day she ran into her house, announcing to her mother that she could say the words correctly." A couple of years ago, Bonnie learned that one of the students was wanting to collect baby hats for the preemies at a children's hospital. Within a few months, Bonnie was able to make 40 hats in the wait times between helping students cross the street. Last year, she was able to crochet over 100 hats as Christmas gifts for the men and women of the Pleasant Manor Nursing Home. She also managed to complete a blanket for "Team Penny" and has even made pillowcases for a terminally ill unit of a children's hospital to brighten up their day a little. One of her fondest memories is of the late Larry Bright.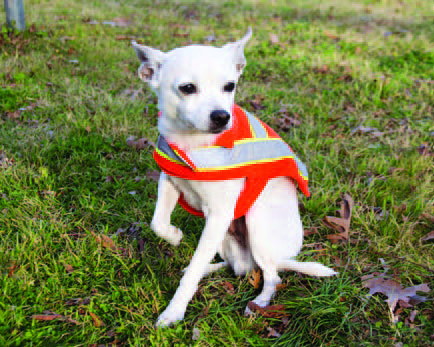 He would bring his granddaughter to school each day, say hello to Bert, and when he had gone out for breakfast, he would bring Bonnie breakfast, too. Mr. Bright was one of our city's finest — a police officer. He valued Bonnie's service to the point that, after getting permission from the district officials, he ordered her an official "Crossing Guard Badge." After he unexpectedly passed away, Bonnie felt privileged to give his granddaughter a ride home each day at the end of her duties. When Bonnie sees a need, she meets it. "At times, I have noticed the trees growing over the One Way signs the parents need to see to know where to go, or scraping the tops of buses as they pass," she said. So, she and Russell would find time to cut or trim the limbs.
She remembers one time when she and her son kept twisting and twisting a dangling branch that could have been a danger, until they finally got it down. Recently, Howard Junior High was added to her crossing guard schedule. She is carrying on the same tradition of serving the community by building relationships and doing more than is required. And once again, Bert already has quite a following. "One day a child just looked so distraught after her mother dropped her off," Bonnie said. "I asked her what was wrong." The student told Bonnie that she left her badge in the seat of the car and was going to be in trouble. Bonnie immediately pulled her cell phone out of her pocket and let the student get in touch with her mom, so she would bring the badge, and she did. "I felt so relieved that the student was able to relax and go to school without worrying," Bonnie admitted.
Whether directing traffic, removing limbs, saving cats, taking students home or just being a listening ear, Bonnie has been a local hero on her assigned corner of Waxahachie. Her little pal, Bert, has been the door opener of many opportunities to be more than just a crossing guard. "What started as a job of convenience," Bonnie said, "became a job from the heart."
Written by Debbie Durling.