Almost everyone thinks about traveling through time, but in reality none actually do so.
From its vintage beginning, a very special, filmy, beauty of a dress actually did travel through time and space, finally stopping in Ellis County as part of the Traveling Dress Project. The journey began mid-century, and the gown journeyed until it stopped in a secondhand store in Minnesota, where photographer Gianella Simon purchased it. Smitten, she posted a photo online, and it began to go viral.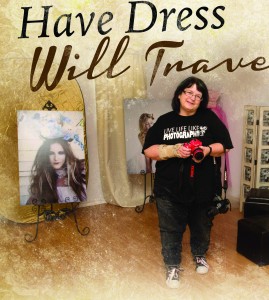 In the meantime, a woman in Palmer named Barbara Becker never dreamed she would become a photographer. But dreams start with ideas, and this one started with a red Pentax camera that caught Barbara's eye as she shopped online for Christmas one day. Although artistic, Barbara hadn't bought a camera in years. But she clicked "add to cart," and the rest is history. Today, Barbara still shoots with an upgraded Pentax camera. Her full-time photography business operates out of a recently completed studio near her home.
And in the corner of that studio stands a stunning photo of the Traveling Dress. "What really makes my heart sing is my art," Barbara shared. "I believe each person's story is powerful."
Barbara's opportunity to photograph the dress came out of her continuing online education in photography. Gianella posed a question in a photography forum that Barbara followed: "What if we shared this dress, a la the movie, The Sisterhood of the Traveling Pants?"
"Gianella had that question up for maybe five minutes," Barbara recalled. "And I said, 'Oh, I'm on it. I wanna play.'" Interest grew swiftly worldwide, and in 2014, the Traveling Dress Project was born.
The passion drew top-tier photographers whom Barbara was excited to associate with. The end result will be a book featuring photos taken by over 100 photographers, each one supplying their own artistic flair. "This was an opportunity for a lot of us to push the envelope of our skills," Barbara explained, excitedly.
As butterflies work their way out of a chrysalis, so Barbara's dress photo idea went through a similar metamorphosis. "I had plans and concepts spilling out. I spent sleepless nights with my brain rolling," Barbara noted.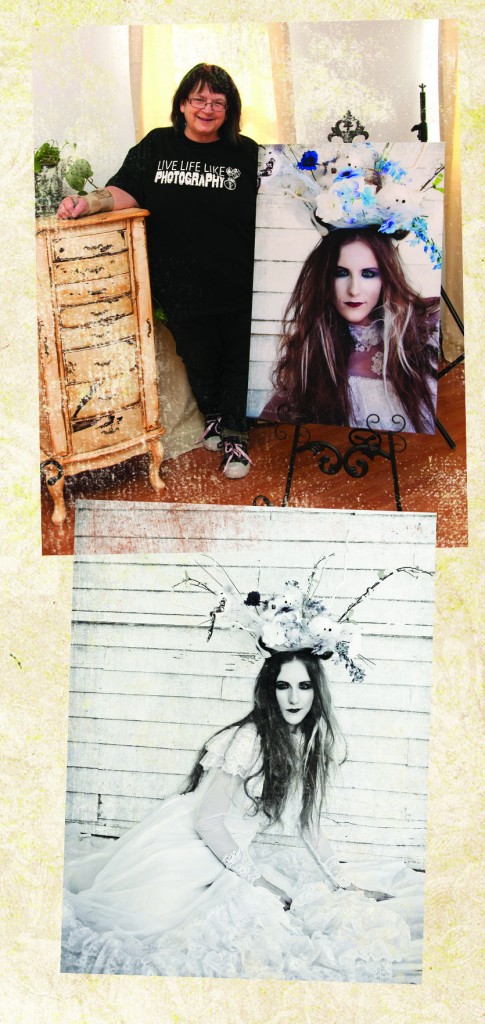 "My first thought was about the whole zombie thing. I'm really attracted to juxtapositions, like a beautiful, flowing dress with a zombie in it." But creating the living dead presented a makeup problem for the fragile, high-necked dress. So the plan turned into a witchy snow queen, a more avant-garde look.
Then Barbara's scheduled shoot was moved from March into July. Now, the snow queen became the woodsy, witchy queen. On shooting day, the temperature measured over 100 degrees, and the location was the old Nash Schoolhouse near Avalon, which has no air conditioning. Barbara's husband, Roy, her unofficial assistant and self-described "mule," remembers dumping ice on his head that day.
Nevertheless, Elizabeth Cooper of Fort Worth, their 23-year-old model, loves the heat and was cool and calm on the day of the photo shoot. A first-time model, she was natural for the part. "I had a really good time," Elizabeth pointed out. "I liked the creepy, dark idea. That was an easier character to play."
Elizabeth's entry into this story began with Roy asking her an awkward question: "You don't have to answer if you don't want to, but what size dress do you wear?" Roy and Elizabeth both work at Longhorn Harley-Davidson in Grand Prairie, and Barbara received no answers to her Facebook model call, primarily because of the tiny nature of the dress, which measured 17-inches across the shoulders. But true to her personality, Elizabeth took the question in stride and shrugged as she answered, "Eh … a size 2." It was a perfect match. Elizabeth's long, rippling hair didn't hurt, either. So it was agreed. As Barbara's vision for the shoot began to unfold, another important character came into play — her trusted hair and makeup artist, Jessica Brodski of Dallas. "I'm really fortunate to have Jessica. She gets my concepts. She knows what I'm thinking," Barbara indicated.
Barbara and Jessica connected via the planetary nature of Facebook, and it was a fit from the start. The two clicked, and Jessica appeared sight unseen to help. Jessica does everything for the shoots, from hair and makeup to adjusting clothing and even holding reflectors. "It becomes a kind of dance between us," Barbara mused. "We feed off each other, and the concept grows. She's my right-hand person."
That dance for the Traveling Dress began with more traditional glamour photos, taking advantage of the antique piano and the blackboard in the schoolhouse, and progressed toward edgier shots. The headpiece changed from a massive creation on an upside down lampshade to the final version, which was 2 feet tall, contained a bird, a squirrel and a hedgehog, and had branches that passed beyond the frame of some photos. But Jessica could not get the headpiece to stay on Elizabeth's head. So Barbara and Roy ripped it apart and reworked it. "I was finally able to secure that headpiece with extra hair extensions, a lot of bobby pins and pure will," Jessica remembered.
And when all was said and done, Elizabeth was pleased with what she saw. "I think the photos are beautiful," she breathed. So Barbara's shoot was finished, and the photos are gorgeous, but the loveliest part of this tale is the generosity it inspired. Proceeds from book sales will benefit Operation Smile, a not-for-profit organization that provides free surgeries to repair cleft lip, cleft palate and other facial deformities for children around the globe.
This idea is close to Gianella's heart, since her own daughter was born with a severe cleft lip. Although medical insurance covered most treatment expenses for them, Gianella cared deeply about other parents not so fortunate. The dress concept provided an opportunity to address that need. "Every child deserves to smile, and every parent should see that," Gianella mused. The spirit of giving is infectious, and Barbara was bitten, too.
A few years ago, her grandfather asked Barbara to do photos for a high school senior who couldn't afford to pay. The experience impacted her. "When I walk away from a photo shoot thinking, 'I nailed those shots!' that's wonderful. But when I walk away thinking, 'I nailed those shots and the mom is crying because I met a need,' that's the best," Barbara reflected. In that spirit, Barbara plans to contact local high schools and ask counselors to recommend a deserving high school senior to receive a complimentary photo shoot, a gift from the heart.
"Photography is an emotional connection for me," Barbara pondered. The Traveling Dress Project will wrap in December 2015. Gianella plans to have the book released by December 2016. Once the project is complete, the story of the dress will most likely be remembered for years to come.
Written by Stephanie Marchbanks.