For Tommy Brisco, every moment is about quality. From his 81-year vantage point, he has no regrets. "If my life ended tomorrow," he said, "it's been a good trip."
Making several drives each week on behalf of people who receive Meals on Wheels, Tommy sees roadrunners almost every day. As he travels, musing on the wonders nature exhibits, he gives thanks. "It's easy to see God through nature. There are some things that couldn't happen without somebody to create this," Tommy said. Tommy's ready for good conversation when he carries meals provided by Hood County Committee on Aging, cooked fresh at the Hood County Senior Center. "I go away feeling great, because they want company," he said. "The majority of the people I deliver to are having a meal delivered because they retired and then sat down." Tommy's plan is to stay active, and he works out at the fitness center at least three days per week to stay flexible and in shape. When bad weather is forecasted, Tommy and the volunteers for Meals on Wheels take their clients a frozen meal the day before. "The old-timers can make do with a little sandwich or gravy. Sometimes, they even have good neighbors who will check on them," Tommy said.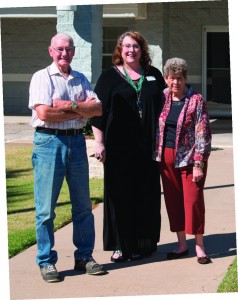 Tommy's warm, caring hugs and honest sense of humor result in memorable friendships. He recalls Reba, who was crying one day when he brought her meal. "She asked if I had time to listen to her for a minute. I drug up a chair, and she started unloading all her problems on me. 'I don't have medication money. I have Meals on Wheels partners, Edna Myers and Tommy Brisco, also enjoy dancing together. to pay people to take me to town and to get me food.' Everything had piled up on her. Then, in a sarcastic voice, she said, 'I'm getting so fat my legs won't hold me up.' I said, 'You're not fat. You're too short. If you were 6 feet 4 inches you'd feel fine.' She said, 'Have the doctors had it wrong all this time?' and started laughing." On Tuesdays, Tommy volunteers as a chaplain at the hospital. "I've been fortunate in being able to help families, do the funeral for them, whatever they need," he said. "It's the same way on the route. I've had occasions to speak with people about faith."
As long as Tommy can stay active, he will do for himself and others. "If my health continues and I take care of my body like I'm supposed to, I think I'll keep on going quite awhile. When my wife passed away, I found a lot of things in the house I didn't know we had: a vacuum cleaner, a mop, a dishwasher," he joked. In all seriousness, though, and with great care, he continued the work Bettie Brisco had started. Bettie married Tommy on April 12, 1952, when Tommy was 18 and Bettie was 30 days older. After four years of roughnecking across the country, Tommy was drafted into the Army and spent a year in Korea. Meanwhile, Bettie worked at some of the cafés in and around Granbury, getting to know all the old people in town. After the war, Tommy began a 34-year career with Bell Helicopter. As a family, the Briscos visited older people. "Valley View Nursing Home was originally owned by the three doctors who were in town, and I started church services for them there years and years ago," Tommy said.
"Our kids were raised in the nursing home, and those people wanted to see our kids, not me and Bettie!" When Bettie and Margo Johnson started the local Meals on Wheels, the Briscos were living on Cherry Lane, near the drive-in theater Margo owned. First, they cooked meals in their own kitchens and delivered them to people they knew who needed meals.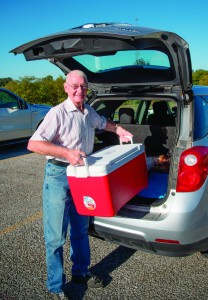 Later, they got meals from the hospitals and delivered them. Around 1966, Hood County's new home demonstration agent initiated organization of the two women's efforts. Francis Burkes helped write up bylaws and became the first director of Meals on Wheels. Forty-one years ago, they began operating as a senior center out of The Shanley House, using delivery vans that had been purchased from the Texas Highway Department. After about three years, the larger American Legion Hall became base of operations.
Up to 110 people could fit in the dining hall, where many seniors came to eat lunch, play bridge and even dance a line dance. Volunteers like Joann Cooper and Esther Umphress joined with Bettie Brisco and Margo Johnson to recruit other givers to take phone calls, deliver meals and serve others. By 1995, they were running out of room.
Tommy retired in 1996 and joined the board. In addition to going out and working on people's houses, repairing their cars and helping do things they couldn't afford to do, the board found 7.5 acres and borrowed money from The First National Bank to build the Hood County Senior Center. Fifteen years ago, Meals on Wheels moved with their amazing group of volunteers into their new building on East Moore St. Tommy lost Bettie in 2000 and still served four years as president. He rotated off the board after two terms and continued delivering meals. He helps with whatever Meals on Wheels needs, from fixing ice machines to making announcements during the Thursday Night Dance.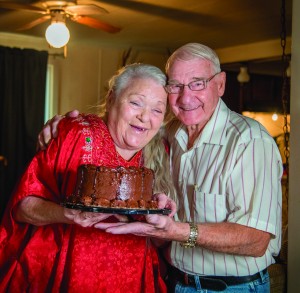 Open to the public, the dance raises operational funds to match commitments from First National Bank, churches like Granbury Church of Christ, First United Methodist Church in Acton, the Catholic Organization and many other generous organizations and individuals. "Our board is doing a fantastic job of keeping the bills paid," Tommy said. "We're feeding anywhere from 75-150 up here per day, depending upon weather and a lot of things that vary with seniors. And on the 16 delivery routes, we serve 175-225 people each day." Meanwhile, Tommy stays active. Although he had never danced in his life, he challenged himself to learn for the sake of his girlfriend, Edna Myers. "She had been my Meals on Wheels delivery partner, and we've been seeing each other nine years. She had danced all of her life, and I felt like a fool out there and had convinced myself I couldn't learn," Tommy said.
In his woodworking shop, he'd take a break from turning beautifully polished pens, switch his radio on and practice with a broom handle. When a fellow dance student taught him to lay his hand on the amplifier, Tommy finally heard the beat. That was five years ago. It's been easy for him ever since. Everyone enjoys watching Tommy dance. And his favorite thing is watching all the givers who support the Hood County Senior Center.
Editors Note: For more information about the Hood County Senior Center, visit www.hoodcountyseniorcenter.org.
Written by Melissa Rawlins.