Whether she's elbow-deep in Styrofoam or playing Ping-Pong with 88-year-olds, Paula Benjamin is smiling.
This world traveler learned the value of positivity early in life, and people who know her well catch her enthusiasm for making things happen. A self-taught artist with a can-do attitude, Paula has served the city of Burleson for 18 years, ever since Peter Krause, director of parks and recreation, hired her to be recreation supervisor. Her role has included athletics and special events. In fact, it is Paula who has coordinated Santa's Breakfast from its inception.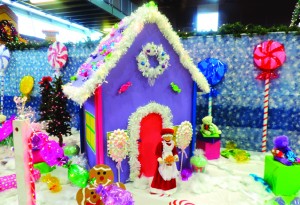 As recreation supervisor senior division, she also directs ever-evolving activities at the city's senior center. She was prepared for this service through her work with the Department of Defense, Morale, Welfare and Recreation (M.W.R.), in exotic places like Iceland and Hawaii. She saw the world, partly because opportunities came her way, but mostly because she decided to walk forward and be happy. Born in Detroit, Michigan, Paula was the eldest girl in her family and grew up in North Carolina. "I was taught at an early age to go out there, work hard, persevere and put a smile on my face. It is a whole lot better to be happy and move forward in life," she said.
A planner by nature, she knew it would be important to choose a good husband. As it turns out, the choice she made for Mark Benjamin opened doors to her career in recreation. Mark served in the Marine Corps, which took them to Keflavík, Iceland. That's when she started working for M.W.R. When they transferred to Hawaii, she worked for M.W.R.'s visual art department on the Marine Corps base in Kaneohe Bay.
"The director, who was an engineer, could actually build a mechanical bear from scratch," Paula said. "That director taught me how to look at things in a different way, and take ordinary things and create extraordinary things."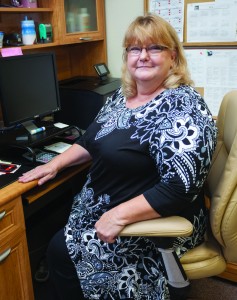 This opened up worlds of fun for Paula. "Because I always loved art and painting, those jobs requiring my creativity also developed it," she said. Since 1997, when her husband's final transfer to Carswell brought the Benjamins to Fort Worth, Burleson citizens have benefited from the on-the-job training Paula earned — especially at this time of year, when hundreds come to Santa's Breakfast and tour the tiny town that Paula discovered how to make from bargain-priced construction foam. Peter Krause and David McDowell, Paula's immediate boss, brainstormed early on with Paula about how to produce more fun, family events in Burleson. "Peter wanted me to be able to create things inexpensively, while David, an extremely creative person, has helped me come up with creative and successful ideas," she said. "I'm very blessed to have bosses who give me the freedom to create."
Santa's Breakfast grew out of their vision to give children a chance to sit on Santa's lap and have their photos made with their parents. The wait is enjoyable, as the long line wraps around and through a dozen snow-flecked displays of a fantastical Christmas town at the BRiCK. All this is created year-after-year by a team of volunteers and city employees from the Parks Department and Recreation Department, who help Paula bring it to life. Beginning the first Tuesday in December, the Parks Department brings to the BRiCK gymnasium the framework of the Winter Wonderland.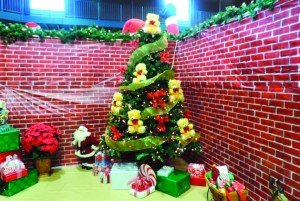 After its installation, Paula, Jessica Mack and Recreation Department staff put final touches on the Winter Wonderland and Santa's Workshop. The finished product owes much to Paula's skill in seeing beyond the ordinary. The gingerbread house is built of Styrofoam that is transformed with paint and glitter to create the image of an edible house.
The train is also Styrofoam, and boxes create the resemblance of miniature train cars engineered by Santa himself. "The edible-looking candy lights are made of clear sandwich containers, cellophane and clear lights to give them the appearance of lighted candy. Lollipop row is made out of PVC pipe and Styrofoam," Paula explained. The team's creativity helps the city keep costs down while still serving breakfast for kids and their families.
On Saturday morning, while Santa interviews the children, Peter whips up pancake mix, David and volunteers cook them, and other staff and volunteers serve the breakfast.
Meanwhile at Paula's office, December is one of the Senior Center's lighter months. After the holidays, the center hosts programs and activities daily. "Most of the Senior Center's special events happen toward the spring," said Paula, who is already looking forward to the spring fashion show. But this month, she and volunteers are producing two special events. The annual Christmas Luncheon is a day when choirs come to sing for the seniors. And on December 12, their doors swing wide to the public during a huge craft fair. "The reason the Senior Center does so well is because most of our programs and activities are led by the seniors. Bingo, as well as all of our classes, from quilting to crochet, knitting, line dance and exercise classes — all of those are done by volunteer seniors," Paula said.
Dorothy and Earl Walker conduct karaoke at the Senior Center on the second and fourth Tuesdays of every month. They also produce the craft fair every December. "Without creative volunteers, events like these would notbe possible.
Dorothy is a very creative person in her own right," Paula said. "I came to this position at the Senior Center about three years ago and inherited this  craft fair, which Dorothy invented about five years ago. She and I expanded it to almost 70 vendors." Handmade crafts from artwork to quilts to paper crafts and even jewelry adorn the Senior Center. "The vendors and audience are mostly seniors.
However, more families are becoming vendors and also participating in shopping opportunities at the event. Earl and Dorothy work hard as a team with full support from the Senior Center staff." These patrons are in the golden years of their lives. "They tell you their life stories, the happy and sad. They're just happy that we have a place they can come to every day to participate and have a good time," Paula said. "We have a woman who is 88 years young, walks with a cane and is one tough cookie. She was one of the first ladies I met here, and she is still as sharp as a tack.
She has a dry sense of humor that makes me laugh. She is just one of the attendees who has made this job a joy." The seniors she works with encourage Paula, often giving her new ideas. One who appreciates Paula's philosophy for success brought her the sign she displays on her office wall: The only disability in life is a bad attitude. In Paula's world, inspiration is inevitably mutual.
Written by Melissa Rawlins.