RED OAK, TX — When Robyn Jefferson learned to crochet as a young girl, it was just one of many things in which she had an interest.
As a result, crocheting was replaced by other endeavors, and the young woman eventually found herself in the family business as a pharmacy technician. It would be many years and take a family crisis for Robyn to return to her crochet pastime. "My father is a pharmacist and CEO of U.S. Drug Mart Inc., with two stores in Ellis County. Pharmacy was in my blood, so I became a pharmacy technician and worked with him for all of my adult life," Robyn explained. "Five years ago, my mother fell and broke her hip and hasn't walked since. Dad asked me to leave the pharmacy and become her caretaker, and that is what I do to this day." But like pharmacy work, crocheting is also in Robyn's blood. "All of my grandmothers and great-grandmothers on both sides of my family, my mother and many other female relatives are crafty women. I crocheted some when I was young, and then put it down for many years. When I began having grandchildren, I picked it up again," Robyn said.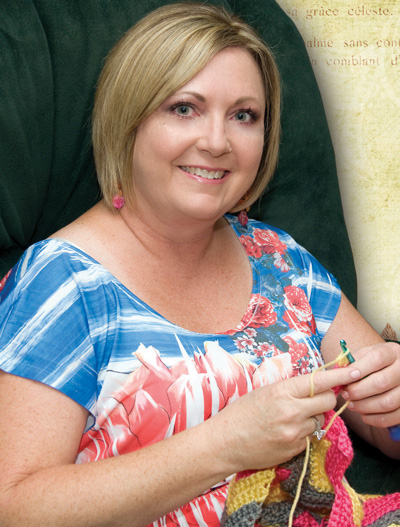 In 2010, Robyn's granddaughter, Maceyn, was born at Methodist Mansfield Hospital. While there taking care of her daughter, Robyn began to be noticed by the nurses who saw her crocheting. "They asked if I could make demise hats. I didn't even really know what that was, so I asked. The nurse explained that when babies are born very prematurely and don't make it, they like to have a hat to place on the tiny heads of these precious angels and take their pictures for their parents," Robyn said. "Then they give the hat as a gift … a remembrance of their baby."
Nurses told Robyn to make hats that would fit a golf ball. "My heart sunk. I began making them and was able to produce about a dozen before we left. This was my saddest but, definitely, most rewarding project," Robyn said. Ironically, it was a project in which Robyn would quickly be involved again. "We had noticed some unusual behavior in my new granddaughter while we were still in the hospital, but she was still released. A couple of hours later, we found ourselves at Cook's Children's Hospital with a seizing newborn," Robyn recalled. "After coding only moments after our arrival, the doctors and nurses began caring for Maceyn for a random brain bleed she had had seven to 10 days before her birth. To this day they cannot determine the cause."
The family spent the next five weeks at Ronald McDonald House across the street and every waking moment in the hospital's NICU. Maceyn had brain surgery at 21 days, and Robyn used crochet to survive the most trying moments. "Needless to say, I needed something to occupy all that time, because without it my mind wandered places it didn't need to wander," Robyn said. "We weren't alone there though — of course God was with us throughout, and we made so many new lifelong friends. We prayed, counseled, cried, rejoiced, laughed and crocheted hats for about 70 or so of the other babies there with us!" Robyn admits she is still honing her craft and said the biggest initial challenge was learning to read the patterns for her crochet hats. "I have a dear friend from England who has helped me a great deal, and YouTube has been an awesome way to learn, as well," she said. "There are several artists on a website where I get most of my patterns that I admire. One day, I hope to be able to see an image in my head of a creation I'd like to make and then just be able to make it — to write my own pattern."
Because she loves her creations, Robyn admits she can be too obsessive about their perfection. "It is very easy to 'fudge' stitches in crochet. You can cover up almost any mistake, and unless you are very skilled at crochet yourself and really look, you'd never know it was there. But if I find a mistake, I pull out every stitch needed to get back to it to do it right. I just can't let it go," Robyn said. "I uncrocheted almost as much as I crocheted at first, although I'm getting a little less compulsive!"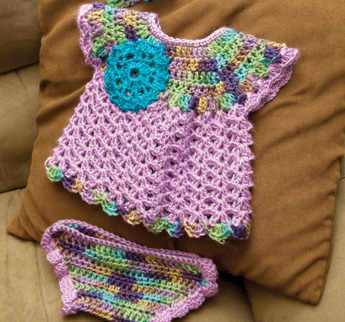 In fact, her confidence has grown enough that she now offers custom products through her small business, Robyn's Caring Creations — A prayer in every stitch. "I love creating things that make people happy, and I love all of my projects. But baby hats would have to be my favorite!" Still caring for her mother, Robyn said the only thing that interferes with her creative time is life: laundry, cooking, cleaning, eating, sleeping, etc., but she appreciates the moments she can find to crochet. "Everyone is so busy, and we are such a techno-driven world, crocheting is one of many lost arts. Sewing, letter writing and even the art of conversation are among the things we are losing," Robyn said. "To me, a perfect world would be from back in time — simpler, more family-oriented societies in which moms could stay home and pass down the handiwork they'd learned from their grandmothers," Robyn said. "We can always dream, right?"
One way Robyn makes that dream reality is being there for the daughters she calls her biggest successes: Heather, Lora and Kara. "They are all beautiful, Christian women raising wonderful children with their husbands. And I get to be 'Bubby' to all the grandkids!" Robyn said. Plus, she can pass along the hobby inspired by her granddaughter — now a healthy, happy 3-year-old — and use crochet to bring joy to others. "I'm interested in the lives of the people I crochet for — their stories, their loves, their joy and sadness. I used to only crochet for my family, but now that family just grows each time I make something for a special time in someone else's life," Robyn said. "To me, a cute item that fits and brings a smile is all the success I need. And that comes through with a prayer sewn in every stitch!"
Written by Angel Morris.