CORSICANA, TX — Having a mother who taught piano lessons and directed a church choir helped define Zeno King's lifelong love of music as a passion and vocation.
"I'm one of the few kids who grew up with two pianos," he recalled. His mother's musical career also played an important part in Zeno's choice of a wife. He met Anita Massey in his family's Mexia home, where she took piano lessons.
In high school,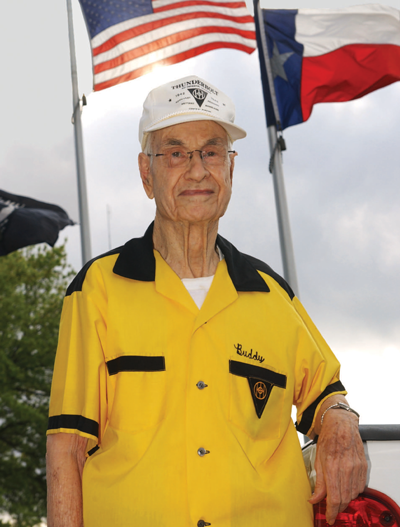 . "I was Annapolis bound," he said. But that all changed during the required physical exam, when his eyes didn't measure the required 20/20. Instead, he found a place in the Southern Methodist University Mustang Band on full scholarship, while working on a music degree. Anita, a flautist, was at nearby Texas Woman's University until there was a need for her talents in the SMU band. "I think Anita may have been the first woman member of the SMU band," Zeno said. They shared a life together for 61 years of marriage, until her death in 2001.
As a young couple their life together was interrupted, as with so many young people of the 1940s, by military service during World War II. After basic training, Zeno went into an Army Air Corps band in Victoria, TX. He showed such talent that he was soon sent to the U.S. Army School of Music at Fort Myer near Washington, D.C. As a newly minted chief warrant officer, Zeno was ordered to create "the finest band in the world" for the 83rd Thunderbolt Infantry Division and serve as its leader. Soon,
Zeno and his band members were crossing the Atlantic Ocean to England, where they performed in parades and concerts every day.
Those days came to a close with orders to leave England without their musical instruments. Instead of a director's baton, Zeno had to pick up his rifle with fixed bayonet. Historically, military band members become warriors, stretcher-bearers and provide security, when needed, as they were when the 83rd hit Omaha Beach as part of the Allied D-Day Invasion at Normandy, France, June 6 through mid-July 1944.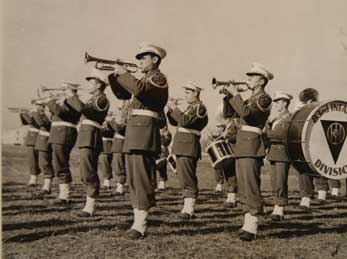 Zeno remembered having to prepare to go ashore while many of the troops were still seasick from the crossing of the English Channel. Then things got worse. "We were right in the middle of it," Zeno remembered. "Three band men and a medic were assigned to each stretcher. We wore the Red Cross on our helmets and cloth arm bands. The terrain was awful with the dead and shell holes," Zeno recalled. "It looked like every plane in the world was flying over our heads." In all, 21 of the 56 men in the band were captured or wounded at Omaha Beach. The Army's official count for the 83rd Division numbered 3,620 deaths and 11,807 men wounded during WWII.
The Allied troops broke through German defenses and headed for Berlin under the command of General George S. Patton. Zeno and his men served in different capacities during that time. Over 26,000 German soldiers had surrendered and become prisoners of war. The band members ran a POW camp and aided in the transporting of POWs. Zeno remembered the Americans could get 90 prisoners into trucks or use "40 and 8" railway freight cars. "I'm not sure whether the name came from 40 horses and 8 men that could be loaded into one car or the other way around," Zeno commented.
Another duty performed by band members during that time was to act as security for the headquarters of the 83rd Division. By the end of WWII, the 329th Infantry Regiment, a part of the 83rd, had the distinction of being the closest U.S. troop unit to Berlin, just 30 miles from the city. Patton remarked of the 329th, "That's the finest body of soldiers I have ever seen in the field." Zeno remembered talking with Patton on several occasions.
The band was relieved when their instruments arrived during the occupation of Europe by U.S. troops. The band took charge of about 100 Hungarian musicians. Among them was Sári Barabás, a famed coloratura soprano. "We put together a show and went all over Germany one summer," Zeno remembered. "They all spoke English and were very well educated." The band also played for what turned out to be one of Patton's final reviews of the troops in July 1945. "We were wearing new chrome helmets. Patton saw a Purple Heart and Silver Star on the coat of one of the trombone players and came over to hug him," Zeno said.
The time came to return home to Texas. Zeno moved to a National Guard band unit, but otherwise had no job. He went back to SMU and not only got a job offer to become an assistant band director, but completed his degree. He returned to playing trombone professionally in bands as he had done prior to joining the Army and, for a short time, was a high school band director. "Anita and I didn't have anything. Poor didn't even begin to describe us," he said.
"In the music world, I was known as 'Buddy,'" Zeno said. During the Big Band Era, he played with orchestras led by Durwood Cline and Ted Weems. "We played lots of dances. You came to the bandstand, hair cut and combed, shaved, tuxedo cleaned and pressed, shoes shined and took your seat on time ready to play. I loved it," Zeno remarked. "I was never that good a musician, but I knew a lot of them," Zeno remembered.
Zeno also had a 20-year career in the life insurance business. He and Anita bought a wholesale farm supply business in 1969 and moved it to Corsicana in 1981. Later, they "retired" to ranching in neighboring Freestone County. He now enjoys spending time with his sons, David King and wife, Carol, of Jefferson, Texas; Stephen King of Dallas; and Lindsay King and wife, Shannon, of Corsicana. Zeno has eight grandchildren, "I was a part of one of the finest divisions ever created in the Army."
15 great-grandchildren and two greatgreat-grandchildren. Family and his service to his country make Zeno proud today. "I was a part of one of the finest divisions ever created in the Army. He and Anita have gone to many of the 83rd's reunions. Zeno recalled, "Anita was adopted by everyone who ever met her. We met the most wonderful people in the world in the Army and became lifetime friends. It was an experience!"
Written by Virginia Riddle.