BURLESON, TX — Brandon stepped off the football field as a freshman in high school. Exhausted and sweating from almost eight minutes of a half-time performance, he turned, faced the field, and realized everything he'd done that entire month suddenly made sense. At that moment he knew he wanted to play trombone for the rest of his life.
Those intense moments of love for music reappeared many times. Eventually, he decided playing the trombone meant more to him than simply continuing through high school. He began thinking of music as a career.
Rudy Salazar and the band directors at Crowley High School influenced much of his decision to pursue a music degree, especially Kenneth Iyescas. Beyond teaching students how to play an instrument, he taught them about the piece itself. Explaining the story behind the music helped the band understand the feel of the composition, bringing depth as they played and captured the composer's emotions. "Mr. Iyescas made it fun," Brandon said.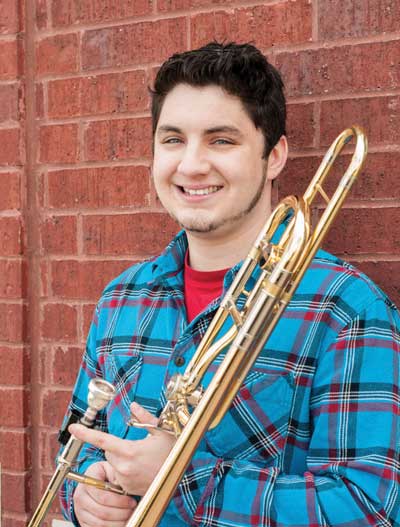 The trombone is the only brass instrument that uses a slide. Originally called a sackbut, a trombonist moves the slide to one of seven different positions to play the correct note. As with any brass instrument, the ability to buzz the lips with a strong embouchure brings the sound to life. By moving the slide, the musician lengthens or shortens the tubing, producing lower and higher sounds.
Playing the trombone is a challenge for younger students with shorter arms. Most kids grow into the instrument as they get older and their reach expands. Brandon recalls the difficulty he had as a new player in the seventh grade.
"When I first started playing I could not reach seventh position," he said. "You have to get your arm all the way out. Even today, I'm fully grown and have to stretch and use my fingertips to reach it."
The soprano trombone, slightly smaller with a higher sound, is an instrument of a different key than the tenor version Brandon plays. While most brass musicians read music from the bass clef, the soprano trombone must play notes from the treble clef. It often requires the trombonist to transpose music, requiring additional work and skill. Brandon hopes to learn the soprano trombone someday, in addition to the one he already plays.
A successful trombonist practices buzzing his or her lips, but having a long arm helps too. Many hours of practice improve the quality of not only hitting notes, but also the sound. Brandon spends an average of two hours every day practicing songs and basic fundamentals.
He first learned about trombones when high school students came to his school and played, trying to spur interest in band. He thought the trombone looked cool. When he tried out for band in seventh grade, they allowed the students to choose five instruments and provided testing to see which fit best. On a scale of one to 10, Brandon scored 10 on all of his choices. Torn between French horn and trombone, it finally came down to a coin toss — and ultimately deciding which looked coolest.
The trombone proved a wise choice, as he immediately began winning UIL (University Interscholastic League) competitions. His first year, he chose a class 3 solo, the easiest level, and ranked a one — the best he could score. By the time he reached his freshman year, Brandon tried out with a class 1 solo for the first time. Although he made a one again, he hadn't memorized the solo, so he was ineligible for state competition. During his junior year in high school, Brandon memorized the solo and advanced to state.
Playing the trombone isn't Brandon's only talent. He also plays the piano and sings. Seeking an outlet for singing, he performed in school musicals. His friends told him, "You should join choir." For years, he resisted the idea, but as he moved into his senior year, he agreed. As a part of choir, he had the option to enter the UIL solo competition. At this competition, he received the prestigious Outstanding Soloist award, given to only two percent of students competing.
That year, he made fifth chair in the Region Choir. Advancing to state competition, Brandon earned a fourth chair seat. With the vocal accomplishment, he completed the UIL trifecta, a rare achievement. He made first chair in the Region Concert Band and fourth chair in the Region Jazz Band with his trombone.
After graduation, Brandon registered at Hill College as a dual music major. "I cannot choose between choir and band. I love them both," he said. Applying for the Clara Freshour Nelson Scholarship, given by the Texas Association of Music Schools, required producing a 10-minute CD displaying his ability as a solo trombonist.
He picked up a solo he had performed before and started practicing, sometimes seeing 4:00 in the morning while working on it. Mr. Lowe, his band director, timed the solo. With three minutes left, he asked if Brandon wanted to include something vocally on the CD. He chose to add the solo he had performed at state UIL competition his senior year.
An agonizing summer of anticipation ensued, waiting for a decision. One day he got the call saying he won the scholarship. "It was amazing," Brandon said, "one of the coolest moments of my life. I'd honestly never done anything bigger than that." Winning the scholarship represents the greatest thing this young man has done. Not satisfied, he wants to keep getting better.
While his parents always supported Brandon and somehow found money for band trips, the scholarship will help him fulfill his dream of attending the University of North Texas (UNT). He will soon transfer, where he plans to obtain a Bachelor of Music as a trombonist with a secondary in vocal studies. He will continue and earn a master's degree. Then, following Mr. Iyescas footsteps, he hopes to spend several years teaching at a high school or perhaps college level before returning in pursuit of a doctorate. "It's one thing to study things and learn from books," Brandon stated. "But you're not gonna have all you need to be a teacher without experience." He wants to sit back, conduct and do what he loves to do for as long as it takes.
Brandon and some friends have a jazz trio and play locally. He always spots one kid, mesmerized by the instruments, moving past only because his mom pulls him along. He remembers feeling that way. Someday that child may grow up to be a great musician or just love music because of a band director. "I was one of those students — I want to be one of those teachers," he said. "One of my favorite quotes says, "Find a job you love, and you'll never work a day in your life." Teaching music will undoubtedly be the job he loves.
Written by Lisa Bell.