MANSFIELD, TX — Sustainable living, maintaining links to the past, and setting a foundation for the future are important to Eddie and Mary Phillips. They live in a recycled home on a large plot of land in Rendon, and they are working to restore downtown Mansfield to its former beauty with a combination of art and restoration.
Eddie, who has worked for his family's specialty painting business since his teenage years, and Mary, a writer and artist with a master's degree in botany, have been working with Discover Historic Mansfield to make downtown an area where people will gather as a community, especially for the arts and music. "If you look at places where there's a high quality of life, you find that they have strong neighborhoods. Discover Historic Mansfield is determined to make downtown the art scene for this area, and the projects we're working on will help make Mansfield stand out," Mary said.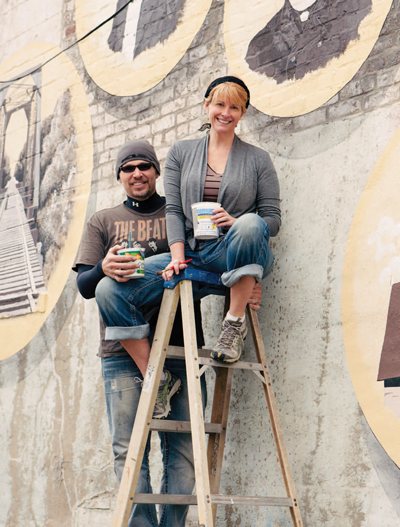 Eddie and Mary have created and placed Welcome to Historic Mansfield signs on the north and south sides of downtown, store signs and murals on the Mansfield News-Mirror building, the back of the Chamber of Commerce building and in other places. They are also painting storefronts using a historically accurate color palette to restore the area to how it looked when it was the center of the community.
"We want the view from Main Street to be historically accurate, so we're using the right colors," Mary explained. "We're also being careful of the color palette so each building has its own individual character."
The project is much more than just a coat of paint, however. Eddie paints the store signs freehand. He has finished painting three of the storefronts and has several more planned. The facade at 120 Main Street was covered with aluminum in the 1970s. Eddie pulled off the siding and restored the cast-iron pillars on the building. "That was a tough job," he said. "The next jobs on our list are painting the front of Frosted Pink and putting a mural on the back of the building and restoring the tin ceiling in Dr. Robert Smith's waiting room, then adding a mural on the back of his building."
Mary met Eddie in July 2000, shortly after moving to Texas. She wanted to refinish her home and hired him to do some specialty painting. As they worked on projects around her home, they realized they worked well together, and their neighbors began hiring them to do work at their homes. "I think we've painted a mural in every house on the block," Eddie laughed. Before meeting Mary, Eddie had done just about every kind of painting possible, from cars and the restoration painting in Sundance Square and the gold leaf at the Worthington Hotel in Fort Worth, but he had never painted a mural. "With his knowledge of tools and techniques and my vision, we've done very well," Mary admitted.
Eddie, Mary and their four children moved to Rendon a few years ago to live on his family's land there. They created a sculpture garden and art center where they could build something for and contribute to the community. It was important to Eddie's family that the land remains in the family. Eddie and Mary have bought more land around it, piece by piece, to its current seven acres. "We have so much space we wanted to do something creative. What's the fun of having seven acres if you're just going to mow it?" Mary asked. They have been building their home, affectionately known as their Bohemian Homestead, since 2005, piecing together old buildings purchased from Hester Home Movers. Currently, it is comprised of three separate buildings: a former Wienerschnitzel restaurant, a lake cottage and a modular home. They are expecting delivery of another building soon. "We drove up on the guy's lot and started buying buildings," Eddie said. "The Wienerschnitzel was decaying on the lot, and he begged us to take it." Also on their land are large organic gardens which reflect Mary's love for art and science.
As a graduate student at Appalachian State University in North Carolina, she researched heirloom crops that could help transition farmers' crops from tobacco to something sustainable. She focused on apples and found many varieties that had ceased to exist anywhere else. Her love of botany has carried over to her gardens, where composting and natural methods are the rule. "When we moved here, the soil was terrible, but I love a challenge. We are dedicated to organic farming, so we began sheet composting every bed," she explained. "We laid down cardboard, then added six tons of organic material, such as paper, leaves and horse manure. "Gardens are like people," May continued. "They don't look like anything you see on the cover of a magazine, and they're always changing. A garden is the best kind of art because it's four-dimensional. You have to account for time." Eddie is a skilled painter, but he also has a talent for building things. "If you can draw it, he can build it," Mary said. His medium of choice is metal, which he mixes with organic materials like glass and wood. He learned to weld on his first art job using metal, using the upfront money he received to purchase a welder. "Metal is like magic. There's nothing you can't do with it," Eddie said, his eyes sparkling. "You're limited with wood, but metal seems to defy gravity and will hold any shape. There's also the added benefit of it being easy to find in junkyards."
His medium became even easier when gas companies began building oil rigs and discarding hundreds of odd-sized pipe cuttings. The circles have become his signature style. "We blend man-made materials and natural ones, with male and female elements," Mary added. "You can't predict the course evolution is going to take." Eddie and Mary's connection between their land and downtown Mansfield is personal. They have formed a relationship with the merchants and people there that took time to cultivate, but it has been rewarding. "We've come to know the community, and that's very important in our world," Eddie stated. "Even with all our links to each other, people are missing the personal touch." "We want to participate in making historic Mansfield as interesting and vibrant as we can, because it's what makes it appealing," Mary added. "You can't predict the course evolution is going to take. You have to have faith that it will transform into the most desirable outcome, and we're trying to impact that final outcome in a positive way."
Written by Jeremy Agor.