GRANBURY, TX — Drive and determination are very apparent in Mariah Rendeiro's personality.
The Granbury High School senior has a schedule full of activities: from serving as captain of the Color Guard to winning awards for her science projects. Mariah excels at most everything she attempts and enjoys the challenge.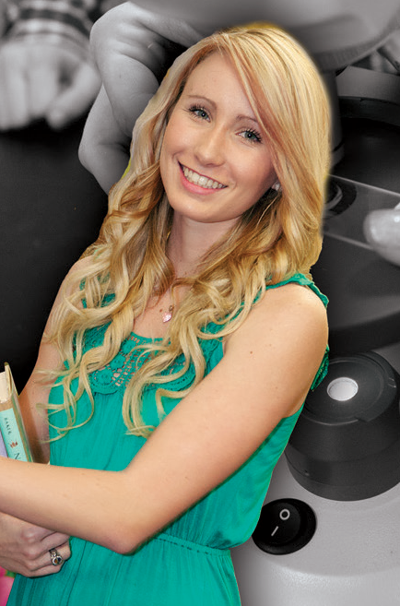 With a 4.7 grade point average, Mariah is ranked eighth in her class. "I'm a very driven person, and I will not come home and just not do my homework. I've never been able to do that and don't think I ever will be," she confessed. Most of Mariah's school work comes easy for her. She likes to write and really enjoys math. "When I finally figure out how to do it, I feel so accomplished and so happy that I just want to do it over and over again. Solving the puzzle is a reward for me. I just love it. And, science is the same. I love to learn new things and try to figure out things other people didn't know about."
At the Intel International Science and Engineering Fair in Pittsburgh, Pennsylvania last May, Mariah showcased her science project. She tested three different iron compounds on phytoplankton to see which one would cause the biggest bloom. "When phytoplankton bloom, they take large amounts of CO2 out of the water, which in turn pulls it out of the atmosphere. So, the way I saw it is that it would be a possible solution to reverse global warming." Iron nitrate worked the best, and she is continuing her research on how it affects a marine environment. Mariah has a tank set up at school with live rock, shrimp, starfish and hermit crabs to continue work on her project. She hopes to eventually use her research in the real world to reduce greenhouse gases, such as carbon dioxide, from the environment. "Regardless of whether someone believes in global warming or not, there is an increase in greenhouse gases. Ultimately, that's not so good for our health," Mariah remarked.
Although she didn't win any awards at internationals last May, she received the prestigious Walden Woods Project Global Environmental Leadership Award at a ceremony in Boston, Massachusetts, the following month. She was recognized for her research and got to meet President Bill Clinton and singers, Don Henley and Sarah McLachlan, at the awards ceremony.
Mariah will be going off to college in the fall and is looking to major in environmental science. Her goal is to attend medical school, but Mariah wants to have an environmental science background as a backup plan. She could then use that experience to go into environmental engineering to design products to help the world use the environment as a resource without a negative effect. She encourages more women to get involved in math and science. "You have to be very motivated and very driven. And, you have to really want it, because it's a lot of work, and it always will be a "When phytoplankton bloom, they take large amounts of CO2 out of the water, which in turn pulls it out of the atmosphere." lot of work," Mariah said.
As president of the Health Occupation Students of America program at school, Mariah is involved in service projects, travels the region for competitions in speech and learns about different health professions. "I really like it a lot," she said. The group wants to work with a local elementary school this year on energy balance. "How to eat, what you should eat, how much you should do as far as physical activity," she explained. She also recently received her Gold Award in Girl Scouts, which is equivalent to the Eagle Scout rank for Boy Scouts. "It's a big deal to me," she explained. "Finally having it finished is really a relief and a burden off my shoulders. It's great to be able to put it down on résumés," she said. To get the Gold Award, she teamed up with Project-44, which grows fresh fruits and vegetables for local food pantries.
Mariah made signs to label the fruits and vegetables in the garden and also helped paint the well house on the property. Additionally, she's a member of National Honor Society and Key Club. Serving as captain of the Color Guard also keeps her busy. Performing during marching band season and in winter competitions has included some challenges this school year. "It's been pretty rough, but it's given me a lot of leadership experience. And, it's helped me learn how to deal with different kinds of people and how to work through tough situations." Mariah doesn't mind the challenge and really enjoys performing with the girls in their flag routines. "It gives me a way to express myself." With school work and extracurricular activities, Mariah has a busy schedule to keep up with, but she takes it all in stride. "It gets really stressful at times, but I'm the type of person who always likes to be doing something. I know I'm a teenager, but I don't like to sit down and just watch TV. I don't like to be lazy all the time. I have my days where I don't want to do anything," she chuckled. "Sometimes I have to make sacrifices. But, I do what I can," she explained. "The experiences I gain from all these things are worth it in the end." Her parents, Manny and Nancy Rendeiro, are a big support for Mariah, and she doesn't think she could do it without them. "She's hard to keep up with," Manny said. "We're extremely proud of her. Everything she does, she does well," he said. "She's just an awesome young lady."
Mariah likes to spend free time with her younger twin brothers, high school sophomores Neal and Nolan, and her older sister, Melissa, who works at Granbury TV. Mariah also likes to curl up with a good book. "It's another escape for me. I can get into a book and just get away from my life for a little while and be in someone else's." Mariah's upcoming graduation doesn't seem real to her. "I can't imagine starting over," she said. She doesn't know for sure where she is going to college, but she hopes to make a decision this month. She has been accepted to the University of Notre Dame in South Bend, Indiana, and has gone on several interviews. Mariah has been offered full scholarships to Abilene Christian University and Angelo State University. Texas Christian University (TCU) could be another option. Mariah has an ACT score of 33, and she hopes to get TCU's Chancellor's Scholarship to attend there. "I love school, and I love to learn. If I could go to school and learn for the rest of my life, I would do that."
Written by Amber D. Browne.