RED OAK, TX — Since he cannot be everywhere at once, the real Santa Claus employs many helpers to assist him as he prepares his Naughty and Nice list. In Red Oak, the No. 1 assistant to Christmas' famed man in red is Jim Watterman, who first began reporting to the North Pole four years ago. "In 2008, I grew a beard for an Easter production at our church. I kept the beard, and as December grew closer, people started asking me if I was going to be Santa," Jim recalled. "Then while visiting my grandchildren in Newport News, Virginia, I met a local mall Santa. He told me where he got his hair done, so I had my hair done there as well. My grandkids' status shot up when the neighborhood kids learned Santa was their grandpa!"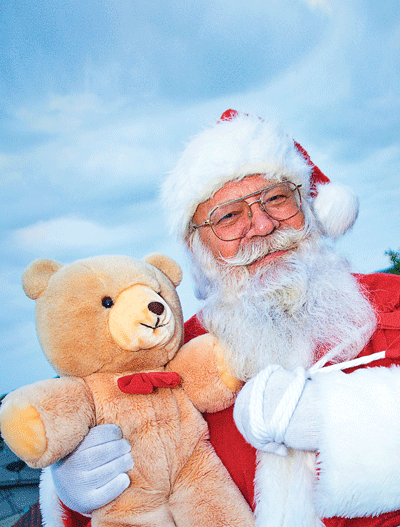 Long before earning his status as Santa's helper, however, Jim and his family moved to Red Oak in 1984. According to Jim, The Beauty Box Hair Salon was the only business and the Highland Meadows Assembly of God Church was the only church on Ovilla Road between I-35 and Hwy. 342. "Red Oak was a small, rural community, and we bought a four-bedroom house for our growing family," Jim said. At that time, Jim was a route salesman for Frito-Lay. From 1986-2000, his route was in the Red Oak/Waxahachie area and many people knew him as the "Frito-Man." Jim retired from Frito-Lay after 31-and-a-half years of service. Now he works on the maintenance crew for The Salvation Army's Camp Hoblitzelle outside of Midlothian.
Hoblitzelle Camp and Conference Center is part of The Salvation Army's worldwide Christian evangelical ministry.
According to its Web site, which outlines the facility's summer camps, retreats and divisional weekends, the organization's goal is to "share God's love with others by encouraging them to explore, discover and appreciate nature; providing quality service and clean facilities in a peaceful setting; and furnishing opportunities for fun, adventure and fellowship through social and recreational activities."
"I happened to go to church with the man in charge of maintenance at Camp Hoblitzelle. One day I asked him if he needed anyone's help, and he said, 'Yes,'" Jim explained. "I told him that I knew a little about plumbing, carpentry and nothing about electricity, but I did show up for work every day. He said if I showed up every day, he could teach me what I needed to know!"
Outside of his day job, Jim finds great joy playing Santa. He is a member of the Brotherhood of the Direct Descendants of Santa, a group out of Atlanta, Georgia, where he received his Santa training. The training covered many do's and don'ts such as, refraining from smoking and drinking while in costume. Another important rule is to make sure both hands can be seen while holding a child. "Don't make promises to a child," Jim noted. "Also, in preparing to go to a party, I go over any stories I'm going to recite and songs I'm going to sing. Santas are asked to light community Christmas trees, be in parades and help open businesses. I always want to be prepared to live up to the Santa name!"
Whether working community or corporate events, Jim's favorite part of portraying Santa is interacting with children. "My favorite thing is the little girl at my church who gives me a big hug every time she sees me," Jim said. "Most children's faces light up when they see me. They cover their mouths, and some will run to me and jump in my arms!"
In his few years working as Santa, Jim said the role is pretty consistent. The gift requests, however, are ever changing. "Being Santa doesn't change that much, but the gifts children ask for have changed from toys to iPads, iPods and Game Boys," Jim reported. There are always the expected questions about the "realness" of Santa as well. "I would not encourage parents to lie about Santa," Jim suggested. "When my youngest daughter asked me if Santa was real, I replied he was as real as she wanted him to be, and she was happy with that."
Working as one of Kris Kringle's right-hand men, Jim knows the tricks to help kids stay in Santa's good graces. "Children can remain on the Nice List by being respectful to their parents, doing their chores without complaining and being nice to others," he said. "Actually, it's very hard for a child to fall off the Nice List!"
When he's not busy helping Santa at Christmastime, Jim is a member at Ovilla Road Baptist Church. He also enjoys community theater in which he has been involved since 1986. "I love to sing and will usually sing to myself while working." Jim also sings to his wife of 41 years, Jeannine. "We have raised four children who still love each other!" Jim said.
Besides making sure Santa knows all about Red Oak's good children, Jim has a few goals: to sing the national anthem at a public event and to spend time with U.S. troops in Afghanistan. "And I have just recently met with a group called Lone Star Santas. I hope to get more involved with them and their charity work," he said.
Jim believes whether you're working with a charity or serving as an assistant to Father Christmas, the most important thing is having something in which to believe. "Why not believe in Santa?" Jim asked. "He is a good and wholesome person who believes in giving of himself and his wealth."
Written by Angel Morris.