GRANBURY, TX — The rumble of motorcycles broke the small town quietness of the Granbury square. While surrounded by festive Christmas decorations, shoppers stopped and looked. Six or seven tough-looking bikers roared along the streets. The leader, David Kimbrow, wore a Santa hat with a tail so long it flowed well past his rear wheel. The spokes of a tiny pink bicycle strapped behind the motorcycle of fellow rider, A.L. Warden, twirled in the wind, leaving onlookers wondering what all the holiday excitement was about.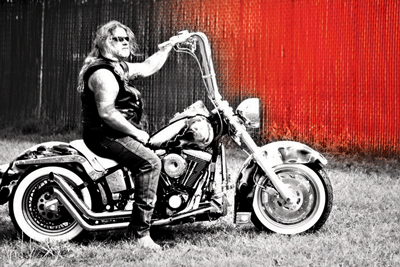 Mid-December marks the time for the annual Angel Tree delivery run. "There are a lot of hurting kids in Hood County," David said. He refers to children hurting because one or both parents are currently serving time in the Hood or Somervell county jails. And David doesn't want any of those children to miss out on Christmas gifts.
Not even a mean, protective dog kept him from making sure the kids had a good Christmas.
When asked why he takes on this project each year, David replied, "I once had a big ranch in Hico. Drugs took almost everything. One year, I didn't have any presents for my then 10-year-old son. My son told me it was OK. We had each other." No matter how big and tough he looks, the father's heart in this man ached for his son. Years later, a changed man, a passion for making sure kids don't hurt because of their parents' bad decisions drives him to collect and deliver presents.
A twinkle appeared in his clear blue eyes as David recounted a memory from a year gone by, when not even a mean, protective dog kept him from making sure the kids had a good Christmas. "I go to the dark places, where a lot of people won't go. One year, we went to deliver presents, our bikes all decorated for Christmas and wearing Santa hats. We roared up the gravel drive at one house, and a big pit bull met us," he explained. "He grabbed my pant leg and started shaking me. When the mother appeared I said, 'Hey lady, your dog's biting me.'"
"Yeah," she said. "Who are you?"
"I'm Santa Claus," I answered. "She finally called her dog off and let Santa make his deliveries."
Although larger prison ministries host Angel Trees each year, David uses his ministry to take care of kids close to home. Not affiliated with the larger organizations, David's church, Warriors for Christ, leads the local effort. Each year they go to the Hood and Somervell county jails, where nearly 250 inmates are housed. Many inmates have one or more children. The group gives questionnaires to the inmates and uses them when choosing gifts. They also provide a  card so mom or dad can write a note affirming their love. Sometimes, the bikers take pictures of the kids receiving their gifts, and then return to the jail and share photos. No matter what offense keeps these parents confined, they love their children. David understands, and he wants to see lives changed for the better. By meeting real needs, he opens a door for ministry to the parents. "If God can change me," David said, "He can change anyone."
No stranger to making bad decisions, David spent 10 years in and out of Texas prisons. When he left prison for the fourth time in 1991, he signed a statement acknowledging one more felony conviction meant a sentence of life without parole as a habitual offender. For a while, he stayed clean, but the pull of drugs beat down his resolve.  His brokenhearted mother never gave up praying for him, while his wife, Lesa, prayed with the strength of a mighty warrior.
One night, returning home from his parents' house, a hit-and-run driver met David's Harley Davidson motorcycle head on. A second vehicle ran over him, crushing multiple bones. Lying on the two-lane highway, David knew he was losing the fight to survive. One of David's employees drove by that night and stopped to help. He didn't recognize the nonbreathing, mangled mess as his boss.
Miraculously, David survived the crash, but remained in a coma and on life support for 10 days. When he woke up, his life changed radically. Free from drugs, he began attending church and ministering to prison inmates, joining well-known organizations like Bill Glass Prison ministries. Eventually, he and  Lesa struck out in faith and started visiting prisons all over the country. Covered with tattoos, and riding a Harley, David has an open door to conversations with bikers and inmates who won't listen to anyone else.
In 2006, David started a Bible study targeting bikers. The first Tuesday night amazed them as 76 people showed up. Within two weeks, the Bible study grew to 134 people. As a natural flow of events, the group formed a
nondenominational, Bible-based church, Warriors for Christ. People came in everyday clothes, without pretense, and found acceptance.
The ministry reaches out to the homeless and those transitioning out of homelessness, as well as people who were in prison, but want to live differently. His passion thrives from seeing the people's lives transformed. The fellowship plans to take 50 youth to a life-impacting event known as Winterfest during the early months of 2013. "We take our kids every year, and in 2013 we want to take youth who can't afford the cost," he explained. "We trust God to provide the means."
The small fellowship leads the Angel Tree project each year, but David loves community and church involvement. With so many children to help, the small group can't accomplish this effort alone. He invites local bikers to volunteer for delivering gifts, even if they don't attend any church.
Each year, groups of six or seven bikers take gifts all over the neighboring counties. Between December 15 and December 22, when traveling through these areas, you might see a big Harley with elk horns, twinkling lights or some other holiday decoration. A big burly man or petite woman donning red hats and leather may tote a bicycle or any number of gifts strapped to their motorcycles. Bringing smiles to many children, these angels in leather will hear familiar words. "If it wasn't for you, our kids wouldn't have any Christmas presents at all."
Editor's Note: For more information, contact David at (817) 964-5491 or Lesa at (817) 964-5492 or e-mail [email protected].
Written by Lisa Bell.