WAXAHACHIE, TX — Kent Brewer, one of Waxahachie's best known young painters, prefers to work in watercolor these days, but his earlier pen and ink drawings of historic homes and other locales continue to fascinate the public. These expertly drafted sketches capture the enchanting nostalgia that defines the Gingerbread City's identity.
"I love old homes and things in old homes," the Wichita Falls-bred artist said. "I have moved away from pen and inks because of how time consuming they are, but I'm thrilled to know people still admire and collect the house drawings I did."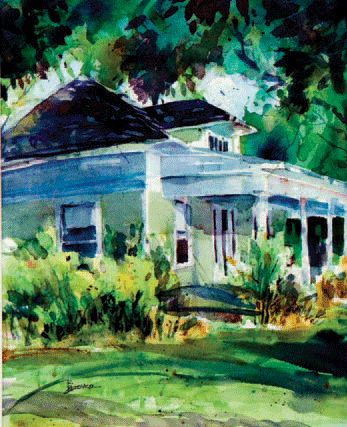 With wife, Tanya, Kent has lived in Waxahachie for 15 years, and their home, built in 1911, reflects their shared interest in history. The Brewers' home, once owned by
a former mayor in the 1920s, may also have inspired Kent in his pen and ink depictions of other structures around town. "I love the atmosphere of history we have
in Waxahachie," Kent admitted. "People really know their local history and are proud of their old homes and neighborhoods. In the historic districts here, if you tell someone your address, they know the house."
Aside from the local veneration of history, Kent loves the friendliness of the city's residents and merchants. "Everybody knows everybody else," he laughed. "That can be a good and a bad thing, I guess, but I think it's mostly good. Waxahachie is a good neighbor kind of town."
Tanya admires her talented husband's work, and although she enjoys history, too, she doesn't retain the facts and figures as well as her husband. "He remembers everything," she said. "The dates, the stories, all the information about a place, he takes it all in." The Brewers' son, 8-year-old Lawson, also respects his father's interest in art and history, but prefers his high- tech games to dad's more "antiquey" pursuits. Even the family's pooch, Gus, part Jack Russell terrier and part Beagle, gets into the act, recently posing for Kent in the backyard for one of the artist's first experiments in oil.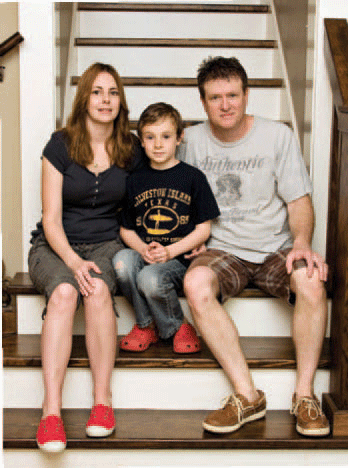 The ability to recall historical details served Kent well when he first started sketching many of the picturesque houses in Waxahachie. "I also had to be very precise when I did the drawings. You have to get the lines right. That's why I concentrate more on watercolor now. It's looser and more fun. I like the sort-of-sloppy result." But Kent is proud of his pen and inks, as much for their faithful rendering of local homes as for the importance of preserving heritage they underscore. In addition to running his own online art store, he maintains a Web site devoted to promoting local heritage, Waxahachie Preservationist, at www.waxapreservation.com.
Some of the private and public dwellings immortalized in Kent's drawings include the John Solon Home, built in 1894 by the well-known stone mason and landowner who emigrated from Ireland. "The home displays superb craftsmanship and is one of Waxahachie's most architecturally noteworthy structures," Kent said. This familiar house, which today sits in a bustling neighborhood, was once a rural location — a "four-mile buggy ride from town," as Kent said.
Some stunning departures from the Victorian tradition that he has sketched are the 1918 Whipple House, with its Prairie-style roof, and the brick-veneered Davis Hall, built in 1925 as a meeting place for women's civic groups. One of Kent's wife's favorite old homes in Waxahachie is the Trippet-Getzendaner House, an exemplary version of the Queen Anne fashion, which was built in 1895. Kent sketched the house for Tanya's 30th birthday.
In addition to being accessible for viewing on his Web site, Kent's pen and inks of private houses and public buildings are still available in a limited edition book the artist published in 2002. The 65-page volume, Waxahachie in Pen and Ink: An Illustrated Guide to the Gingerbread City, contains 28 of Kent's beautiful drawings of such revered structures as the Hines-Timmons Home, built in 1895, and the Citizens National Bank, built in 1905.
"My intent was to create an illustrated cross section of these still existing properties," Kent wrote in the introduction to his book. "The subjects were chosen at random, except for a few commissioned works." In Waxahachie in Pen and Ink, Kent tells of the history of Waxahachie's days as a cotton mecca, and explains why so many charming local homes and other properties have escaped the wrecking ball of progress. "In the late 1800s and early 1900s, Waxahachie experienced a period of tremendous growth and wealth," he wrote. "Ellis County became the largest cotton producer in the nation. But overdependence on this crop and the rapid fall of production in the 1920s created a sudden halt in local prosperity." The fact may have meant hardship for residents at the time, but for posterity it was a blessing in disguise. The financial standstill caused Victorian homes and other old buildings, which would likely have been razed if prosperity had continued, to be essentially frozen in time.
Kent's sketches provide an excellent overview of examples of the more than 300 historically designated locations throughout the city's five historic districts. These include the Ellis County Courthouse District, the West End, Oldham Avenue, Wyatt Street Shotgun Houses and North Rogers Street. Many of the homes he has illustrated are distinguished by the National Register or the Texas Historical Medallion markers, as well as by designations selected by Historic Waxahachie, Inc. and the Gingerbread Trail.
Despite the popularity of Kent's pen and ink interpretations of local architecture, he insists his real pleasure now continues to be his work in watercolor. "And I'm starting to do some oils now," he said. "Portraits are something I will do more of, too." The artist will find ready and willing subjects in Tanya, Lawson and Gus as he pursues the craft he loves, but he's not giving up on painting Waxahachie homes, streets and parks. He always welcomes people to come by and chat when he and his trusty easel are on location. "I prefer to paint en plein air," Kent said. "So stop by and say, 'hello' if you see me out and about."
Written by Randy Bigham.