WAXAHACHIE, TX — Sarah Farmer isn't scared to get her hands dirty, especially when it comes to creating things in the kitchen. "I've always mashed up the bread with my hands," Sarah said, remembering all the dressing she's helped her mom prepare for Thanksgiving dinners. "Mom didn't believe in cleaning as you go, so we always ended up with a mess. Dishes were from one end of the kitchen to another," she laughed.
This early introduction to the kitchen may very well be the first stepping stone to the art Sarah creates with a professional-grade, heavy duty mixer, bags filled with homemade icing and a large variety of tips. As an adult, these have become the tools of her trade — cake art. "I will try to create anything," she stated. "I challenge myself to always go at least one step further than expected. The art is the challenge, and the cake is my canvas."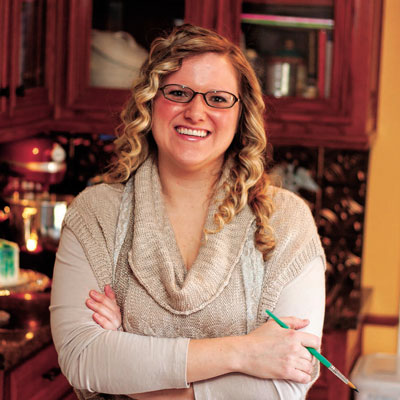 As a young wife and mother, you would think that Sarah's plate was filled to overflowing, but fortunately she wanted more. "I never had a real vision for my life until lately," she confessed. "God allows me the talent and gifting
to do what I do. I can unplug from the world around me and allow Him to move freely through me. His ideas become my ideas."
What prompted Sarah to go from mashing the bread to creating edible works of art started back in junior high and extended well into her days in high school. Sarah didn't realize she was rehearsing what would one day be her calling. A trip down memory lane jogged those memories. "When my friends and I got together, they always came up with reasons to bake a cake," she explained. "It was always so much fun. But who does this? Well, my friends and I did."
The cakes she baked and decorated in high school would definitely be considered "plain and somewhat mild" compared to the creations coming from Sarah's kitchen today. Sarah takes great pride in making everything that is edible on the cake from scratch. You won't find a box mix or canned icing anywhere in her kitchen.
One of her favorites to date is the '57 Chevy Bel Air she created for Charles and Margaret Kozlovsky's 50th wedding anniversary. "Mrs. Kozlovsky wanted to surprise him with a replica of his own '57 he has spent so many years rebuilding and polishing," she admitted. "They inspired me. You could still see the love and tenderness between them after 50 years." This cake alone took three separate chocolate cake recipes, but the final outcome was one that the Kozlovskys found difficult to cut into.
Another favorite is the mounted deer head she baked and presented to her pastor and his wife on their 30th wedding anniversary. The 8-point rack was molded from wire and overlaid with white chocolate, but what makes this one so unique is the foundation. It didn't lie down on the table. It stood up just as though it had been mounted. "I used PVC pipe and a 'special' filling to make the cake not so heavy. Stabilization is the most important thing. The cake has to be built on a firm foundation," Sarah shared. She did confess to ordering the ears and eyes online from a taxidermy company, but quickly added, "They were non- edible, of course." The way in which this particular cake was cut and served was also very important. "We cut it very, very carefully," Sarah smiled.
Over the past two years, Sarah has created many cakes. They've gone from simplistic to outlandish, but always delicious. They may feature fresh flowers, a personal timeline in icing or detailed hand painting and airbrushing. Other one-of-a-kind creations include an Xbox 360, a golf bag with clubs, a hockey puck, a camera and a guitar, to name only a few. One of the most detailed ones to date was a Toyota FJ Cruiser, completely tricked out with working headlights. A five-tiered wedding cake has been her largest so far.
After having her daughter, Sarah had no real desire to return to the workforce. Opening her own business, I Do Cakes, and working from the comfort of her home seemed the logical choice. She finds great satisfaction in creating what a customer wants to the best of her ability. Making people happy with her art makes her happy, too.
Baking for Sarah is so much more than putting her God-given talent to use in the kitchen. "Baking is my therapy," she confessed without hesitation. "I get in the zone when I hear the whir of the mixer. I'm able to turn the outside world off and just bake. There's something very therapeutic about baking, and it's satisfying to see people enjoy what I've created. There's great joy in that."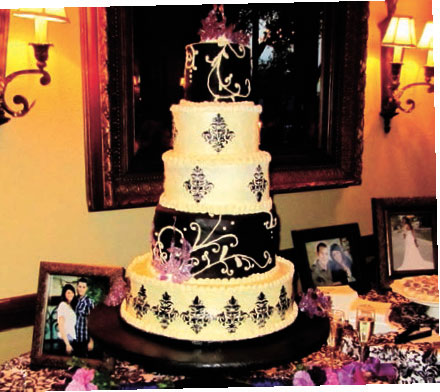 Sarah prides herself in being different. She gets her thinking-outside-the-box personality from her dad. "He's technical," she explained. "He has an engineer's mind, and he's super creative." While the natural talent she possesses came from her dad, experience in the kitchen at an early age was a gift from her mom. Over the years, she admitted she has learned a lot from tuning into KERA. "Sometimes I feel like Bob Ross, Julia Childs and Jacques Pèpin all rolled into one. I need some happy little trees on here," she said, laughing as she continued to hand paint a peacock feather atop a two-layered cake.
She believes in the barter system. She will bake a cake in exchange for a housecleaning or a night of babysitting. Sometimes she's able to kill two birds with one stone, so to speak. "I realized a special friend was having a birthday the following day," Sarah said. "My peacock cake became the birthday cake for a friend who loves peacocks. How cool is that?"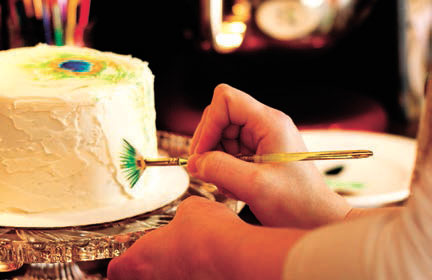 Recently, Sarah decided to venture out into the world of gluten-free recipes of her own making and vegan baking. "Some children are on special diets due to allergies," she explained, "but they still want to enjoy a cake or some cupcakes on their birthday, too."
When her daughter, Elise, turned 1, Sarah knew she had to come up with something very special. She knew she wanted to create a castle, but had no clear vision in mind. As things began to progress, her husband and biggest fan, Justin, began to voice his doubts. "He kept saying he didn't think it was going to work," she stated. "I made him look at it the morning after I'd worked all night long to finish it. He said, 'Okay, okay, you were right. It worked out. That's why you're the cake person and I'm not!"
 Written by Sandra Strong.