DUNCANVILLE, TX — An unknown person once said music is what feelings sound like. If this is indeed true, then the symphony of love and dedication that flow from the heart of Jarrod Johnston should definitely not be missed. Jarrod, who was born in Houston but reared in the Metroplex, is the worship pastor of First United Methodist Church in Duncanville. Like many of those who are compelled to take on faith-based leadership positions, Jarrod didn't quite see the call coming. He thought he would end up singing in an opera or working in musical theater, which were both his first loves.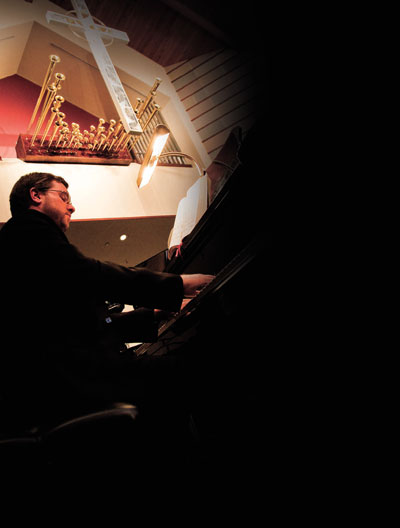 Although Jarrod's parents were active in church while he was growing up, he admitted that when he was younger, being active in the ministry was not something he was, well, "fired up" for. But even then, his love of music kept him anchored to his faith. "I started singing as a child in church," he said. "It was always kind of my conduit to the church. It's what kept me connected."
When he was an undergraduate student at Tarleton State University, Jarrod felt his heart turning him to a different path, as he found himself struggling for direction. He knew he wanted to teach, but not in a traditional school setting, and life on the road as a musician was not as appealing as he once thought it would be. "While I was there, I felt the call to ministry. So, I did my research and decided on the Perkins School of Theology," he said, referencing the widely known theology school at Southern Methodist University, from which he graduated in 2008. "It's a really great melting pot of denominations, and it was a great school."
After graduation, Jarrod was seeking a job and was offered one as director of music ministries in Slidell, Louisiana. The job was offered to him by a Perkins classmate's parents. "I had no intention of leaving Texas, ever," he admitted. "But I had an opportunity to do something kind of wild, so when they offered me the job and it ended up being that experience you need to have when you're off on your own for the first time, I took it."
Though Jarrod was on his own in a new state, he had left a bit of his heart behind with the one who would become his future wife — Leanne, also an SMU graduate and the best friend of one of his Perkins classmates. Leanne currently works as a conference coordinator for youth ministries in the Methodist church, but at that time she was exploring the Perkins school to further her goal of working with youth ministries. "We went out to lunch, but we didn't really hit it off, or anything," Jarrod laughed.
However, the tides changed when both were attendants in a mutual friend's wedding two years after their first meeting. "We couldn't stop talking to each other. She came to visit me in Slidell a week after the wedding just to see if there was something we wanted to pursue." Married for almost three years, the couple recently welcomed their first son, Wesley, to the family.
Jarrod jokes that he made Leanne come to Louisiana kicking and screaming, where she found work in disaster recovery after Hurricane Katrina devastated the area. "Our church, because it didn't flood, became a gathering place," he explained. "When people here complain about what they have and don't have — that job gave me a real perspective, as we were working with people who really had nothing. Church members just moved in together while their houses were being worked on. That's what the church is all about, to me. Making family and taking care of each other."
While the couple enjoyed their life in Louisiana, they knew they wanted to return to Texas someday. They had decided that they would move for whoever got the first job. "We were so blessed that we both got our dream jobs," Jarrod said. "I accepted my job, and she got her job around the same time."
At his dream job at First United Methodist in Duncanville, Jarrod faces the joys and challenges of working with various age groups and coordinating musical selections and arrangements for every worship service. In the environment of the church's deep,
rich musical heritage, Jarrod leads several choirs, including a youth choir, two children's choirs, an adult choir, a hand bell choir and a church band. He also plays guitar in the church's band, Crossroads Praise Team, which he says is a dream to work with.
With all of these moving parts and people, Jarrod has to keep schedules on his mind and practices on task, with some choirs practicing on the same night, back- to-back with one another. "I'm a real taskmaster in practice," he said. "There's always a little time for chitchat, but I'm really there to work, and our choirs are there to work. Thankfully, there are really hardworking people in our choirs. They want to do the very best and have the best ministry they can. With everyone we work with, we make sure their primary responsibility is to lead worship on Sunday mornings. They're not there just to sing pretty music. They're there to lead hymns and get the congregation involved as we lead the congregation together."
Since the church is celebrating more than 135 years of existence, Jarrod acknowledges things tended to lean a little more toward the traditional before he began overseeing worship services. As to his style of music, Jarrod believes in being a bit edgy, but he maintains an edge can be infused into both traditional and contemporary music styles. He also embraces the idea of incorporating more international music into worship services, embracing ideas and musical influences from across the globe. At times, he is a bit nervous about bringing in such influences, but he believes taking a risk with enthusiasm makes it that much more exciting. "You can do edgy things in traditional worship and still have your traditional kind of high-church feel," he said. "It's also super important in contemporary worship to stay edgy, because that's where you get a lot more of your young families and your youth."
Ultimately, when it comes down to it, music is the one language that unites us all, especially in a worship service. No matter the denomination, music style or instrument, it all comes down to one thing: "It's all about people. And you can't be an effective music minister if you don't feel that pastoral calling to just care for and love people," Jarrod shared. "We're praying together when we sing together."
Written by Katrina D. Lewis.