BURLESON, TX —  Melissa Stiles-Longoria loves dogs, and has for as long as she can remember. "My mom says when I was around 2, I grabbed a dog who wandered up while we were attending a company picnic and wouldn't let it go," Melissa said. By the age of 8, she had made her first rescue. Melissa brought Molly, a German Shepherd and Blue Heeler mix, in the front door and asked, "Can we keep her?" Molly became her longtime childhood companion.
Then, Melissa married Hector Longoria. "He knew I loved dogs," Melissa laughed, "but I'm not sure he knew what he was getting into. Actually, neither did I."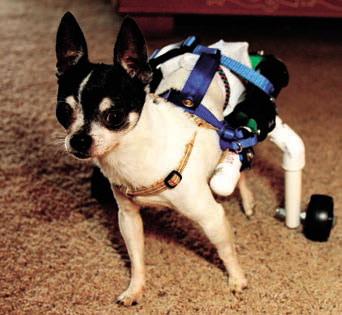 In 2002, the couple was visiting Hector's parents in South Texas for Mother's Day when they saw an advertisement on a telephone pole for Chihuahua puppies. Hector gave in to Melissa's request to pick out just one as her Mother's Day present. "It was my first experience with a puppy mill," Melissa shuddered at the memory. "You could smell it before we got there. It was horrible."
The owners told them each puppy was priced at $400, but all Melissa had was $150. They showed her 18 adult Chihuahua females in a 5-by-3 run and told her to pick one. Her eyes immediately fell on Bella. Her back was hunched and she was shivering. The couple took the small dog home and had her examined by a veterinarian, who told them the dog's spine was permanently malformed due to poor nutrition. Today, Bella lives happily with Melissa and Hector. She is what Melissa calls, "the diva of the pack." Bella may be small, but she lets the other dogs they rescue know she is the boss. Melissa grinned and admitted, "Everyone obeys her."
Two years later, Melissa found Barron, a white male Chihuahua, in the middle of traffic on Crowley Highway. He was obviously an abandoned, hungry dog. Melissa took him to her vet who discovered the animal had been shot. He had a bullet wound on his leg and a casing embedded close to his heart. Barron is also alive and well today in the Stiles-Longoria home. So is Buster, a paraplegic dog who has his own wheelchair thanks to another Burleson resident named Jerry West who creates the specialized chairs.
People began to contact Melissa when they discovered stray dogs. She took them in, nursed them back to health, and then proceeded to adopt them out. Then, in 2008, she landed a job at the Russell Feed Store in Crowley where she formed connections with pet foster care people, other rescuers and also potential adopters. The more she learned the more determined she became to be a part of the effort to rescue animals and place them in proper environments.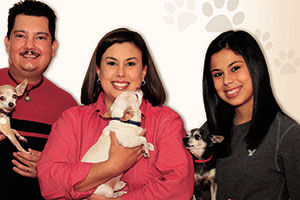 Melissa began to network with Burleson Animal Services, Johnson County Humane Society and Lonesome Dove Equine Protection. Then, she organized Positive Outcome Chihuahua Rescue (POCR). Since January 2010, she has placed more than 100 dogs of all breeds in happy homes. "I take all kinds in, even cats and bunnies now, but only a few at a time so each gets proper care."
This pet lover thoroughly investigates each potential owner. In order to adopt one of her rescued dogs, potential owners must fill out a five- to six-page application with vet references and a thorough background check. Melissa is just as meticulous about how she cares for each stray. "I specialized in unwanted adult dogs — mostly Chihuahuas," she explained. "Each one is fully vaccinated. All of my dogs are neutered or spayed, and spend a minimum of a month with me."
Melissa watches their personalities surface and observes how they interact with the other dogs, with kids and with house sounds. Many need to learn to trust humans again. For that, Melissa relies on her "other child," a stray named Bronx. "Bronx is such a gentle, sound-minded dog that the others learn quickly from him how to behave around people."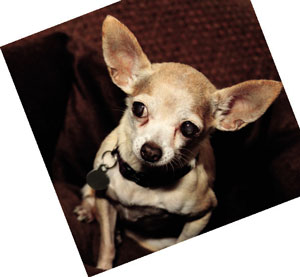 Within days, a stray gains awareness that not all humans are cruel. Within a couple of weeks, most are well-acclimated to being house pets. Then, Melissa can properly assess in which type of home they would thrive best. "If they're one who is fit for an older lady who needs a lap dog, or one that can romp and play with others, I'll know."
This rescuer relies on several people to assist her in her cause. Hector shares in the dog care duties on a daily basis. Her 16-year- old daughter, Renee, helps as well with kennel cleaning and feeding. "My mother, Katy Stiles, is invaluable to me, as is Mary Convery, who assists me with the adoption process," Melissa admitted. "Mary can always spot a good potential adopter." Melissa also depends on four foster pet owners who take care of the strays after Melissa and Hector have nursed them back to health. Dr. Kevin Gibbs, who visits all seven of the Russell Feed Store locations in the Metroplex, offers low-cost vaccinations, and Texas Coalition for Animal Protection provides low-cost spaying and neutering. Since Melissa pays for all this on her own, they are invaluable resources. "I will accept donations, and I always let people know by mail how their money was used, but I never charge an adoption fee," she added.
Not all the rescues have happy endings. Many times over the course of her mission, Melissa has taken animals that were not thriving to the North Texas Humane Society, so they could be humanely put down. "They do it for free if you have documentation that you have tried everything you can," she stated. "I stay with them until the end."
Melissa has developed a Ten Commandments of Rescue Caring, the 10th being you must stay until the very end. "It is tough. There are times when we get several in a row that just are not going to make it no matter how hard we try." Her eyes became teary as she continued. "But it is networking on Facebook and through e-mail and seeing how many people out there want to help animals get adopted that pushes me to keep going."
Melissa has a mission to help dogs and other pets live happy, healthy lives. If the hundreds of animals she has touched over the past 10 years could talk, they would all surely thank her. "Each animal I come in contact with, whether they live or not, knows even if just for a few hours, that someone cared and loved them," Melissa smiled. "That's what it's all about."
Written by Julie B. Cosgrove.
Editor's Note: For more information, e-mail [email protected].