MANSFIELD, TX — Bert and Merie Skinner have been married for more than 51 years, yet they interact like youngsters, playfully teasing each other with the familiarity that all those years together bring. While they enjoy their time together, they also relish the time they spend at Bethlehem Baptist Church with the Seasoned Saints, a group of church members aged 55 and older who participate in Bible study, community outreach and travel together, making the most of  life.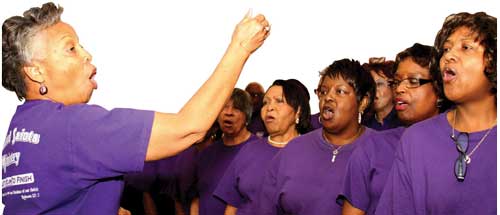 The most important activity to Merie is the group's choir, of which she is the director. "The choir began after I went with a friend to a senior citizens' home in Fort Worth. They had a small choir, and we invited them to come to our church and sing," Merie said. "They couldn't, so we decided to start one! At first we had about 15 members and now we're up to about 50. We have a lot of people who love to sing, but thought they were too old. We don't have any trouble recruiting. People come up to me and say 'Mrs. Skinner, I'll be 55 next month!'"
The choir is a ministry under the church's music ministry. The group sings old-time gospel music, performing at the 7:45 a.m. service on the fifth Sunday of the month. Each member dresses according to a strict dress code, which goes as far as prohibiting dangling earrings. Often, the church's pastor, the Reverend Dr. Michael Evans, takes the choir to a church where he's been invited to preach because he says they "sing with praise in their hearts." According to Bert, Pastor Evans is very fond of the Seasoned Saints and has been known to tell the group's members that he is a young man with an old soul.
"Merie is good at choosing songs with help from the pastor and other choir members. She says they're 'age-appropriate,'" said Seasoned Saints president Floyd L. Robinson. Mostly, the Seasoned Saints sing at churches, although they have previously performed at the YMCA Gospel Fest in Arlington – the only nonchurch venue in which they've performed. "We don't think of ourselves as a performing group, but we share praise through music. This choir truly sings with the spirit in our hearts, and people see that," Merie explained.
The Seasoned Saints' reach extends beyond the choir room. Their outreach to other senior citizens is widespread as well. They adopted Tandy Village in Fort Worth after a church member's mother, who was a resident there, complained that there were never any visitors. In August 2006, the Seasoned Saints set out to change that. They arrived at a small chapel at  Tandy Village and found people waiting for them. Since then, numbers have grown so much that they have had to move to an auditorium. They visit the community twice a month for Bible study and fellowship, followed by lunch at a local restaurant, something Bert says the group enjoys as much as visiting Tandy Village. They have also visited Mansfield Nursing Home and Emmanuel Nursing Home for Bible studies.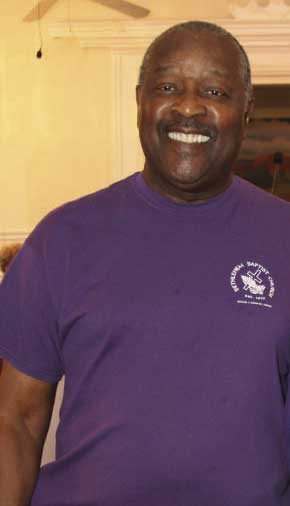 Because of the group's connection with Tandy Village, the Seasoned Saints had purple t-shirts made with two hands shaking on them to symbolize the relationship between the two, the "Tandy Connection," as Bert calls it. The shirts also have a verse from the Book of Hebrews, "We  must  run to the finish," which was the verse chosen for the first Bible study they did together.
At Christmas, the Seasoned Saints create 100-110 gift bags for residents at Tandy Village, as well as some for senior citizens who are no longer able to attend church. The home's director tells them the items that people need, and the Seasoned Saints provide them. The bags contain things such as blanket warmers and socks, which provide comfort to the recipients. They also spearhead the gift ministry for needy children in the community and feed the homeless.
"We do all our outreach on our own. All the money comes from the Seasoned  Saints. We voted a long time ago to be self-sufficient. We use the church vans, but we try not to take more. The church was willing to help us, but we didn't want to add to its expenses," Bert said.
"We try to meet the needs of as many people as we can," Merie added. "It's a joy. We visit hospitals, nursing homes and church members in need. We're like-minded and looking for ways to serve, and we do it as well as any other ministry of the church." In addition to its in-person efforts, the group also sends sympathy cards, get-well cards and coordinates a prayer team to keep in touch with church members who are ill or unable to attend church.
The Seasoned Saints are committed to service, but they manage to find time for fun as well. They find things to do locally, but they often travel throughout the state or out of the country, too. "Being of the age group we are, we've done a lot and seen a lot. If someone says, 'We should do this,' and we have enough people, we do it," Merie said. "It's a joy spending time with others your age who want to stay active rather than sit around lonely. Together we can broaden our experiences."
The group has done several barbecue runs, traveling throughout the state to places such as Lockhart and Luling, as well as San Antonio and Austin. Beyond the Texas border, the Seasoned Saints have taken Caribbean cruises. "Some members of the group had never been out of Texas," Bert said, "and then they went on a cruise and suddenly were much more aware of what is out in the world." Bert does all the research and books all the cruises, and each time the group travels, he tries to improve the process so it is as easy as possible for everyone.
In an effort to prevent some of the dangers associated with getting older, many Seasoned Saints members are registered with the Mansfield Police Department, so if they get confused and wander off, the police have all their information so they can find them and return them to their homes.
"We're the mother church. Others see us and get involved in what we're doing. This year, a Seasoned Saints conference is being planned through the Baptist General Convention of Texas," Floyd said. "We're sincere about what we say or do. Being seasoned, we've come through all the levels of life. We're being watched, and people see us setting an example. Seasoned Saints is the best thing that ever happened to me."
Written by Jeremy Agor.