Ennis, TX —  An Ennis Independent School District (ISD) after school class has become an inspiring exercise in community outreach. Thanks to a unique cooperation between the group and Ennis Regional Medical Center (ERMC), members of Leah Smith's high school art club are learning to draw and sculpt while appreciating the value of serving others.
In an effort to break the monotony of hospital stays by adding interest to an otherwise static setting, Leah and her students contribute brightly- painted ceiling tiles to patients' rooms in the newly renovated children's wing at ERMC. Created personally by the students, each tile is an original design, depicting subjects from a brave Ennis lion to scenes based on themes that appeal to children. "With this program kids, who are lying sick in a hospital bed, can look up at a piece of art that brings [comfort]," Leah said. "And it's touching to know we have been able to help them get through that experience."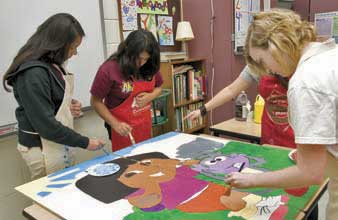 The idea to soothe a child through art may have been Leah's, but the passion with which the project has been embraced comes right from the big hearts of the 25 students who make up the after hours club the teacher established last year. "These kids are in tune with their community and want to give something back," Leah said. "I sounded them on the plan, and they went for it. But they have made this their mission. They love it because they know their work is benefitting someone."
The concept of an art club with a charitable focus came about while Leah was teaching at Duncanville High School. A colleague suggested her students paint ceiling tiles to brighten up the school hallways, as well as children's hospitals in the area. "The idea was so great, I knew I wanted to try it when I came to Ennis," Leah explained. "I just jumped right in with it, and we had a good first group, and we have a good one again this year."
In the past, ERMC has encouraged Ennis High's art department by displaying students' work in the facility, so there was little convincing necessary when Leah approached administration officials with a proposal to repeat the success her Duncanville class had enjoyed. "Ennis Regional was just then redoing its children's wing with themed rooms," she recounted, "and they asked if we could do tiles that would match the themes. I said 'You bet!'"
The members of Leah's afterschool club went to work at once, contributing three large 5×4 double tiles to three
patient rooms. "It was a hit," she said, "and our club is now doing three more rooms at ERMC, so we're really having a good time."
Leah believes art is the perfect medium for impacting lives. "The idea of art is to spark imagination, to create a story," Leah stressed. "Drawing people into the work on display, getting them to think about what the artist is saying; that's the purpose of art." She admits some art can be hard to interpret, but insists most forms of great art are direct in their affect, causing a distinct reaction in the viewer. She instructs her students to follow the route of inspiring feeling in their work, so observers can "get caught up in the emotion of it."
To this end, Leah sees the objective of her club as two-fold: training young people to express themselves artistically and teaching them the importance of using their talent to better their community. "But really, they are teaching us now," Leah points out. "They care more about giving back than I ever expected. They're models for all of us to follow." The group is led by four student board members: Alma Avila (president), Jessica Gonzalez (vice president), Mayra Chavez (secretary) and Nayely Soto (fundraising chairperson).
In addition to fostering her club members' charitable spirit, Leah's goal is to expose them to world class art and culture. Last year, students were treated to field trips to Fort Worth to the Modern Art Museum and the Kimbell Art Museum. "They loved it, and I had a lot of fun, too," Leah recalled. "It was a blast." She promises museum tours again this year for her art club members who will vote on which venues they attend.
Leah confesses that with education cutbacks due to today's recessionary atmosphere, it's difficult to make ends meet for the club. "Buying paint and other supplies can be really expensive," she said, "so we have fundraisers to help us and, of course, we welcome sponsors." One church organization has recently donated ceiling tiles for the club's ERMC efforts, and Leah and her students are grateful for the largesse.
Last year, the club took on in-class projects to raise money, selling coffee mugs, coasters, CD and DVD cases, flags and other products bearing students' artwork. Current fundraising plans involve a Gallery Night where Ennis High School art teachers will present their pupils' work. "Our art club will also participate," Leah said, "and hopefully we will sell some pieces."
Leah is proud of her classes, both Art 101 students and her club, for being such agile learners. "Some are just curious to learn more about art, and others have a natural gift and a love for it," she said. "But all are good." In her regular class, it's all business, but Leah is able to get to know the kids more in her art club, which is especially proactive and eager to tackle new projects from jewelry design to candle making, work the pupils are so pleased with on completion that they prefer to take them home instead of exhibit them in class. "I like to have their input in all that we do," Leah said. "I want to know what they are most interested in and we go from there."
Apparently, giving to others is what the club does best. Along with finishing the decorative ceiling tiles for ERMC's children's wing, members are now meeting twice a week to design Christmas and New Year's cards for
local troops serving overseas. "The kids brought this up as something else they wanted to do to benefit the community," Leah said. "They have a deep sense of responsibility and want to reach out to make a difference, particularly at this time of year."
The club as a whole is motivated beyond Leah's expectations, being more culturally and politically aware than students she's taught at other schools. "The club members are not just in tune with what's happening in the world," Leah said, "they have a determination and energy that you can see, which tells you they're headed for something big. They have such drive. It's obvious they're future leaders."
Written by Randy Bigham.