CORSICANA, TX — Josh Anding, tight end for the Navarro College football team, started his football career in the eighth grade with the dream of one day playing for a Division I school and the National Football League. Josh's dream is not the exception. It is the rule. Ask just about any of the many Thursday or Friday night lights football players what the future holds for them, and they will express the same dream as Josh. "Each of the guys has a goal, a dream — to play at the next level," defensive tackle, Calvin
Barnett, stated.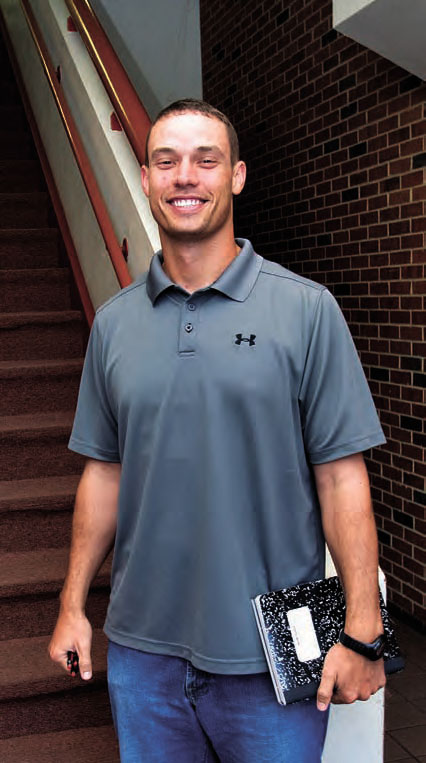 "I tell recruits and players, if they work, 'I'll get you there,'" Coach Nick Bobeck said. Many of the players Navarro College recruits had to call an audible on their dreams when the Division I schools that recruited them out of high school learned they had academic issues. Due to scores on the SAT or ACT exams they did not qualify scholastically for a position on a Division I team. Most of these players were Friday-night heroes
in their hometowns. Most of them also lettered in several sports and competed successfully at the state level in high school. However, competition for positions on Division I teams is stiff since the schools must meet National Collegiate Athletic Association (NCAA) requirements for graduation with a meaningful degree. By joining a two-year football program with Navarro College, a member school of the National Junior College Athletic Association (NJCAA), these players may have detoured, but their dreams are still alive.
Other players may have had the dream come true right out of high school, only to find that playing football at a Division I school while making the grade in 12
or more semester hours of classes is more of a challenge than getting past a lineman from an opposing team. Navarro College's staff offers the individualized academic attention that can make all
the difference in these transfer student- athletes' success.
The run toward the Division I goal begins with the recruitment process. "They've got to fit. We don't want anyone who doesn't conform to our program. The question is, 'Are they going to be the guy that fits in?'" Coach Bobeck stated.
The fit Coach Bobeck is looking for applies not only to the recruit's physical abilities; it is defined as total mind, body and spirit fitness.
The most important change for many of the new recruits is the stress Navarro College places on scholastic achievement. Student-athletes are truly considered to be students first, athletes second. That policy begins with Dr. Richard Sanchez, Navarro College District president who said, "At Navarro College, the term student-athlete implies these young men and women come to the college to prepare themselves for a career. The athletic director, coaches and the academic advisor do all they
can to ensure these student-athletes are provided every opportunity for academic success."
These players' summers on campus are not reserved solely for one-a-days or two-a-days in 110-degree heat. It is also a time for attending classes. Assistant Athletic Director and Women's Soccer Coach Debbie Bonner also serves as athletic academic advisor. She oversees players' placement testing, academic advising, grades, class attendance and tutoring sessions.
Students who show a need for academic remediation through placement testing receive instruction through the Navarro College PASS Department. "We have developed a close working relationship with our athletic department. All of our coaches have set high expectations for the players and stress the importance of achieving academic goals," PASS Director Lesa Martin said. "PASS instructors delight to see athletes on rosters,
because they are focused, respectful and hardworking," she added. Athletes receive no special consideration from instructors. They must meet all the same requirements expected of other students.
Many of the athletes at Navarro College are first-in-the-family college attendees. For these and other students needing academic support, Navarro College offers the Bridge Program, an intensive college preparatory program offered each summer to enhance academic success. "Our coaches strongly support the Bridge Program and help us fill it to capacity every year," Director Martin said.
Each day, during these football players' season, begins at 6:00 a.m. "We don't have much of a personal life. We study and play football. We have to make
a lot of sacrifices," Adrian Nelson, quarterback, said. "Our days are filled," Calvin said echoing the sentiment.
Athletes must carry a minimum of 12 hours each semester under NJCAA rules. "Some of these guys are enrolled in 18- plus semester hours and play the game at this level," Coach Bobeck said.
This team started its 2011-12 season as preseason favorites in two polls and realized they had to stay humble in spite of being the reigning 2010-11 NJCAA National Champions. "We are a big target," Marquez Clark, wide receiver, said.
But they are a target together. "We have bonded with everyone and have become brothers," Adrian said.
Coach Bobeck added, "We have to meet on everything."
The team that plays together often gets punished together when an infraction
of Navarro College rules occurs. Josh, Adrian, Calvin and Marquez, along
with Joey Searcy, the team's defensive lineman who has committed to play at Baylor University for the 2012-13 season, remembered the 2,000 yards of constant running they had to perform last season after an infraction. "The guys trust us. They know we will not hurt them. We don't even hear a peep from them in the heat," Coach Bobeck said.
"We have our ups and downs," Marquez said.
Joey added, "But we have come together as a family with dedication to Navarro College."
The work pays off. The team also remembers the run to the championship. "Just seeing Coach B's face after we won!" Adrian laughed.
Josh has an excellent GPA. Joey is going to Baylor. Adrian; Marquez; and Calvin, a former Top 100 recruit, are being recruited heavily by Division I schools. "People don't realize that with the kids you can see in Corsicana, you will turn on the TV next year and see them play in Division I. There is a lot of talent that walks on this campus, with three 2010-11 national championship teams [football, cheerleading and baseball]," Coach Bobeck said.
Audible calls from the field can be successful. Calvin advised future players, "Don't get caught up with anything else but studies."
"Don't forget to dream," Joey recommended.
Marquez offered, "Don't let anyone tell you that you are not good enough. There is always a time, a place, to get better." Navarro College offers the time and place that helps these student-athletes become champions in the classroom, on the field and, most importantly, in life.
Written by Virginia Riddle.