By Steve Dieterichs, Director
Forget the thermometer…fall is upon us! And, that means the busy holiday shopping season is right around the corner. Keep reading for information on how your business can cash in on one man's 35 years of retail experience in helping retail, restaurant and tourism-related small businesses refine and promote their concepts to the public.
A lot of positive things continue to happen downtown. The Main Street Program continues to work toward a downtown that is a prosperous, vital destination, achieved through historic preservation. We are pleased to provide you with resources and information to make that goal a reality.
Corsicana Main Street Matters!
Several exciting projects are taking shape downtown these days. Grace Community Church is installing beautiful new wooden windows in the transoms and second floor of their historic building at Beaton and 4th. Darryl and Shannon Medford are nearing completion of their rehab project at 121 W. Collin. A new brick facade and new canopy are part of the improvements for the building which will house business offices for the Medford's personal holdings. The new mural at Texas Cash Pawn at Main and 7th is already garnering considerable attention — Texas Monthly magazine has contacted owner Eric Arnett about a possible photo shoot for a spread they are putting together on murals around the state.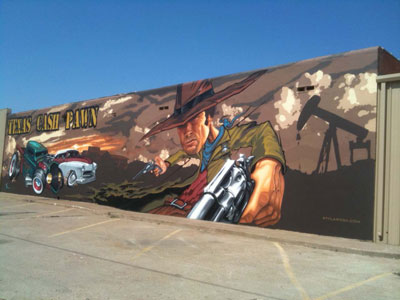 A couple of buildings have changed hands in the last few weeks. Jimmy Hale recently purchased 122 N. Beaton, formerly the Art Spot. Exact use of the building remains undetermined at this time, but Hale promises to make the facade a real showplace for the community. Hale will utilize the free architectural design assistance offered by the Texas Main Street Center for the exterior.
Mike and Virginia Green have purchased 110 N. Beaton and plan to renovate the upstairs into two luxury lofts, while rebuilding a 1920s storefront downstairs. The couple hopes to find the perfect tenant for the ground floor interior which will be left roughed out with exposed brick and duct work. Virginia owns BlackHare Studio and VGreen Design next door at 112 N. Beaton.
The partnership we told you about last month between Hable Construction and Hickory Chair will be showcased at the 2011 Homes of Tomorrow at the Texas State Fair September 30-October 24. The largest idea home event in North America is the brainchild of Corsicana native David Yates and will feature three built structures — the Net Zero Energy Home of Tomorrow, the Remodeled Home of Tomorrow and the Micro-Home of Tomorrow. Hable-upholstered Hickory Chair furniture will be featured in each home, and the entire exhibit is expected to see a half-million visitors during the Fair's run.
Retail Business Expert to Visit Downtown Corsicana in November
Marc Willson, a nationally known retail expert, will visit downtown Corsicana November 14 and 15, thanks to the Small Business Development Center at Navarro College. The SBDC is partnering with the Main Street Economic Restructuring Committee and the Corsicana-Navarro County Chamber of Commerce for a breakfast workshop November 14 entitled "Staying Relevant to a Changed Customer," which will provide real resources and information to help merchants retain existing customers and capture new ones.
Willson will also provide one-on-one retail and restaurant checkups, tailoring strategies for specific businesses, to registered SBDC clients. The breakfast workshop is free and open to all downtown businesses, but you must be a registered SBDC client for the one-on-one checkups. Call SBDC Director Robin Lasher at (903) 875-7667 for more information and to register for the checkups.
Downtown Consumers Speak Through Recent Survey
Two Hundred fifty-three people completed the recent Downtown Consumer Survey sponsored by the Main Street Economic Restructuring Committee. The survey was promoted with a front-page article in the Corsicana Daily Sun that cited the URL for the online questionnaire. Major area employers including CISD, Navarro Regional Hospital and the City of Corsicana also e-mailed the survey link to some or all of their employees. Hard copy surveys were available at the Corsicana Visitor Center, but less than 10 were completed. Below are some of the findings that can be taken away from the responses.
• Downtown shoppers are most likely to shop during extended and weekend hours.
— During the week, two-thirds of respondents typically shop for non-grocery items after 5:00 p.m.
— More than 3/4 of respondents prefer to shop after 5:00 p.m. Friday, during the day Saturday or Sunday afternoon.
• Restaurants serving supper stand the best chance of being patronized by regular customers.
— 46 percent of respondents eat out for supper two or more times a week.
— Seven in 10 of these prefer meals costing between $5 and $9.99.
• Breakfast is not a widely popular meal for dining out.
— 70 percent eat breakfast out once a month or less.
• Most respondents do not work downtown and only come to the District once a month or less for non-grocery retail shopping and personal care or professional services.
• More than 88 percent of downtown shoppers typically park on the street and less than one block away from their destination.
• Corsicana experiences retail leakage for purchases that are not needed weekly or more often.
— 60 percent shop Waxahachie once a month or every few months.
— 57 percent shop Waco once a month or every few months.
— 69 percent shop Dallas once a month or every few months.
— These shoppers cite better selection as their primary reason for shopping out of town as opposed to downtown.
• Eighty-four percent of respondents would likely patronize a seafood or steakhouse downtown.
• One in three would likely shop at a specialty grocer.
• More than a quarter would eat at an ethnic restaurant such as Greek, Spanish or Mediterranean.
• More than a quarter of respondents (27.45 percent) would like to see a weekend open-air market developed downtown.
• More than a quarter would utilize an indoor playground or children's party venue.
• Twenty-eight percent have some interest in living downtown.
• More than 3/4 of respondents were female.
• One in four respondents were at least interested enough in starting their own business to learn more.
Main Street, Preservation Foundation Form Partnership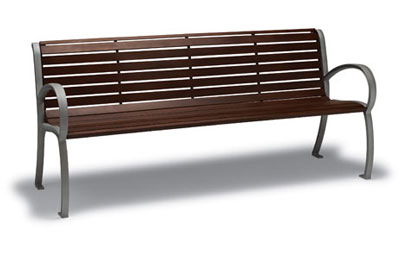 The Main Street Program is pleased to announce a new partnership with the Corsicana Preservation Foundation for the downtown bench replacement project. The Foundation has agreed to manage donations and financial record keeping for Main Street fundraisers, which begin in October with a pumpkin patch at the Visitor Center and continue in December with a "Downtown Swirl" wine event, Breakfast with Santa and a downtown loft tour. As a result of this partnership, donations earmarked for downtown benches will be tax deductible to the donor, following applicable IRS guidelines.
We recently received a quote of $29,001 for 45 Winchester benches. Main Street hopes to raise half of this amount through fundraisers and identify donors for the remainder. We will submit an application for funding for the entire match ($14,500) to a local philanthropic foundation. Individuals and businesses will also have the opportunity to "adopt a bench," allowing for the personalization/dedication and specific placement of a bench for a donation of $325. Contact the Main Street office for more information.
Help Needed for MS Promotions Committee
The Main Street Promotions Committee is seeking enthusiastic volunteers to assist with downtown events and the promotion of a positive image for the Downtown District. Your ideas are needed as we formulate and execute events that draw spending consumers into the Downtown District.
New Ramps Added at 5th and Beaton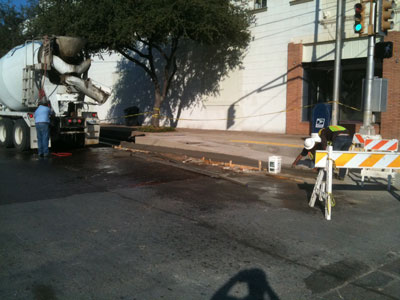 The finishing touches are being made to two new ramps at the northwest and southwest corners of 5th and Beaton. The new ADA-compliant ramps create handicap access to storefronts on the west side of Beaton between 3rd Ave. and 5th Ave.
TCF Grant Application
Application is being made to the Texas Department of Agriculture for a Capital Fund grant to reconstruct the sidewalks along Beaton St., between 3rd and 4th avenues. The $150,000 grant would require a match of up to $50,000 in cash and in-kind services from the city. If approved, the project will include three new ADA-compliant ramps and will contribute to the beautification efforts downtown.
Curb Striping Underway
Contractors are busy re-painting the No Parking striping on curbs downtown. We ask for your patience during their work and apologize for any inconvenience.
Pumpkin Patch
Main Street's Great Pumpkin Patch kicks off Saturday, Oct. 15, with receipt of a tractor trailer load of pumpkins from Farmington, NM. We'd love your help unloading the truck, which is scheduled to arrive at the Visitor Center at 8:00 a.m. Sales will begin immediately and continue through Oct. 31.
All sizes, shapes and varieties of pumpkins are expected, as well as decorative gourds, Indian corn and corn stalks. Please note that there will be no last minute price discounts. Funds raised will go toward new downtown benches.
Trick-or-Treat
The annual Downtown Trick-or-Treat, hosted by Main Street and the Parks & Recreation Department, will be 3-5 p.m. Monday, Oct. 31. Businesses are encouraged to participate by handing out candy to trick-or-treaters. Let us know if you plan to participate.
Portraits will be available in Pocket Park at a cost of $15 for two 4×6 prints, and sales will continue at the pumpkin patch through that evening.
Several merchants have had success attracting customers with special promotions during this large event. Main Street staff and board members would be happy to help with ideas for your success.
Pumpkin Palooza
A fun-filled, family event has been added to the line up of Main Street's Great Pumpkin Patch. On Saturday, Oct. 22, families can enjoy a pumpkin pancake breakfast, pumpkin decorating demonstrations, story time, fire engine and a bounce house, courtesy of VOICE, Inc. Downtown businesses are also encouraged to display themed pumpkins promoting their business that day…simply bring them by the Visitor Center that morning.