MANSFIELD, TX —  As with any true Texas woman, Brooke Jeter is proud of her morals, loyal to her friends, fun-loving, hot-tempered and unafraid to stand up for what she believes. As she embarks on a career as a barrel racer on the professional rodeo circuit, she hopes those attributes and her dedication to the sport will take her to the National Finals Rodeo and beyond. "In the next five years, I want to have made the Texas Circuit Finals Rodeo and the National Finals Rodeo. Ultimately, I want to win a world title," Brooke said. "But my big dream is to do it all on a horse that I trained. Anyone can buy a horse and make the finals, but not a lot of people train their own horse. It's actually getting very hard to train your own horse and win, because horses are being bred for barrel racing, and you can be behind from the start."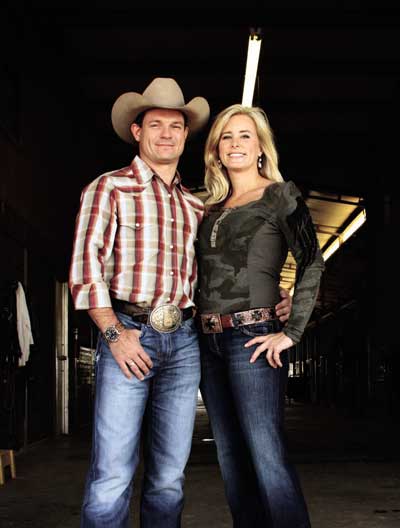 Brooke grew up in South Texas. She and her twin sister followed her father as he rode bulls in local rodeos. They also tagged along to sale barns and helped him work cattle, riding colts and bringing cattle up to the auction all night. They saw barrel racing for the first time during their travels with their father, and even though they knew nothing about it, he found some barrels, and they used their ranch horses and found the sport came easily.
Brooke rodeoed throughout high school, competing in team and breakaway roping and competed for Texas A&M University-Kingsville, as well — until the sport became too expensive. Rodeo was never far from her heart though, and it wasn't long before she got pulled back in. "I couldn't afford my horses when I was in school so I quit [rodeo]. After I graduated, I got another horse and trained it. Then, when I started dating Jason, I got a couple more colts. I've competed on the amateur circuit, and I've always trained my own horses. I've trained three so far. I won't buy a horse that's trained unless it's a project that I can fix and sell," she explained.
Jason Jeter, a Mansfield native, who competed at the city's old Kowbell Arena and is now Brooke's husband, is a retired professional bareback horse rider. He qualified for the National Finals Rodeo six times and won it once. That same year, he was the reserve world champion. His experience and knowledge have helped Brooke as she prepares for her own career.
"Since we've been together, I was gone 200 days a year. Now that I'm retired, I still travel some, but not at that level," Jason said. "It's good to be able to spend time together, but now she's traveling, and I support that. Hopefully, she can make some money at it and support me for a while.
"I try to tell Brooke the way I would've worked situations. I like to think the way I rodeoed was smart compared to some of my friends. I have a lot to show for it because I did it the right way. I can help Brooke by telling her not to go to a  certain event or how to enter so she can make money and save money. There's a right way and a wrong way, and you can make money either way, but what's the point if you're not ultimately going to be successful? I can help her with her learning curve," Jason explained.
Part of that learning curve is understanding there is much more expense to her events. "A lot of people win a lot of money, but people don't realize the expense of the sport," Brooke mused. She must bring her own horses to events, plus pay for fuel, feed, training and vet bills, whereas Jason was able to fly to events, saving time and money. Some riders try to travel together to cut down on expenses, but that is not always a good solution. "With the price of diesel," Brooke said, "I try to get several people to travel, but girls are girls, and half the time we can't get along anyway. I'm lucky to have a good group of friends who I can count on."
Beyond Jason's support, Brooke has also benefited from meeting Jason's friends in the rodeo world. Through them, she can learn how to do things that she would normally have to learn on her own through competition. "I can call a friend who's been in the finals multiple times and ask for advice," she said. "Not everyone will tell you their secrets because it's an advantage for them, but if you have friends you hang out with, they'll tell you, 'Do it this way, but don't tell anyone.'"
Jason's career has already helped Brooke gain a measure of fame away from the circuit. Last summer, she appeared in the CMT television series, Texas Women. A production company was looking for women married to rodeo cowboys and contacted a friend of Brooke's, who promptly recommended her. She agreed to shoot a "sizzle reel" to try to sell the show and, a year later, got a call that the show had been picked up by CMT, and "things went real fast after that." The show was filmed in May and aired in July, quickly becoming the highest-rated show on the network. Although it was a good experience, Brooke was disappointed that what she expected the show to focus on — her horse training and rodeo competitions — was not what aired, and that the title was misleading.
"Texas women are prideful about being born and raised in Texas, and I was the only one of the four of us who was," she said, indignantly. "I was a little offended by the title, and I was afraid other Texas women would be, too."
However, the show paid for surgery for one of Brooke's horses and an MRI for another, plus it gave her a financial jumpstart for her professional career, so she is happy that she did it.
Brooke began her rodeo career in October, travelling to events in Seguin, Bellville and Rosenberg, Texas, as well as Tulsa, Oklahoma. However, she knows she must win to expand her travels around the country. "Texas is the hardest place to win. It's nothing to show up
to an event and see five girls who have qualified for the National Finals Rodeo. If I don't have a horse that can win in Texas, I'll compete in local events, but I won't go around the United States," she stated. "You have to be winning to afford to do it."
Written by Jeremy Agor.