ENNIS, TX — Local actress, Fran Jeffery Anderson, has turned her dreams of a community that cherishes its heritage into dramatic reality. Based on her belief that the performing arts can educate, as well as entertain, the unique theatrical troupe she has founded is enjoying wide acclaim. Targeting a black audience with black themes, Inspiration, Inc. has become inspiration central for the Ennis-based entertainer whose passion for music and drama defines her life. "We as African-American people have such a rich history to celebrate," Fran said. "The goal of Inspiration, Inc. is to educate our community about that history through the arts, especially theater."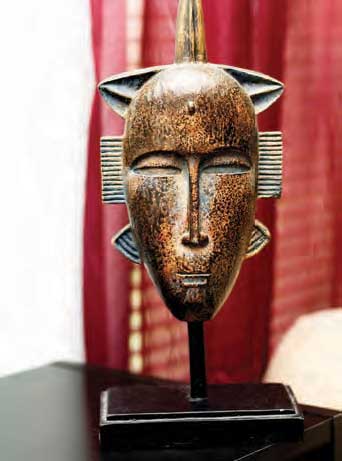 The high-spirited director is quick to admit her incentive for forming the group is as personal as it is altruistic. "It stems from my upbringing," she said. "I was an Army brat and lived in France when I was little. I didn't know my own heritage and discovering it was a big deal. That's why I do black theater. It comes from the heart."
Born in Louisiana, Fran was an infant when her parents moved to a military base near Paris. Five years later the family returned to the States, taking up residence in Fort Worth, where Fran was reared. "It was a culture shock," she said. "I wanted to know who I was, and in my teens I even went a little wild, wearing an Afro and a pick. I was trying to find my blackness." Fran's search led her to Ennis in 1998 as a regional organizer for the Boys & Girls Club, the local affiliate for which she eventually served as executive director. "I loved travelling and meeting people," she said of her job as roving trainer for the club's facilities in Fort Worth, Arlington and Amarillo. "But I prayed for a set position so my children's education wouldn't be interrupted." Fran also wished for an outlet for her first love — performing. She found both in Ennis, the Bluebonnet City.
Of her tenure with the Boys & Girls Club of Ennis she said she "loved every minute of it," adding that her projects for local youth were "well-received" from every quarter – from the Ennis Independent School District to the Lions Club. Fran made her mark creatively, too, by bringing artistic programming to the Boys & Girls Club, and to the public at large, as a member of the Ennis Arts Commission, to which she was appointed president in 2001. Meanwhile, she was becoming known citywide for her gospel singing and motivational speaking.
Although she left the Boys & Girls Club for Texas Discovery Gardens, Fran remained active in church circles and the artistic set surrounding the Ennis Public Theatre, where she appeared in two successful plays, Little Shop of Horrors in 2007 and Proposals the following year. "I love the Ennis Public Theatre," she said. "Bill and Suzanne Rhoten and the whole gang there are great."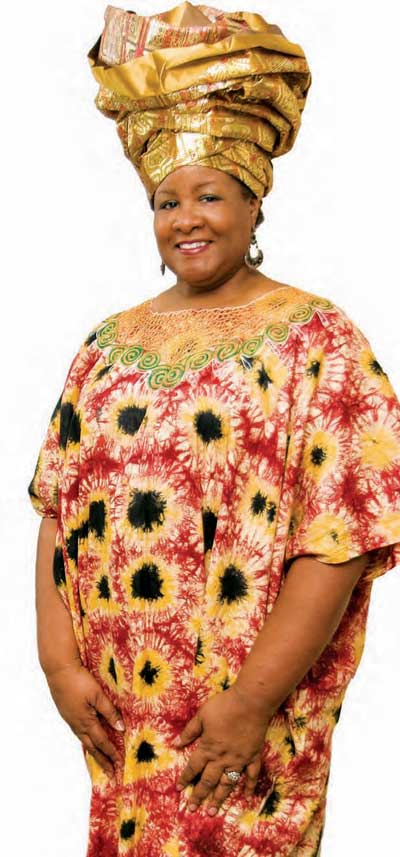 Inspired by Bill, who became a mentor for the actress, Fran said she decided to branch out on her own to establish a family-friendly, Christian theater group focusing on the black community. She said she had long noted "a need among African-Americans for the arts." Yet material was seldom geared to the black experience, and she wanted to fill the gap. "I realized there was a lot of talent here in Ennis that wasn't being used," Fran explained, "and I thought that with the right vehicles, blacks and other minorities, who haven't been involved in local theater, could take part."
By forming Inspiration, Inc. in 2009, Fran has accomplished her goal of providing positive, faith-based entertainment aimed primarily toward African-Americans. Over the last two seasons the group has sponsored youth acting workshops, a summer theater camp and open mike nights at venues ranging from the Ennis Public Library to the First United Methodist Church. Students learn monologue delivery, hear guest lectures by professional actors and put their training to the test by appearing in select vehicles approved by a board of directors. One of the most popular productions staged by Inspiration, Inc. was a benefit for Meals on Wheels with a World War II era theme, Black Nativity, which drew 200 people to Baylor Baptist Church. Also, the musical Crowns, was performed to overflow crowds in Dallas, Duncanville,  Waxahachie and Arlington. "I loved Crowns," said one fan, Doris Collins of Ferris. "It was heartwarming."
Crowns, written by Dallas playwright, Regina Taylor, tells the story of a New York City teen, embraced by her Southern grandmother and her hat- wearing church friends. The musical, which features traditional gospel tunes like "His Eye is on the Sparrow" and colorful African costumes, was a bigger hit than Fran expected. "Crowns wasn't scheduled for this season," she said. "But we have had so many requests for it that we brought it back." The play was last presented on the campus of The University of Texas at Arlington where Fran is studying theater administration.
Fran is proud of the success Inspiration, Inc. has enjoyed and has high hopes for future seasons. She credits her actors, musicians and advisers – Sandra Struggs, Markus Sallie, Kellie Kovar
and Sue Powell — for contributing to its growth. But board member, Sandra Wakefield, acknowledges Fran as the real force behind the scenes. "Fran is so affirming," she said. "She is a great encourager. She wants everyone to shine."
Fran isn't one to rest on her considerable laurels. "There's still work to do to get us where we need to be," she confessed. "We don't have a regular venue, so that's a challenge. Right now we put on our shows anywhere we can find a spot."
Her family is also proud of the work she has done to promote black theater. Fran has four children, two of whom live in Fort Worth, and two who live with her in her Ennis home, where she displays her collection of African-American art
and some of the "church lady" hats
worn by her cast in Crowns. Fran's son, Joe, whom she singles out as the "techie" who helps her with sound systems and computers, is attending classes at Navarro College.
Forthcoming Inspiration, Inc. productions include The Gospel at Colonus. "It's set in a black Pentecostal church," Fran enthused, "and the music is awesome." A Raisin in the Sun, the Lorraine Hansberry classic, is in the planning phase, too, qualifying that it won't matter how fine the vehicle is without community interest and aid.
"Our goal is to encourage more black people to support and participate in the arts," Fran said. "You can join Inspiration, Inc. by performing, donating money or time and helping out with costumes or props. There is a place for you in theater. It's right here in Ennis!"
Written by Randy Bigham.