MANSFIELD, TX — "I guess I'm the Scotty McCreery of Mansfield," Todd Murdock said, with oh-so-straight a face, referring to the recent winner on the hit TV show, American Idol. Todd is the only bass in his choir at Central Baptist Church. Because of the clear, powerful ring of his voice, he gets volunteered for a lot of his performances, whether at church or the Senior Center at the Mansfield Activities Center — or sometimes for funerals. He moves people to tears with a cappella versions of the old traditional songs, such as: "When the Roll is Called up Yonder," "Wouldn't Take Nothing For My Journey," "I Saw the Light." And sometimes, Todd has a difficult time not breaking down and crying, because he knew those people he sings for.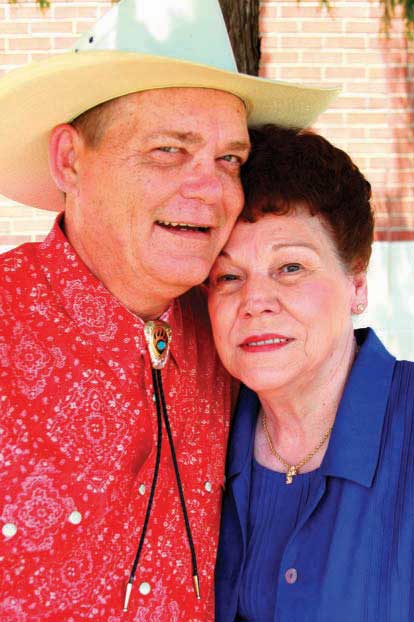 Throughout his life, especially while working as a traveling printing press technician, Todd sang country or gospel tunes, mostly to himself, just to keep himself motivated. "I've always liked the song 'When the Roll is Called up Yonder,' ever since I was a young ladster," Todd said. "I would say the words: 'I'll be there.' If we didn't have hope, we wouldn't have anything." Growing up
in Kennedale, Todd was a member of Rendon Baptist Church. Over the years he has worshipped at Bible Baptist Church, then Calgary in Cleburne, and 11 years ago moved his church letter from there to Central Baptist in Mansfield. "My faith hasn't done anything but help me out. If we didn't have the Lord to look forward to, I don't think we'd have anything to look forward to. If it wasn't for Him, I wouldn't have made it through what I've been through." Todd was in the Second Armored Division when in the Army. His commander was
General George Patton Jr. — who Todd remembers looking just like the elder General Patton.
Todd considers himself lucky. "The Good Lord has watched over me," Todd said, advising young people of today to live day by day. "Thank God every day that you wake up. You can live by those words of wisdom." When Todd was younger and going to high school in Kennedale, he ran around with Mansfield school students. "I can remember when Mansfield had nothing but a little bitty jail house on Broad and Main. We used to ride around with our guns in the
car going to hunt rabbits. We always got along real well with the folks from Mansfield. We were just kind of a gang hanging together."
He left high school and joined the Army before entering the printing field and traveling all over the United States, Mexico and Canada working on printing press equipment. For 37 years, he lived out of a suitcase. Sometimes he was gone a month at a time. "I made real good money, but it is hard to raise the family when you're not there," Todd said. He has two daughters, Stefanie and Angela, two grandsons and one granddaughter in Kennedale.
Most of his time, now, is spent caring for his wife, Bea, and stepson, Paul, both of whom have cancer. Bea and Todd met at a senior dance in Fort Worth. "We started going to a lot of different dances all around — Mansfield, Weatherford, Cleburne, Haltom City, White Settlement." They fell in love, got married 10 years ago and have been dancing ever since. Whenever their favorite band, Dave Eder & The Final Showdown, plays in Waxahachie, the Murdocks head down to either the Senior Center or the old civic center for an evening of good fellowship and dancing.
Dancing proves to be good medicine, after a full week going to doctors and all that goes along with caring for people with cancer. Todd cooks for his stepson every morning, and again in the evenings. And sometimes he cooks for Bea and himself in the daytime. He cooks with compassion: "I'm what you call an old southern fried cook. I can cook just about anything," said Todd, who makes white cream gravy for his mashed potatoes. "I make Paul and Bea everything they want, even though the doctor says, 'If it tastes good spit it out.' That's a form of compassion, to give them what tastes good." He and Bea invite friends from church, some of them ladies over 90, for dinner. Beyond food, they are offering good fellowship. That's when Todd discovers what kind of help his friends need around their house. "It says in the Bible you're supposed to help out the widow ladies. I do whenever I get a chance.
"I feel like the Lord has sent me to take care of these people," said Todd, who is not only a member of Central Baptist Church, but also a trustee there. He helps tend the 3/4-acre church garden behind Walgreens, picking vegetables for the people in the church, and selling leftovers at the Greenhouse for contribution into the church's building fund. This month it will be goodies like okra, squash, zucchini, black eyed peas, green beans and tomatoes, plus watermelons and cantaloupes.
"There is another man named Cecil Nall who does the plowing, planting and stuff. I take care of it, doing the watering and the picking. I like getting out like that — where there's nothing out there but grapevines all around."
Watching over gardens and people has taught Todd a thing or two about compassion. "I've learned a lot about taking care of sick people through the years," Todd said. "I've taken care of a few people who have had cancer, just helping them out and their wives or spouses. The most important thing to do is try to be uplifting to them. There's not a whole lot you can do for people like that except everything you can do to try to get them to get out and outside of their drab life in their apartment or house. I have a lot of compassion for them because I've seen so many other people go through that same thing. I think leaving this world happy is a lot better than leaving it with a broken heart. I'm not saying it makes me feel good or anything like that to do this, but maybe it's just my calling."
This life Todd leads is different than he had imagined for his retirement. He had planned to fish a lot and hunt for Indian artifacts out in the wilderness. "I haven't done what I was planning because I've been taking care of everybody. Yet I can't complain about it," Todd said. "When I get out in the garden in the evenings, it feels like I'm out in the country. I'm in heaven when I'm out there. I guess you might say I've been blessed."
Written by Melissa Rawlins.