DESOTO, TX — In a six-minute YouTube video, Kelsey Rushing completes an amazingly life-like portrait of Emma Watson, giving her "audience" a taste of the Rushing rush. "I just set up the video camera and began to draw," Kelsey calmly stated. "I drew for about two hours." Six minutes. Two hours. The result is stunning. Portraits adorn Kelsey's home "gallery," and every one of them is the definition of a work of art.
"As a child, I was always pretty crafty when it came to school projects that involved making models or posters. But I really didn't start drawing until I was a student at East Middle School. I had art in elementary school and one class in eighth grade, but in high school, I really began to draw seriously," Kelsey reminisced. "My art teacher for all four years, three of which were AP classes, was Chuck Singleton. He was my biggest influence — he's such a good teacher."
Mr. Singleton held off his retirement in order to teach Kelsey through her senior year at DeSoto High School.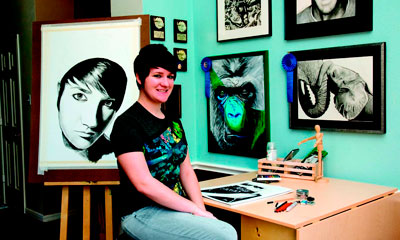 Originally interested in becoming a zoologist, Kelsey has drawn a lot of animals. She works from photographs.
Some she finds online, some are photos she has taken. Her elephant took a long time — about 20 hours — but every wrinkle is worth it. You can almost feel each wrinkle oozing elephantine personality. Her gorilla, with the blue-green swath of color, contemplates your evaluation of him, just as he would in the zoo. The giraffe is so life-like, you expect him to start chewing any minute. Kelsey's Avatar, done in oil stick, took only one or two days: "It was easy to cover the large surface and blend the shades of blue," Kelsey stated.
"I work mostly with pencils and charcoal," explained the sophomore who is working on a drawing and painting major at University of North Texas (UNT). "I like portraits best. I am putting together a body of work, portraits," Kelsey remarked, "in the hopes of getting some scholarships.
"I can draw a lot faster now," she commented, referencing her elephant drawing. "Nothing about portraits is really hard. I guess you could say the 'hardest' part is the initial sketch, which involves proportions — getting the features in the right places, so it will look like the photo. I use pencil, so I can erase as needed." Kelsey's preliminary drawing becomes the portrait as she Duncanville NOW are my favorite part. They're not moves from pencil to charcoals. "Eyes challenging at all, but they are the most interesting part of a portrait."
Awards she has won at the State Fair of Texas the past three years hang on the mattings of many works of art: four 1st places, one 2nd place, two honorable mentions and one best of show. Kelsey has done about five commissioned portraits. One was from a 1948 photo of the mother of a lady at Kelsey's church. Kelsey is still working on her self-portrait, which will become another speed drawing. "I saw speed drawings online and decided to try it. It's a fun way to watch yourself draw. I'd like to send them to Ellen DeGeneres and see if I could get on her show," Kelsey added quietly.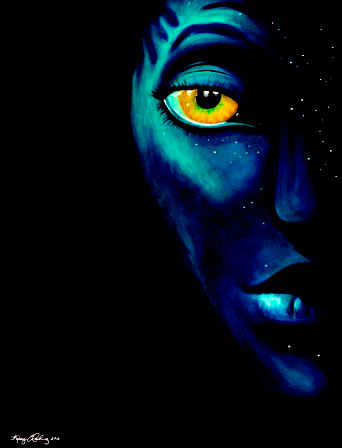 Not only does Kelsey draw, she is also an accomplished photographer, who is still learning and improving her raw, natural talent. "My mom showed me how to use her Canon film camera right before I began high school. After that, I began experimenting on my own. Now I am in a digital photography class in college. I like both film and digital. Mostly I take photos of flowers. I enjoy the color of photography, since most of my drawings are black and white," Kelsey said.
Kelsey just got a macro lens for her camera. "I love taking close-ups of small things. I guess you could say I am kind of a detail-addict in both photography and my artwork. Details capture realism. I think it would be really cool to travel and be a photographer for something like National Geographic. That's what I always wanted to be, but now I think my future might lie in my artwork," Kelsey confided.
"I am not as good at painting. It's a whole different medium, but I am learning. The color on my gorilla is acrylic paint, which is kind of unforgiving because it dries so fast. Oils dry slower, so you can blend them more. And oil pastels, like what I used for my butterfly, never dry, making it harder to get the details in," Kelsey explained.
She has also created collage scratch boards — masonite boards covered with white clay and then coated with a very thin layer of black ink. "You actually it hard to do shading. I use some cross hatching," Kelsey remarked. Her collage is definitely another showcase of her amazing talent. It looks hand-drawn, with amazing depth, perspective and shading.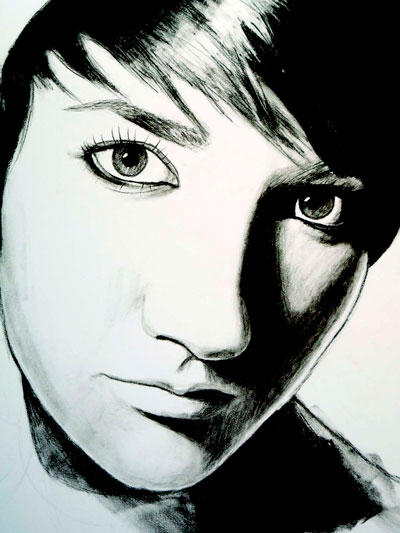 "I am pretty excited about my latest project. I have never done anything like this before," she shared as she unrolled a large drawing of a macaw. "This will be an applique? quilt of over 100 pieces."
The beautiful colors of fabric mirror photos she has taken of macaws at the zoo. Kelsey began to sew quilts when she worked for Sew Southward Bernina. "I sewed sample quilts — three wall hangings from a pattern. This one I am designing myself and choosing all the fabrics myself. It's turned out a bit bigger than I had intended. I think it will be about 4 by 4 1?2 feet," she shrugged somewhat sheepishly. "When I quilt it, I will change the thread color to match each piece of fabric, because I will stitch in the details on the feathers. I think this will take a lot of hours of work," Kelsey sighed with a mixture of anticipation and apprehension from which she quickly rallied. "I want to enter it in some quilt shows like the one in Ellis County.
"I guess you could say I came by my artistic talent honestly. My father does woodworking," she said, showing off his chess table and pieces. "And my mother is an amazing seamstress. So I have a lot to live up to, as well as my own artistic venue to pursue."
Written by Beverly Shay.