ENNIS, TX — Cindy Gerich has a passion for quilting that has lasted a lifetime. In fact, she likes quilting so much that she and her friend, Jackie Muehlstein, started a group called Bluebonnet Patches Quilting Guild of Ennis in 1985. As she and charter members, Helen Ritchey and Bettye Moore, who joined the group in 1992, reminisced about the years leading up to this year's 25th anniversary, laughter and even a few tears came naturally.
Cindy nodded to her friends, "When we started this group, quilting had almost died out. There wasn't a quilt shop around [from which] to buy supplies, or anywhere to go to learn about different quilting techniques."
"Now, even art teachers recognize quilting as an art form," Helen added. "There are lots of books written about quilting, as well as classes and groups that give encouragement and help exchange ideas."
The women, all three from Ennis, are a "friendship group," which is part of the Quilters Guild of Dallas, Texas. The Ennis group has about 25 members, with 15 to 20 women meeting once a month for a work party to inspire each other and promote the art of quilting, always welcoming beginners.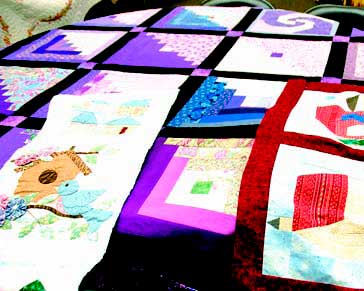 Historically, quilting skills were mostly passed down from generation to generation. "I learned how to quilt from my grandmother," Cindy smiled. "I can remember sitting under the quilting frame as a very little girl and listening to my grandmother and her friends talking and laughing as they stitched." The quilting frame was made by her grandfather probably around 1930. It was actually suspended from the ceiling of the dining room with pulleys. After a quilting bee, the unfinished quilt was lifted up to the ceiling until the next time!
"Back then during the Depression, used feed sacks were recycled into quilts, but now we use 100-percent cotton fabrics," Bettye explained. "But of course, I guess the feed sacks were 100-percent cotton, too," she laughed.
The quilters take field trips to quilt shops, have show-and-tell times and have sponsored quilt shows locally. A meeting consists of instructional programs, workshops, shared skills or fabric swaps. They have different demonstrations each month, because there are always new notions and patterns to share and ideas or techniques to learn.
"Quilters love to encourage everyone to quilt. We are really quite a diverse group," Bettye admitted. "We have
people of all ages and interests who love to quilt. In Dallas, there are even men in some of the groups! We have had homeschooled children, as well as members who have had serious illnesses or physical disabilities. One time a member had a stroke, and we all pitched in to help her finish her work," she added with tears in her eyes. "This is a group of the most generous, kindest women anywhere."
Their charity work is also very important. They have made lap robes for nursing homes, children's quilts for Ronald McDonald Houses, quilted Christmas gifts for children at the Women's Resource Center and a quilt celebrating the opening of Ennis Regional Medical Center. Cindy remembered the quilts they made for the Ennis police and fire departments after September 11, 2001. "We wanted to let them know how much we appreciated them," she added.
Cindy also mentioned how much the guild appreciated the First Presbyterian Church of Ennis. "We have been holding our meetings at this location," she said. "We consider the church a partner in our charity work."
Over 30 to 100 hours can be needed to complete a quilt. Fingers can be painful from needle pokes and may even become calloused. That is why "quilter's nightmare stories" are laughingly shared. "It isn't easy to watch your grandkids plop their dirty feet on your quilt or hear stories about great-grandma's favorite quilt out in the dog house," Bettye said.
She continued laughing, "Years ago people left out their best quilts only on Sundays. There was also a tradition to bury a quilter in her best quilt. One of our members said, 'Don't you dare wrap me in my best quilt; you can put it outside of my coffin, but not in it, too much work to just bury it!'"
Cindy added, "We also all have UFOs. That's 'un-finished objects,' and the joke is who will die with the most UFOs." More seriously, she shared about members who had passed on, and the guild pitched in to finish a project and then presented it to the family. One member always wanted her daughter to learn how to quilt, and when she passed, the guild had finished her quilt and mailed it to her daughter. The daughter was so touched that she was determined to finish a wall hanging her mother had also started. "Our goal is to keep quilting alive; it's our whole purpose," Cindy said passionately. "We want to teach future generations to quilt or at least to appreciate the art of quilting."
Written by Aleta Penfold
Editor's Note: The group meets the first Wednesday of every month at 9:30 a.m. at the First Presbyterian Church in Ennis. There is no charge, but be sure to bring your lunch, laughter and a desire to know more about the art of quilting.