CORSICANA, TX — Explorers of the unknown know where to go in Corsicana for the answers to all their questions: the Corsicana Public Library. A wealth of information is available, and helpful library staff and volunteers are ready to aid students of all ages in their quests for knowledge. "We are a little treasure; come dig for free," Library Director Chad Freeze said.
As library director, Chad works with area schools, teachers, parents and students. With a parent's signature and proof of Texas residency, students can gain access to the library's approximately 77,000 volumes, the computer lab's 14 computers with full Internet services and other shared media resources and programs designed just for children. Movies on DVD, music CDs and recorded books can be checked out for three weeks just like printed books. "If all the kids knew about these we wouldn't be able to keep them on the shelves," Chad exclaimed. "It's free, and it's all available to everyone."
Library staff and volunteers are ready to help children throughout the day, but after school hours are the busiest when students arrive to use the lab. "In any community, if you can't get the Internet at home, your first thought is your public library," Chad stated. With databases, such as the Ebsco Student Research Center, Kids Search, ERIC and Searchasaurus, students can find the information they need to complete even the most demanding assignments. Some of the databases are delineated by reading and grade levels, and several can be accessed from home computers with
a password provided by the library, upon request. "Students can also access some of the same databases that their schools have," Chad added. Through TexShare, students can request publications to be sent from other member libraries to the Corsicana library.
Students can belong to on-line book clubs, such as Teen, AuthorBuzz and KidsBuzz, and receive five minute "reads" daily from selected books and enter reading contests. "Kids can communicate with the authors of the books they are reading," Chad said. Books used in public school reading-incentive programs, such as Accelerated Reading (AR), are available for students to check out to help them earn coveted reading rewards. Book titles can be set aside for school projects. "We love for schools to contact us and make requests," Chad indicated. Schools can also call and schedule tours of the library and field trips when special programs are presented. If a student needs information on the
history of Corsicana or the surrounding area, the genealogy section of the library is the place to go. Special resources such as a collection of phone books dating to the original installation of service in the area and compiled histories of homes, families, events and economic times are all available for the asking. "If you want to find out about a community go to the library," Chad said. Staffed mostly with volunteers, some of whom have volunteered for decades, this section of the library is truly a labor of love for the Corsicana area.
Library staff members have attended back-to-school rallies, school open houses and parent/teacher nights at area schools in order to publicize available services. Hundreds of parents have signed up for library cards at these meetings or visited the library at a later date to get a card.
The Summer Reading Program is available to all students, whether they are on vacation and just reading for fun or in school. Weekly presentations, always informative and fun, are available to parents as well as summer school students and day care children. Children earn certificates and prizes for reading books. Volunteers from the Foster Grandparent Program help with the large number of children who flow into the library during the summer months. "Someone is always ready to help. We are blessed with the volunteers that we have. They are the unsung heroes, many of whom have put in over 100 hours of service. We honor them a lot," Chad remarked. Programs and special reading times continue throughout the school year especially for preschool age children.
"Some say that libraries are dead or dying, but that's just not true. Librarianship is a cross now between library science and computer science. Web design and Internet skills are needed now," Chad stated. That will really be true when the library implements a Wi-Fi system to go with the table that has electrical connections for laptops. NetLibrary, a free service, already offers books to be read on-line, and eBooks are coming soon.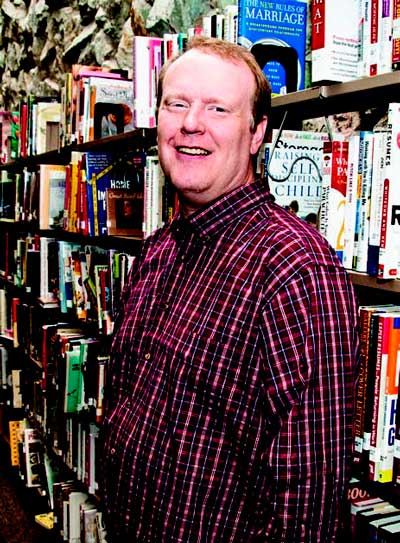 Chad, a Corsicana High School and Navarro College alumni, has been an enthusiastic librarian for Corsicana since 2008 when he and his wife, the former Kim Green, also a Corsicana native, moved back home. Chad was "bitten by the bug" while working in the University of Texas at Arlington library during his tenure at the University of North Texas, where he completed his master's degree in library science. Chad quickly emphasized, "The library belongs to the people; librarians are just stewards of the library." People of all ages are encouraged to come dig for information in the Corsicana Public Library: a true treasure.
Written by Virginia Riddle