CORSICANA, TX — Lake breezes gently rock the backyard bird feeders and Ski-Doo's are parked in the boathouse. Cooled by those same breezes and ceiling fans, the screened-in porch of George and Sherry McGraw's retirement dream home offers a restful reading and wildlife watching spot. "This is my favorite spot when it's not too hot," Sherry said.
Not ready for retirement quite yet, George and Sherry moved to Lake Richland Chambers two years ago, in spite of still being employed. The couple decided to make the move early, after being inspired by annual visits to a lakeside home owned by some friends in Toronto, Canada. "We knew we could make the move as long as I was within a two-hour drive of a major airport," George said. That way he could continue working for a company that services toll roads across the United States.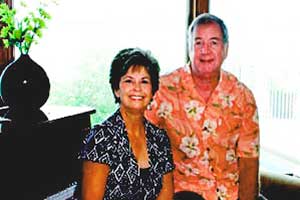 After finding their perfect home, the couple sold their Arabian horses and left their former Flower Mound home, including furnishings and acreage, in their daughter's capable hands. Their new home reflects their desire for the slower pace of life and allows for the hobbies they enjoy. "It's so peaceful and relaxed here. It's retirement living without being retired," Sherry stated.
Set in a quiet cul-de-sac in a gated community, George and Sherry's native limestone and antique redbrick home is nestled within attractive landscaping. Brick paths lead to the front door with an etched glass, Texas star insert. Favored reading, mystery and history books, line one wall of the entry while a welcoming quilt Sherry made displays words to live by — "Faith, Love and Hope." Sherry's grandfather's dominoes are just one
of many family heirlooms displayed throughout the home. An impressive view of the lake takes visitors' eyes through the living room where Sherry's prized possession is placed: her baby grand piano. Artistic touches include a painting of Arabian horses hung over the limestone fireplace and a stained glass insert placed above the panoramic lake view.
The window in the isolated master bedroom overlooks the lake and a nest of baby birds provides constant enjoyment. The roll-top desk gives George an office space when at home, and a glass block wall offers privacy in the luxurious master bathroom.
A keyboard and guitar, tools of Sherry's love of music as both a gifted performer and composer, grace her home office. She serves as part of the ministry at Corsicana's Calvary Worship Center, and she has collaboratively written and performed with Chari "Ulise White Eagle" Bouse and another friend, David One Feather, on a CD titled Native Sounds From Heaven. A pianist since the age of 4, Sherry said, "Music is one of the most important things in my life." Also from her home office, Sherry runs a business as show secretary for area Arabian horse clubs. "I borrow friends' horses now when I want to ride," she remarked.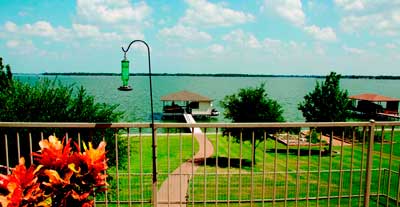 George enjoys cooking in the functionally beautiful kitchen, which features a work island and a large pantry with a Texas star-themed door. Since he and his co-workers eat in restaurants while working out-of-town, George revealed, "The guys
that I work with trade recipes. I mess around and do most of the cooking around here." The adjoining dining room features another magnificent view of the lake flanked by two maple chairs that George's grandfather bought for 25 cents each. George's boyhood chest-of-drawers that he refinished complements a large dining room table with a Lazy Susan. George is quick to point out a painting done by Sherry. "That's one of her other talents," he said proudly.
Daughter, Jenn, and son, Jack, both of whom are in their 20s and single, visit their parents' home often, bringing friends with them. "All through their high school years, we were where the kids came to," George remembered. Jenn's bedroom sports another view of the lake as well as a framed lace antique collar given to Sherry by George's mother. "She handed it down to me because she knew I would appreciate it," Sherry said.
A guest bedroom shares a bath with Jenn's room and features a display of Sherry's quilts, including a T-shirt quilt made from T-shirts George collected from endurance horseback rides. "The longest ride I ever did was 55 miles," he stated. The bed, bought by George's grandfather in 1916 for $2.00, is still in use.
Caiti, the family's rescued Doberman, beds down in the utility room, which leads to the three-car garage where George has room for his tools and workbenches. An addition above the garage has been added by the couple to accommodate Sherry's passion for quilting, which she inherited from her mother, grandmother and aunt. "She has every sewing implement known to mankind," George remarked. Sherry admitted, "I give quilts away to friends; I don't make them to sell. That would ruin it for me."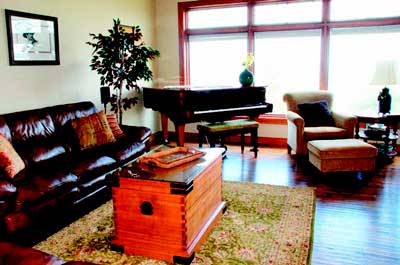 The downstairs is "party central" with a pool table and exercise area. "This is where the kids hang out," George said. A wall displays framed memorabilia from George's great-grandfather's service at the Battle of Gettysburg. Jack's bedroom is close by, with a handy exit to the lake and dock. "He's close to the important things," George laughed. George's grandfather's chest and a brass bed, purchased by George just after he graduated from college, complete the room. Ample couches allow young guests plenty of room to "crash" for the weekend. Friends are important. "We always take one major family vacation each year. The kids can always take one friend each along," George said.
This couple has enjoyed having close neighbors. "We just transfer food back and forth. We were kind of isolated before on our acreage," George said. Referring to the quilting room addition, George added, "My next door neighbor and I did the floor. We are now certified floor installers."
George and Sherry met while working for the same company. "He signed my paychecks," Sherry laughed. Married for 27 years, Sherry revealed George's idea of relaxing. "He'll jump on a Ski-Doo or fish. His fish commit suicide since he keeps three to four lines out at a time." George revealed that the multitalented Sherry likes to play golf. "My husband is so supportive of everything I do; he's absolutely the best," Sherry exclaimed.
A "Tree of Life" quilt, one of the many quilts Sherry has made over the years, is representative of the cycle of life. George and Sherry have, fittingly, begun a new, highly creative and productive, but more restful cycle in their lives by fulfilling their dream of living in a heaven-on-earth lakeside retreat where friends and family are always welcome and new memories can be made while the memories of 'yore are cherished.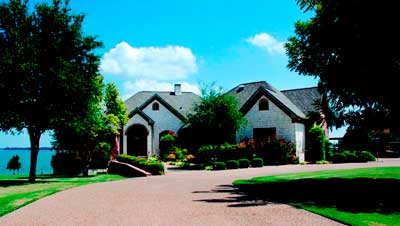 Written by Virginia Riddle