ENNIS, TX — Reading is the foundation for all the learning we do in school. Have you ever wondered what happens to children who have trouble learning to read? Do they fall hopelessly behind? Do they ever catch up? Are they doomed? If they are in the Ennis Independent School District (EISD), they go to reading recovery classes in first grade, where dedicated teachers like Benita Miller make sure they reach their full potential.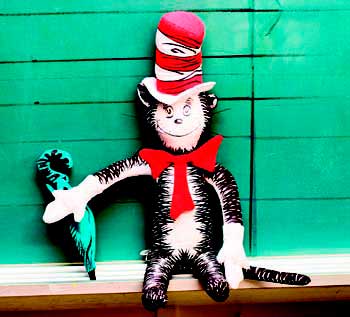 Benita believes in children. "We all have this dream for all of these kids," she confessed, "that they will learn to love to read and be lifelong readers." She realizes some of the children sent to her classes will need the kind of help
they can only receive in special education classes, but for most, a few weeks in reading recovery is all they need to get back on the road to success. Benita explained, "Reading recovery is early intervention for first- graders who are at risk of not learning to read and, because of that, they fall behind."
EISD has had a reading recovery program for 17 years, and for 16 of those years, Benita has been involved, along with eight other educators who make up the EISD reading recovery team. Teaching is Benita's second career. "I got my certification as a secondary teacher in college, but I never used it," Benita explained. "I became a loan officer, but as banking became less customer-oriented, I decided to become an elementary teacher." Her first year in the classroom was not a dream come true. "I was frustrated because I didn't have the time or ability to reach struggling students," she confessed. In conversations with fellow teachers, she started hearing about a new program addressing the problems she was seeing, and she was interested. Then she found out about a demonstration of the technique. "Any teacher who wanted to could go observe. I was so impressed." She described her first exposure to reading recovery as "a teacher's ideal situation, one-on-one work with students at the level where they really are."
The next year, Benita had the opportunity to receive the training. "I thought I probably needed more experience as a teacher first," she explained. "But when my principal called me and asked, 'Do you want to do this?' I was eternally grateful."
Benita went for the training and joined the program in its second year. In the program, each teacher has five students and teaches each of those students individually for 30 minutes each day. Since there is no way of predicting how quickly each student will master the skills he or she needs and each student comes to the program with different needs and deficiencies, there are no ready-made lesson plans. Teachers like Benita must plan the next lessons only after assessing where each student stands at the end of each daily lesson.
In reading recovery classes, students are tested for their knowledge of how books work, their
understanding of concepts like word and letter, their knowledge of letter sounds and recognition of words they should have learned in kindergarten. They write a dictated sentence during this time of testing, too. Once they are tested, only those students who need the class the most are assigned to the 20-week course.
During the classes, Benita keeps track of every error a student makes while reading, so she constantly knows exactly at which level each of her students is reading. "Every day my students read a new book at the level indicated by their running records." The students also write sentences in their journals using the words they know to talk about their own lives, and then use these sentences for more reading practice. The students practice sounding out words, recognizing sight words and understanding punctuation marks. The goal is for the students to be able to correct their own errors and become independent at each level of the program.
"Every child is a new opportunity and a new puzzle," Benita said. Students move through her classes at their own speed. Sometimes, students do not even stay for the entire 20 weeks. If they are reading well enough, they can test out of the program at any time and return to their regular classes.
Benita loves it when that happens, but for other children, it takes longer. Some children are still not quite caught up at the end of the first series of classes, so in the spring, those students who are still struggling go into small literacy group situations. "By third grade, our kids are just as successful as others," Benita reported with justifiable pride. She keeps track of all the students who go through reading recovery in EISD — all the way through sixth grade if they stay in the district — and the statistics show the children who were at risk of failure learn to read as well as their classmates in most cases. "When a student realizes that they can do it — sometimes it takes a few weeks; and sometimes more than a few weeks — but when all of a sudden, it clicks, that is the most rewarding thing of all."
Written by Adam Walker