MIDLOTHIAN, TX — Picnic basket stuffed with food? Check! Ice chest brimming with cold drinks? Check! Folding chairs and blankets for a long day? Check and double check! Horse? A horse is not usually one of the items you take with you when leaving for a whole day of family fun. However, if you belong to the Midlothian Saddle Club, this day is all about you and your horse. Shanna Horton, a member of the club, recalls many fun days of riding and friendly competition with friends and family at the arena. She stated, "The Saddle Club is a group of families. We have a district playday where every month we ride six single events and three team events. Not every family is there to compete. There are all different riding levels. Some people are there to learn to ride a horse or to learn how to communicate with their horse; some are training horses and some come to just enjoy themselves."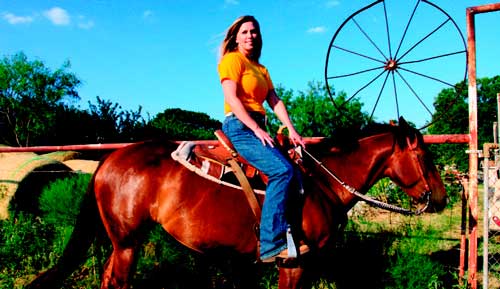 The club is a member of the National Association of Riding Clubs and Sheriff's Posses (NARC&SP) which has different districts throughout Texas. According to NARC&SP, all districts and clubs are bound together by a common goal of "promoting good horsemanship and good sportsmanship in a family-oriented environment."
In the spirit of promoting good horsemanship, Shanna explained, "We have events such as barrel racing and flag races. Some of the events are speed events where you are doing the event as fast as you can. With the flag event, you ride and grab the flag out of the first barrel and then you have to put it in the other barrel. Accuracy is important. The Pony Express event is a relay race with a bag. One member rides around the arena and passes off the bag to the next member who rides around the arena. It is a speed event and riders of all ages and ability participate in it." Other events are trail rides, the parade and drill teams. Shanna said, "We have drill competitions with synchronized riding. Synchronized riding can be challenging. You have to watch and know where you are supposed to be and you have to gauge your speed."
Most of these activities take place on playdays, which are very important to the club. "Playdays are a way to raise money to support the clubs," she explained. "They start in the morning and last until 10 o'clock at night. You don't have to stay for the whole day. On playday, everyone cheers everyone else on, not necessarily for winning but for communicating with the horse and finishing successfully.
That may be just making a correction where they messed up before; they ride it again and fix it. The people there are encouraging. You like to win, but the No. 1 thing is having a good time. It teaches teamwork and with teamwork comes wanting your teammates to do better." The club holds open playdays where anyone in the community can come, bring their horse and ride.
All of this activity requires a great deal of time with your horse and enjoying the interaction. Shanna started riding when she met her husband in high school. "Horse riding is recreation; it's relaxing, and it's exercise. It's all of that in one. Horses are remarkable animals and very compliant. They have big hearts and are compassionate. They can teach us as much as we teach them. A good horse
is not going to want to hurt you. Horses can read the rider. Some horses you can put an adult on who knows how to ride very well and in an event, for example, they'll run because they know what to do. Not all horses are that way but some are."
Shanna and her husband, Darrell, wanted their children to enjoy the benefits of horse riding and competition. Each child had a horse when they were growing up, and they learned how to care for it under their parents' tutelage. "Sports teach kids a lot, and this is just another sport," Shanna said. "Our oldest child got his first horse when he was 3. We taught the kids safety when growing up, for themselves and for the horses. The kids were responsible for feeding them and making sure they had clean water. You have to notice things about them because when they are hurting, they can't tell us. Grooming is a big thing, not so much to make the horse look better, but grooming helps the horse gain trust in you. It also helps you learn about the horse."
The association now allows riders to be sponsored. A family member who is not a member of the club can now participate under the sponsorship of a club member and ride their horse. Shanna stated, "It is a great event and we want to share it with others. You don't have to be a good rider to participate. It's for anyone, and you can make lasting, lifetime friendships."
Written by Betty Tryon