Deana Betik loves to sew. She does things her own way and does the kind of sewing she likes. "I don't use patterns; they drive me crazy. And I'm not a seamstress; I don't enjoy hemming pants."
Deana started sewing back in high school when she took a sewing class. "It was the only class in high school I failed," she laughed. Her final project, a dress, did not turn out so well. The size was so off that the friend she made it for was not able to use it until she needed a maternity dress. But that inauspicious beginning did not deter Deana. When she moved to Ennis, she and her cousin, Kelly, both stay-at-home moms, started making shirts, sweats, bows and decor for their homes.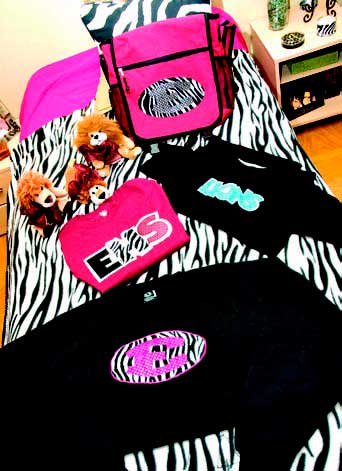 Deana started making curtains out of sheet sets and then decided she wanted some Roman shades — a project a bit more complex than she had previously tackled. So she asked a friend to sew them for her. Deana remembered, "She told me, 'I know you can do this, so I'm going to charge you a lot of money.' She was sure I could do it and challenged me to make them myself, so I started making Roman shades." People admired Deana's work and started asking her to make curtains for their homes. Kelly gave Deana her first Brother sewing machine, which she had won selling Tupperware. When that machine eventually died, her sister offered to replace it if Deana would make curtains for her. "I knew how much sewing machines cost and how much it would take to make the curtains," Deana admitted. "I know a good deal when I hear it!"
Soon Deana found herself making lots of curtains and shades, redecorating the houses of friends and the houses of people who became her friends after they hired her. But after 20 years of making curtains, Deana decided it was old hat. "I don't like to do the same thing over and over again. That's why I got burnt out on curtains." Deana confessed she gets bored easily and likes doing different things, so now she focuses on projects which allow her more creative play.
She spends a lot of her time designing custom T-shirts. "People bring me their designs and ask, 'Can you do this?' and I say, 'Sure!' or they just bring me a vague idea — they want a T-shirt for their group or something for an event — and I embellish."
She loves a challenge. "Tell me I can't do it, and I'll do it 10 times better than you think. Don't tell me I can't, 'cause I will!" You may already have seen some of her creative designs being worn around Ennis, especially if you know any educators or librarians. She made T-shirts for field day at Crockett, which feature the word Lions and a big paw print. She also made the zoo-day shirts for the Crockett teachers. Any kindergarten teachers you know may be sporting her Fanny Frog creations. At the public library, you may encounter her red, white and blue I Y Reading shirts.
Another place you may have seen her work is on high school students with whom her custom-made, spirit shirts are popular. She has made shirts for the Crockett Lions, the Forney Falcons, Scurry Wildcats and for colleges as well. For the costume ball this year, she got her first order for a guy's T-shirt when one
of her cousins asked her to make one for him. Somewhat tired of the whole Team Edward/Team Jacob debate raging among female fans of Stephanie Meyer's popular vampire novels, "Byron brought me a black V-neck T-shirt and asked me to make him a 'Team Myself' shirt. I was shocked, but he said it had to be sparkly," which is, of course, only fitting when mocking sparkly vampires.
She has also made shirts, for mother/ daughter dress-alikes, her mother's group of church "sisters" shirts, on which the T in sisters became a cross, a "Sen10rs" T-shirt for a girl who wanted to commemorate graduating this year, and many other creative projects. She has outfitted groups for cancer walks, birthdays and Zumba classes. But she does not stop with T-shirts.
When one of her cousins wanted to make some burp rags for her niece's baby shower, she and Deana stayed up till 3:00 a.m., producing 24 designs. The burp rags were a hit and since the shower, Deana has been getting more and more requests from mothers-to-be and their friends.
Deana will make anything someone asks for — hair bows for polka festivals, baby headbands, accessorized flip-flops, bridesmaid's purses, ring bearer's pillows and backpacks. But even larger projects are not outside her scope — things like prom decorations, or her daughter's dorm room, which won a prize and was used to impress prospective students. All this ensures that Deana stays busy, while the creativity and care she puts into her work make sure people keep asking for more. Keep an eye out. The next time you spy a cool, creative T-shirt, it just might be one of Deana's creations.
Written by Adam Walker.