A lot of times, Jimmy Neal gets people to do things that for some reason they would not have normally done. Maybe that is why Mansfield Independent School District asked Jimmy to lead Summit High School (SHS) staff and students. In this, his first year as principal of SHS, Jimmy has the distinct privilege of working with a strong staff, 39 percent of whom are teachers and administrators who were on his team when he helped then-principal, Donna Grant, open the school nine years ago.
"People bonded when they were a part of opening Summit. The teachers here have a lot of pride. This is a school rich in tradition," said Jimmy, listing academics, athletics and student involvement as Summit High's top three priorities.
"The teachers have worked hard to have positive relationships with the students. The kids like coming here! Anytime you can have that, the kids will be successful, as will the teachers."
When Jimmy asks students or staff to try something new, they just step up and do it! Surely he has found his niche. "People ask, 'Why do you want to be a principal?' It's just a desire of mine. I'm sure if I went to work somewhere else, I'd want to be the manager," said Jimmy, who loves his work. "Every day I walk in this job, I'm learning. Regardless if it's education, business or whatever, college cannot teach you what you're about to learn when you start the job. You gotta have the drive, the want to, the passion."
Jimmy's original goal was to be a head football coach, after a high school career of playing baseball and football. Now, he calls himself a wannabe athlete. "Actually I love playing basketball, and never played it before. I have a little group of community members, and we get together and play basketball once a week. Most of us are over 40, and I've established good relationships through those games. It was a big joke with some of my people at T.A. Howard Middle School," laughed Jimmy. "I'm not that good, but we have fun."
Apparently, after 13 years coaching at Crowley, Mansfield and DeSoto high schools, Jimmy had become really good at managing people. In his sixth year at DeSoto High School, Principal Judy Moss saw his dedication, hard work and relationships with students and with other teachers. "She suggested I get my mid-management certification," said Jimmy, who worked on weekends and nights to get certified. His goal was to be a principal.
After a year, he got his first assistant principal position at a middle school in Sherman, where he grew up. "I love my hometown, but had an opportunity to come back to Mansfield so my wife wouldn't have to leave her job teaching and coaching in Maypearl. They had a great volleyball team that year; we didn't want to leave that. My kids were in a good place, too," said Jimmy, whose family lived in Mansfield. Lo and behold, he was offered an assistant principal job at Worley Middle School, where he served for a year with Robert White before moving to Summit High School. Sharing his vision, sharing others' visions and working with people to ensure students were successful, Jimmy eventually achieved his goal of becoming a principal.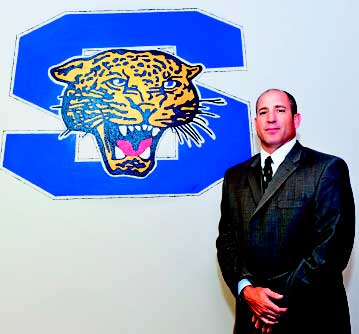 He uses a lot of his coaching skills to motivate kids, staff, teachers and even other coaches! "If you think of sports and a game, you know that when something breaks down you have to work together to fix it; and you understand the long hours it takes to prepare," said Jimmy, who prepared for this school year just as he used to prepare for a football season.
"There are a lot of hours that go in before the first kickoff — or before you open the doors of the high school."
As he worked to prepare for this school year, Jimmy focused on the positive, hiring good people to round out his team, teachers who will join him in encouraging and motivating students. "You don't shut doors on kids, and
you don't give up," he said. "Kids are amazing. I have no way of knowing what they go through before they get to school, and there's some that surprise you and show up every day. Kids want to learn! If we have those expectations, and we motivate and engage and encourage, a lot of times they'll step up and be successful. Most kids come to school, they want to be here and they want to be successful — as do their parents.
"One way we attack school dropout rates is through involvement," said Jimmy, whose high school offers students the chance to join clubs like Key Club, sponsored by the Kiwanis. "I would like to get kids engaged. If you're in a club, you learn to help others and be involved, and that's aside from the things you learn from books and reading and academics. It all fits together. We want to create a well-balanced student that can go out and be productive when they leave here, and hopefully find what they want to do when they go out into life."
Written by Melissa Rawlins