This is not a tale of pirates who sail the seas and steal plunder. This is a story about a Little League team, supported by coaches, families, teachers and neighbors. Only two things are on their list to steal: bases and hearts. "What makes our team unique is that every one of these kids is the team and community's kids," Neil Hopkins, assistant coach remarked.
William Corbett, a team member, sums it up this way. "This team is like a family
to me because we are always there for each other."
Many residents of Ennis know about the Ennis Independent School District school bus dubbed "The Pirate Ship" used to transport members of the Ennis Pirates U 12 select baseball team from an intermediate school to an elementary campus where several of their parents work. So what is so special about this team? By choosing to compete in the Southwest Classic League with Dallas area teams, the Pirates do not always win every game. "These kids aren't going to remember how many games they won," Neil remarked, "but they will remember the camaraderie and individual plays."
Coach Jason Baker sets high expectations for the boys. "They're all excellent students, which is a great accomplishment while staying so busy playing baseball," Sharon Honza, a team mom, stated. Team members include: Ian Baker, William Corbett, Brett Doring, Rhett Holcomb, Jacob Honza, Mason Hopkins, Cole Howeth, Logan Lipscomb, Evan Moreno, Dylan Nors and Matthew Shorrock. "Each and every one of these boys has a desire to be a good baseball player," Jason said. "They are respectful kids; they are very coachable kids, and they have developed a strong work ethic."
Already the team has accumulated some memorable plays. Neil remembered the first tournament. "We won against  a pitcher, who threw 62 miles per hour,
and we went on to win the championship in the last inning. It was pretty neat stuff
hitting a kid that could throw like that," Neil remembered. "The kids were so proud."
Another great moment occurred at the Little Heroes Field in Dallas last spring. Jason recalled, "We got beat 17-2. They made us look like we didn't know our business. We came back and beat the first seed team, then played for the championship and won a trophy. This was the turning point for the team; they were turning into baseball players. They quickly found out baseball is a disciplined, mental game. It's all about experience."
Experience is what Jason brings to coaching with a degree in kinesiology, and experience playing baseball at Ennis High School and college. "Jason made us realize how complex baseball is," Neil offered. "He gives the kids a chance to grow." However, each coach has brought skills to the team. Neil, a CPA by profession, said, "I know my role. I handle the administrative side for the team."
Jason agreed, "Neil speaks reality when I see stars. There is a good ebb and flow between all of us."
There should be; these coaches have been doing this job since their boys were on a team for 4-year-olds. Neil's wife, Carrie, and daughters, Marley and Morgan, are ready to assist and cheer as are Jason's wife, Kim and daughter, Katie. Assistant Coach Chris Shorrock completes the coaching team. All three coaches have sons on the team.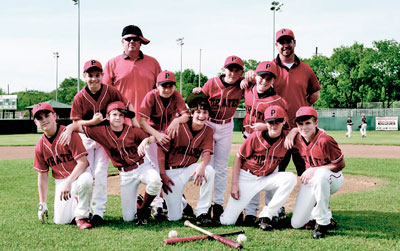 The coaches are quick to give the parents credit for the success of the team. "Parents are our biggest asset," Neil stated. "These are good kids parented by good parents. They make Ennis proud." Parents organize fundraisers, carpool to games, serve as officers, create the team's Web site and offer support to each other.
"The Pirate families spend a lot of time with each other," Robin Corbett, team mom, stated. The boys even get to cheer on their parents who formed their own baseball league team, the Night Terrors.
The Pirates attract a large following from the Ennis community at games. Teachers, neighbors, church and extended family members are often in attendance and are supportive in every way. The team also lists many business supporters within the community on their Web site: www.ennispiratesu11.shutterfly.com. "We truly are community-based," Jason said.
Having fun is important especially in the fight against burnout. The spring season's games revealed the kids were a little rusty in their skills which gave them a rocky start. "Every kid is a darn good ballplayer. We had to teach them that the challenge gave them a greater opportunity to excel," Jason said. "The kids have worked hard. We have to develop 'muscle memory.' Everyone practices with a sense of purpose and a smile on his face. Hopefully, if these kids have a chance to play in high school, college or beyond, these skills and experiences will serve them well."
As the season matures, so do these young baseball players suited out in red and black. Team father, Chad Corbett reflected, "I think each of these boys will be able to cherish the memories of this experience when they are adults."
His son, William, said it all. "There is no better place to be on the weekend than on the baseball field."
Written by Virginia Riddle