Student-drawn monkeys, tigers and other jungle animals trek across the brightly colored halls of the Mansfield campus of Pantego Christian Academy (PCA), where the sounds of learning echo with what can only be described as fun. Perhaps it is the dedicated teachers, partnered with involved parents, resolved to bringing up children to stand on biblical faith. Perhaps it is the curriculum, with an Honorable Character Program, which rewards students based on character traits such as honor, obedience, wisdom, kindness, self-control and honesty. Or perhaps it is the students themselves, working hard and making their education a successful pathway to their future. Whatever the reason may be, the difference at Mansfield PCA is tangible, making it easy to see why every year, more and more students and families are joining the stampede.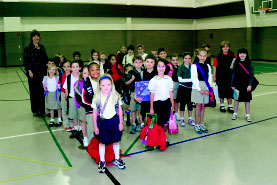 Having just completed its third year, PCA's second campus is growing by leaps and bounds. Elementary Principal Cindy Sherrill explained, "We opened in 2007 with 37 students. This year we had right around 100, and we're looking to have about 130 next year. We're adding a grade level every year to get to fifth grade. Right now we have 3-year-olds through third grade, so this coming year we'll add fourth and then fifth." The current plan after students complete fifth grade is to send them on to the Arlington campus for middle school. "In years to come,
it'd be grand to have all grade levels right here, but as for right now, that's the plan," she shared.
Currently, the school building and grounds are leased from Mansfield Bible Church. "It had been a desire of the school board for a number of years to go south and have a Christian school in this area. Mansfield Bible Church was buying this facility in 2007, but at the time it was too big for them, so they asked us to come here and start our school," Cindy said. "There was our opportunity, and it's
worked out perfectly, because we were able to start small and grow."
Cindy is a long-time PCA Panther, having taught kindergarten at the Arlington campus for 14 years, from which both of her children graduated. The move from teaching to principal was a bit unexpected, but the last three busy years have reinforced what she feels is a calling. "I heard someone say, 'This is the hardest job I've ever loved.' I think that says it perfectly," she laughed.
Having the benefit of a well-established campus, with 47 years of successful methods and curriculum, has made the job of Mansfield PCA's educators a bit easier. Plus, it never hurts to bring along some friends. "We brought some lead teachers from Arlington, who had been at that campus for several years, which was a huge help," Cindy noted. "We also have some specialty teachers we share part time with the Arlington campus. That helps keep us connected as campuses and gives our kids more interaction."
Contrary to some views on private schooling, Cindy is quick to point out her students are not removed from the "real world," but are instead being equipped with skills which will help them make that world a better place. "Our intention from the very beginning with each child is college preparation, so we have very challenging academics. But we also teach everything from a biblical perspective and a Christian worldview," she noted. "We bring the Lord into everything we teach to help our students stand on biblical knowledge and know why they believe what they believe, especially in subjects like science, so they can defend their faith. I tell parents, 'Yes, we are a Christian school and we teach the Bible, but it's bigger than that.'"
Rhonda Attaway, admissions director, praises the PCA parents for the school's success. "Our parents are very much involved. We want them to be on board and understand our curriculum. We're a covenantal school; our purpose is to partner with Christian parents to raise up Christian children," she said. "We have very like-minded families, so there is a bonding that takes place. They really get to know each other, even in the classes above and below. There's just that family feel. Everybody plays a part." Smaller class sizes, with no more than 15 students per class, mean more individualized attention. "The parents get the sense that their child is noticed here and cared for, not just a number," Rhonda added.
Our community has been reaping the benefits of PCA Panther pride, as students learn to "do unto others" according to Matthew 7:12. The Children's Medical Center of Dallas, local nursing homes and food banks, Haiti earthquake survivors and the American Cancer Society are just a few of the recipients of the students' volunteerism. "We think that service and mission projects within the community are very important. We're raising community- minded children with the responsibility of service," Cindy said. "We all know, as parents, that you can't shelter your child completely from the world. But, by parents making the choice to have their children come here, I think they are giving them the support they need to be in the world."
Written by Jaime Ruark