Many years ago, Carolyn Hart saw a form of art she had never
seen before and yet, she knew she could do it. "It is an innate
thing," she said. "You know what you know. Somehow,
I already knew how to do this."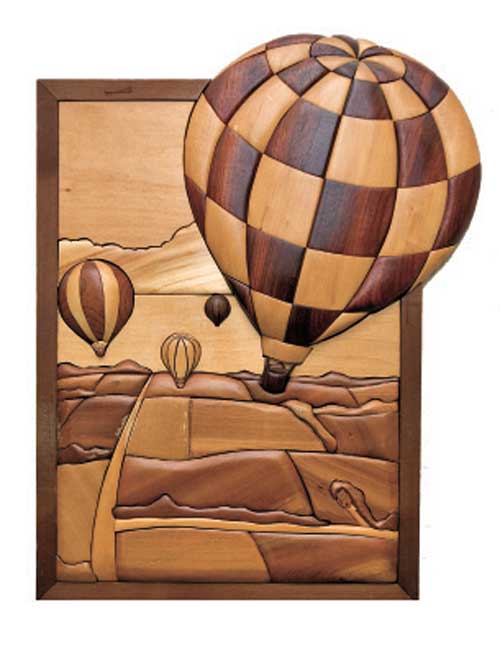 Intarsia, a very labor-intensive
form of artwork, involves using
different naturally colored
pieces of wood, cut into a
particular shape and laid on a
wood surface. The result of this
demanding work is an amazing
piece of three-dimensional art.
Carolyn explained how she
began to learn this ancient form
of art. "The first time I saw this
was in a woodworking magazine
that had a sample pattern in
it. The paper pattern is like a
blueprint. Judy Gale Roberts
makes most of the patterns that
I use. They tell you the color of
wood to use and what level to
place them. After that, you are
on your own on the shaping.
None of the wood has a stain on
it; it is just the natural color." Carolyn still has her first intarsia
artwork of a smiling cat lazily hanging on a tree limb.
She also created a particularly interesting wall hanging of a
boy splashing through a puddle while crossing the street. The
wood inlay with different pieces on top of a wood surface,
achieves the 3-D effect, making for an incredible piece of
art. The skill of the craftsmanship shows in every precisely
cut section of wood that is eventually pieced together for a
picture. In Carolyn's granddaughter's room hangs another work
of intarsia. It is a fairy tale castle floating in clouds. The dark
sections for the wood were made with a wood-burning tool.
Although now an expert in the craft of woodworking, Carolyn
remembers when she first began. "I was in junior
high school, and I wanted to take woodshop," she
recalled. "At that time, girls couldn't take
woodshop.
This was in the '50s. We
had to take home economics,
but, for six weeks we
could switch places
with the boys. They would go
to home economics and we
could go to woodshop."
Carolyn's fascination
for working with wood
was not deterred. She
stated, "I was always
out in the garage
with my brothers
who were older than
me, and that kept me
interested.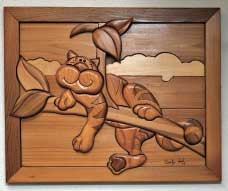 They were
working on cars, tearing things apart and
putting them back together. Those were
things I liked to do." Her woodworking
knowledge and craftsmanship had to
come by her own initiative. She explained,
"I learned how to do it by trial and error.
I had always dabbled in woodworking
before I got a degree. I started college
late in life after the children were adults.
I went to Mountain View College and
was going to take drafting, but one of
the instructors talked me into getting my
bachelor's degree. I went to North Texas
University and earned my bachelor's
in industrial arts. I got a teacher's
certificate in teaching industrial arts. I
taught in Dallas for 20 years, 11 years
in woodworking, and then I switched
to information technology and started
teaching computer application."
When you are passionate about your
work, getting a chance to share it with
others wanting to learn it can be a bonus,
particularly when your students are as
enthusiastic as you are. "I have had
students who couldn't wait to get into
the class and others who couldn't wait
to get out," she chuckled. "Woodwork
is a mentally challenging and costly
enterprise. You don't need a lot of
woodworking material, but you do need
to have a band saw and drill press among
other things. If you already have those,
you are well on your way."
Because of her expertise in
woodworking, Carolyn has carved many
works of art out of wood. In her home
is a hanging of a clock, raised on a block
of wood. Completing the picture is a
silhouette of a cowboy with intricate
details carved into the body. She has
wooden cars and pickups designed
from the 1920's era. Adding
variety to her abundant store
of talent, she has crossstitching
pieces that are
dear to her.
She stated,
"I give most of
my woodworking
creations away
— probably
because I didn't
have room to
hang it. I haven't
given any of
my cross-stitch
away though. They will have to claim that
when I'm dead and gone," she smiled.
In describing her joy in art, Carolyn
said, "It is one of those things that you
can't do without, at that particular time."
Her passion allows others to experience
the ancient art of intarsia. In the past
when persuading students to join her
woodworking class, she told them, "If
you like to get dirty, this is the place to
come. You are going to get wood chips
and sawdust on you, dust in your face,
nicks, scrapes and splinters." If any
students remain in the room after that
picture of their future, they will get the
opportunity to learn woodworking from
one of the best.
Written by Betty Tryon