Children are known for changing their minds about what they want to do when they grow up on almost a daily basis. This is not the case for Red Oak High School (ROHS) sophomore Jeremy Brady. "When Jeremy was 3 years old, he started playing football on peewee teams," his mother, La Tonya Brady, said. "After peewee, I never stopped playing the sport and am constantly involved in football with my brothers and friends all the time," Jeremy added. "I was always a very physical kid. My mom was even afraid I was a bully." Although he really was not a bully, "I just loved knocking people over," he smiled.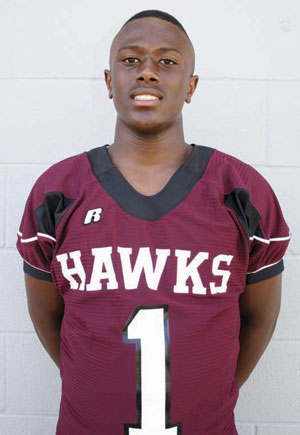 Coming from a predominantly basketball-loving family, Jeremy grew to love the hoops almost as much as football. Jeremy's mom and dad both encouraged him to see how well he could do at both sports. However, his heart is on the football field. "My older brother, D.J., played football and basketball, but he kept switching between the two sports," Jeremy said. "Now, D.J. is a senior and plays varsity basketball at Red Oak High School.
"When I first started playing football, my dad was my coach, so I really started getting into it and loved it," he explained. His dad, Dexter, started a city football team, and as Jeremy grew up, he found himself playing the sport with the same children throughout the years. His talent and desire for the sport grew. "I just got better and better and started thinking, Hey, I'm pretty good at this."
After working hard on city leagues, Jeremy played in middle school and later junior high. "As I got older, my junior high coaches started talking to me, and they would really motivate us," Jeremy said. "When he left junior high he would work out two to three times a day because his goal was to make the varsity team as a freshman," Dexter said.
However, at the beginning of his freshman year at ROHS, Jeremy was placed on the freshman team. "I would go to their [varsity team's] sessions and watch their films. I guess
that showed I was motivated and determined," he said. "Then when the head coach came to talk to me, I was surprised. "[After] I played my first junior varsity game, the coaches would have me practice more, and they would watch how I would improve," he said. "I guess they thought I'd be very helpful on the varsity team." By the third game of the season, "I started playing varsity."
Jeremy's first game on his new team just happened to be the homecoming game. "That was one of the scariest games of my life," he said. This freshman on the varsity team was being observed. "The coaches wanted to see how I was doing, and it turns out they thought I did pretty well," he smiled. They won their homecoming game, and Jeremy deservedly earned his spot on the team.
Jeremy's talent and love for the game continued to grow. "The coaches kept motivating me, and I kept improving," he said. "That year, [last year] we ended up making playoffs. Being in varsity was a great experience for me and my future, and I know what to work for, for that future," he reflected. Part of Jeremy's plan is to continue to work hard, be disciplined and grow.
This past July, he started working out three times a day with a personal trainer who is also a former National Football League (NFL) professional.
"My trainer and I have sessions in conditioning and techniques," he said. It is Jeremy's dedication and heart that have helped him to become a success. "He's a good and smart kid," La Tonya said. He is an A/B student and his favorite subject is math.
For the rest of his high school years, Jeremy plans on working hard for his team and making his parents proud. Once he graduates, he has more dreams to accomplish. "After high school, I want to go play football for any college that wants me," he grinned. Those who know Jeremy say he will probably have many colleges to choose from.
"I've received a couple of questionnaires and information sheets from college scouts and coaches," he said. "That made me feel good; it also made me more focused on what I can do for them."
Jeremy's positive outlook, good grades and integrity are a reflection on his upbringing. "I listen to my parents," he said. "They've been telling me to be good and do the right thing since I was little," he grinned. "They also encourage me to stay motivated and hungry. They tell me that all the time. I also pick good friends and talk to everybody." For now, Jeremy is looking at his immediate and bright future. "I want to win a state championship," he smiled.
— By Diana Merrill Claussen