Nothing says July like fresh peaches! If you love peaches, you might want to check out the 34th Annual Parker County Peach Festival in Weatherford this month. Need some new recipes to help you use up the produce you bought? Try these out!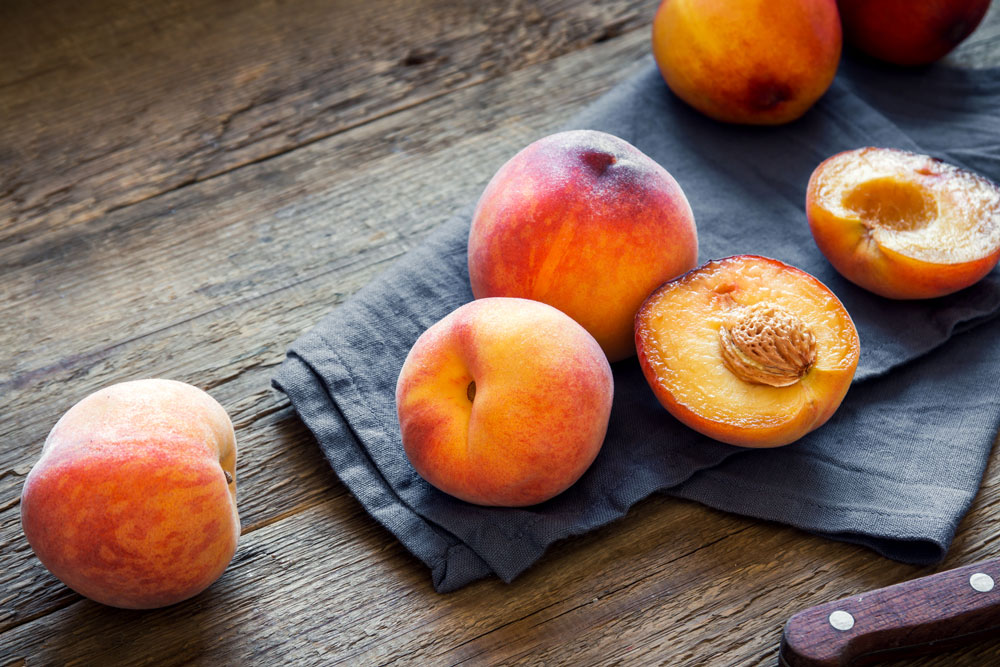 Granny Ruby's Peach Cobbler
Submitted by Lawonna Dawson for the July 2015 issue of WeatherfordNOW Magazine.
Crust:
2 cups flour
1 tsp. salt
2/3 cup shortening
6-8 Tbsp. ice water
Filling:
3 cups peaches, sliced
1 to 1 1/2 cups sugar
2 cups water plus 2 Tbsp. cold water (divided use)
1/4 cup cornstarch
2 Tbsp. margarine
For Crust: Mix together flour and salt; cut in shortening. Add ice water. Form into ball. Roll out 2/3 of the dough to fit a 9×12-inch baking dish. Roll out remaining dough; cut into 1-inch strips.
For Filling: Simmer peaches, sugar and 2 cups water for about 15 minutes.
In a cup, mix 2 Tbsp. of cold water into cornstarch. Stir mixture into peaches to thicken. Pour peaches into unbaked pie crust. Top with strips of dough. Sprinkle with sugar and dot with butter. Bake at 375 F for 1 hour, or until brown and bubbly.
Grilled Peaches and Nectarines With Vanilla Ice Cream
Submitted by Emily Jones for the July 2018 issue of BurlesonNOW Magazine.
4 ripe peaches and/or nectarines
2 Tbsp. canola oil
8 large scoops vanilla ice cream
1/4 cup honey

 

4 tsp. sea salt

 
Heat grill to medium-high heat.
Wash and halve the fruit, removing the pits. Brush the peach and nectarine halves with oil; place on the grill for about 3 minutes. Rotate 90 degrees to continue to cook for another 3 minutes or until grill marks appear and the fruit starts to caramelize. Remove from the grill.
Serve with a scoop of ice cream. Drizzle with honey and a sprinkle of flaky sea salt.
Peach Cobbler Trifle
Submitted by Cliff Mackenzie for the March 2015 issue of WeatherfordNOW Magazine.
Crumb Mixture:
1 cup graham cracker crumbs
3/4 cup sugar
1/4 cup quick oats
1 tsp. cinnamon
1/4 tsp. nutmeg

 

Dash of cloves
6 Tbsp. butter, melted
Trifle:
2 cups heavy whipping cream
2 3.4-oz. pkgs. vanilla instant pudding
1 1/2 cups milk
1/2 tsp. orange zest
1 cup sour cream
1 Tbsp. lemon juice
1 Tbsp. sugar
1/2 cup powdered sugar
4 cups fresh peaches, washed and diced
1 1/2 loaves pound cake, cubed

 
For crumb mixture: Stir together all ingredients. Spread on cookie sheet; bake at 350 F, until lightly golden.
For trifle: Whip cream into peaks. In separate bowl, whip pudding, milk and orange zest, until thick; fold in sour cream. Once smooth, fold in whipping cream.

 

Add lemon juice and sugars to peaches; set aside.
In a trifle dish or glass serving bowl, layer cake, pudding, crumb mixture and peaches; repeat and top with fresh peaches. Chill before serving.

 
Home-canned Pear or Peaches 
Submitted by Lydia Holy for the June 2010 issue of CorsicanaNOW Magazine.
Pears or peaches 
1 cup sugar

 

3 cups water

 

Canning jars and lids

 

Stick cinnamon (optional for pears)
Prepare fruit by peeling and cutting in half to remove seeds and stem. Remove pit from peaches and cut into fourths.

 

Boil sugar and water until it is syrup; drip fruit into syrup. Cover and cook until fork tender.

 

Have jars in warm oven. Drop lids into pan of boiling water.

 

Fill jars with fruit and syrup to the top.

 

If desired, add stick cinnamon to pears.

 

Put lids and rings on and tighten. (Will last up to one year.)
Peach Pickles 
Submitted by Catherine Porter for the August 2011 issue of CorsicanaNOW Magazine.
3 qts. sugar
2 qts. vinegar
7 2-inch pieces of stick cinnamon
2 Tbsp. whole cloves
16 lbs. (about 11 quarts) peaches, small or medium
Combine sugar, vinegar, stick cinnamon pieces and cloves in a saucepan. Cloves may be added to a cheesecloth bag and tied at the end, then removed if not desired in final product.
Bring to a boil; let simmer while covered for about 30 minutes.
Wash peaches and remove skins.
Add peaches to the boiling syrup, enough for 2 or 3 quarts at a time, and heat for about 5 minutes.
Pack hot peaches into hot jars.
Add 1 piece of stick cinnamon and 2-3 cloves (if desired) to each jar.
Cover with boiling syrup and tighten jar lids.
Process in a hot, boiling water bath for 5 minutes. Time begins when water starts boiling.
Mother's Sour Cream Peach Pie
Submitted by Betty Trevino for the June 2012 issue of BurlesonNOW Magazine.
1 cup sour cream
1 cup sugar
5 Tbsp. flour
1 box refrigerated pie crust dough
4 cups fresh peaches, peeled and sliced
2 Tbsp. sugar
1 tsp. cinnamon
1/4 tsp. salt
Mix sour cream with sugar and flour.

 

Press half the dough into a 9-inch pie plate; add peaches. Top with sour cream mixture.

 

Make lattice top with remaining pie crust dough. Mix together sugar, cinnamon and salt; sprinkle over pie.
Bake in preheated 375 F oven for 50 minutes to 1 hour.
Peach Ice cream
Submitted by Erin Mahan for the July 2018 issue of MansfieldNOW Magazine.
3 eggs lightly beaten
1 1/4 cups sugar
1 Tbsp. flour
1 Tbsp. vanilla extract
1 tsp. almond extract
1/4 tsp. kosher salt
2 cups half-and-half
1 1/2 cups heavy whipping cream
3 cups Parker County peaches, cleaned and diced
Whisk eggs, sugar, flour, vanilla, almond and salt until blended.
Over low heat, in a large pan, heat the half-and-half and cream until it steams, stirring frequently.
Slowly temper the egg mixture by adding it no more than 2 Tbsp. at a time to the cream and stirring, being careful not to scramble the eggs.
Once fully combined, increase heat to medium; stir constantly for approximately 15 minutes. Mixture will thicken.
Remove from heat; refrigerate 2-3 hours, until fully chilled.
Puree 1 1/2 cups of the peaches until smooth. Mash 1 cup of the peaches gently with a potato masher.
Add pureed, mashed and diced peaches to the cream mixture and fold until well incorporated. Pour into an ice cream maker and freeze until ready. Time will vary by machine.