Want a new dish for your family's Memorial Day picnic? Here are few recipes that have been submitted to us over the years, that might just be what you are looking for!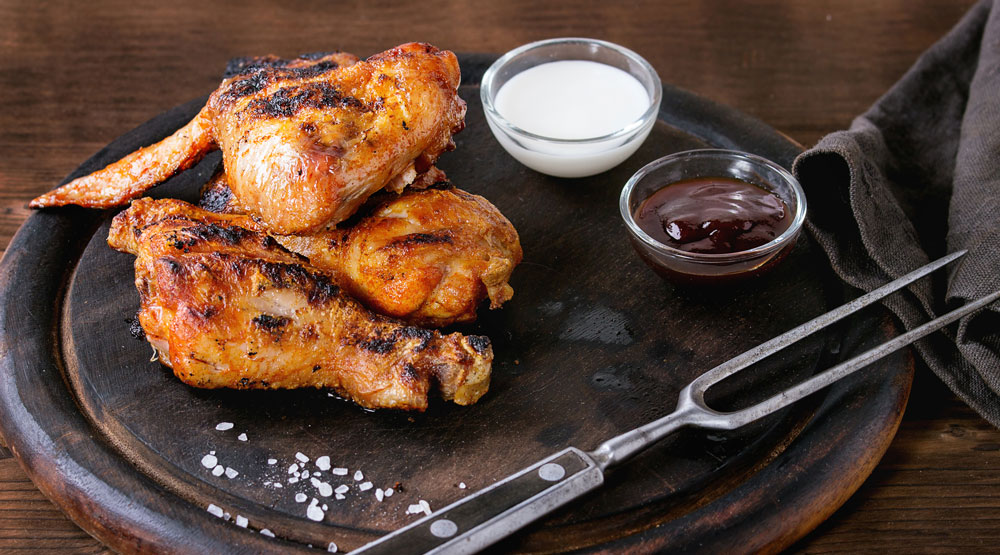 Grilled BBQ Chicken
Submitted by Cletis Escobar for the September 2014 issue of WaxahachieNOW Magazine.
1 whole chicken, cut up
1 16-oz. bottle Italian dressing
Chicken rub (see previous recipe)
1 18-oz. bottle Four Escobars Original Barbeque Sauce
Marinate chicken in dressing for at least 4 hours. Remove chicken; discard excess marinade.
Lightly coat both sides of chicken with rub. (For best results, also apply the rub under the skin of the chicken.)
Grill over medium heat until internal temperature reaches 170 F, turning midway through cooking. Apply sauce with a basting brush 15-20 minutes before removing from grill and again 10 minutes before removing from grill.
Let chicken rest (cool) for 10 minutes prior to serving.
Potato Salad
Submitted by Ricky Adcock for the June 2016 issue of GranburyNOW Magazine.
8 medium potatoes, peeled and boiled
5 boiled eggs, peeled and chopped
1 cup chopped purple onion
1/2 small jar dill pickle relish
Salt and pepper, to taste
1 1/2 cups Hellmann's Real Mayonnaise
Mash boiled potatoes with potato masher.
Add chopped eggs, purple onion, dill relish, salt and pepper. Stir until well mixed.
Add mayonnaise; mix well. Serve warm or cold.
Spinach Salad
Submitted by Li Cross for the October 2017 issue of GranburyNOW Magazine. 
2 cups fresh baby spinach
2 Tbsp. Feta cheese
2 Tbsp. dried cranberries
3 Tbsp. chopped cinnamon pecans or toffee
3-4 Tbsp. balsamic vinaigrette dressing
Wash spinach; place on a paper towel to dry.
Place first 4 ingredients in a bowl. Add balsamic vinaigrette to moisten; mix gently.
Quick Baked Beans (Makes 5-6 servings.)
Submitted by Jackie Anderson for the August 2016 issue of WeatherfordNOW Magazine.
3 slices bacon, chopped
1 onion, chopped
1 green pepper, chopped
1/3 cup Grandma's Original Molasses
1 Tbsp. prepared mustard
3 cans (No. 2 size) VanCamp's Pork and Beans
Fry bacon until crisp. Add onion and green pepper; cook until onions are clear.
Add remaining ingredients and place in a greased 2-qt. casserole baking dish. Note: If there is too much liquid in the beans, drain before adding.
Bake for 1 hour at 350 F.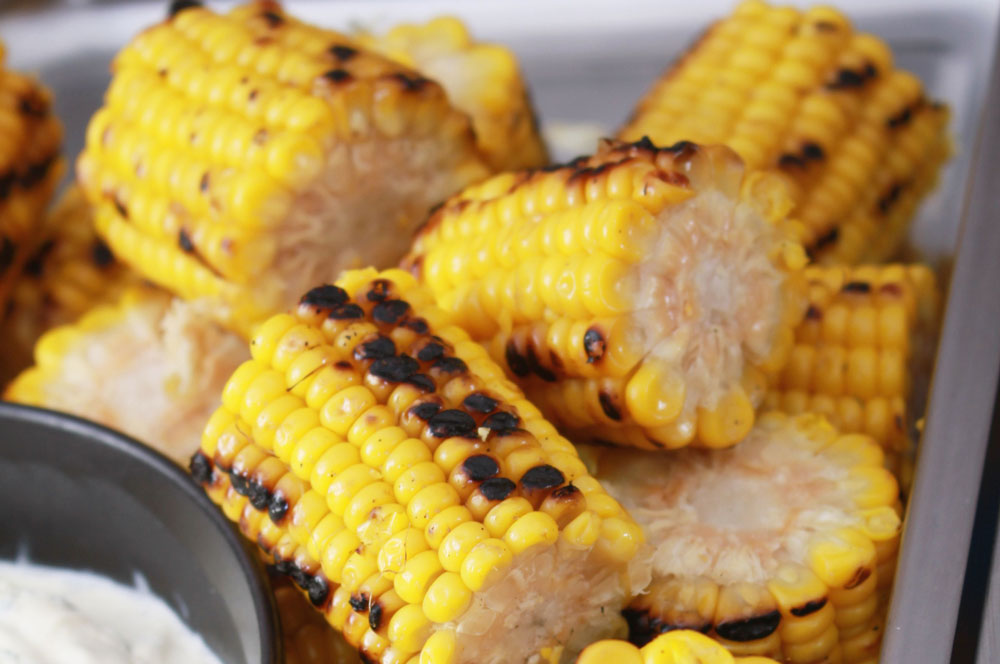 Grilled Corn on the Cob
Submitted by Josh Fortney for the July 2016 issue of BurlesonNOW Magazine.
1 jalapeño pepper
6-8 ears corn, shucked
3 Tbsp. unsalted butter or ghee
1 lime
2 tsp. honey
1/2 tsp. salt
Preheat grill to a medium temperature.
Place the jalapeño on the grill for 10 minutes, turning every couple of minutes. Remove from grill; let cool.
Place ears of corn on the grill, turning every few minutes until lightly charred.
While corn cooks, peel jalapeño. Discard seeds; dice. Stir jalapeño into butter with a squeeze of lime juice, 1/2 tsp. grated lime peel, honey and salt.
Once corn is charred, place on serving plate and cover with the jalapeño-butter mix.
Chicken Rub
Submitted by Cletis Escobar for the September 2014 issue of WaxahachieNOW Magazine.
4 Tbsp. granulated brown sugar
2 tsp. salt
1 Tbsp. garlic powder
1 Tbsp. black pepper
1 Tbsp. paprika
2 Tbsp. Old Bay Seasoning
1 tsp. chili powder
1/4 tsp. cayenne pepper, optional
Combine all ingredients; mix thoroughly.
Sweet Ribs
Submitted by Rick and Lauren Moritz for the July 2008 issue of WaxahachieNOW Magazine.
2 racks ribs
1 2-qt. can pineapple juice
1/2 cup honey
Rub:
1/2 cup paprika
3/4 cup fine kosher salt
1/2 cup ground pepper
1/4 cup chili powder
1 cup brown sugar
1/2 cup garlic powder
1/4 cup granulated sugar
1/4 cup ground celery seeds
2 Tbsp. oregano
BBQ Sauce:
1 cup ketchup
1/4 cup vinegar
1 tsp. dry mustard
3 tsp. paprika
1/2 tsp. garlic salt
2 Tbsp. liquid smoke
1 Tbsp. molasses
1/2 tsp. salt
1/4 cup water
Soak ribs in pineapple juice for 5 hours.
Combine all rub ingredients; store in a covered bowl or plastic bag.
Combine all BBQ sauce ingredients in a saucepan; simmer 1 hour.
Sprinkle rub over ribs. Smoke ribs for 2 1/2 hours, spraying with pineapple juice every 30 minutes for moisture.
Brush honey over the top of the ribs; smoke another 30 minutes.
Cover ribs with BBQ sauce; smoke until tender.
Watermelon Sherbet
Submitted by Cynde Franks for the June 2008 issue of SouthwestNOW Magazine.
5 cups ripe, seedless watermelon, cubed
3/4 cup sugar
1 Tbsp. lemon juice
1 2-oz. envelope unflavored gelatin
1/4 cup water
12 oz. evaporated milk
Combine the first 3 ingredients; cover and chill for 30 minutes.
Place watermelon mixture in a blender or food processor. Process until smooth; set aside.
Sprinkle gelatin over water in a small saucepan; let stand for 1 minute. Cook over medium heat, stirring until gelatin dissolves; remove from heat.
Combine watermelon mixture, gelatin and milk. Pour into ice cream freezer container of a 5-quart, hand-turned or electric freezer. Freeze mixture following manufacturer's directions.
Red, White and Blueberry Cheesecake
Submitted by Krystal Williams for the July 2008 issue of MidlothianNOW Magazine.
1 9-inch graham cracker piecrust
1/4 cup butter, melted
16 oz. cream cheese
1/2 cup white sugar
1 tsp. vanilla extract
2 eggs
2 cups fresh blueberries (divided use)
1 cup fresh strawberries, quartered (divided use)
Whipped Topping:
1 cup heavy cream
1/4 cup sugar
1 tsp. vanilla extract
Preheat oven to 425 F. Brush the graham cracker crust with melted butter. Bake until the edges are just golden, about 6-8 minutes. Cool slightly on a wire rack. Reduce oven temperature to 350 F.
In a medium bowl, beat cream cheese, sugar and vanilla with an electric mixer until light and fluffy. Add eggs; beat until well combined.
Fold in 1 cup of the blueberries and 1/2 cup of the strawberries. Pour mixture into prepared crust. Bake until set, about 40-50 minutes. To prevent overbrowning of the crust, gently cover with aluminum foil during the last 25 minutes of baking. Cool completely on a rack.
For whipped topping: While the pie is cooling, make your homemade whip cream. Whip cream with a blender until almost stiff. Add sugar and vanilla; beat until cream holds.
Spread over top of cooled pie; decorate with the rest of the blueberries and quartered strawberries.