Heather had no idea that running late for work one day would actually reap lifelong benefits.
As she rushed past a neighbor and his friend working on a car, she returned a quick and fleeting greeting, not stopping to make eye contact or any other causal exchanges. Not turned off, but actually intrigued, AJ asked his friend to give "the girl running by" a call on his behalf. After a small amount of convincing, she made the first of many phone calls to AJ. "He was talkative!" she laughed as she recounted. "He was also very sweet, funny and kindhearted." AJ was quick to return the compliments. "I could tell she was business minded and focused, but also very outgoing," he said. "It was amazing how similar we were. We shared the same values about family, life and sports."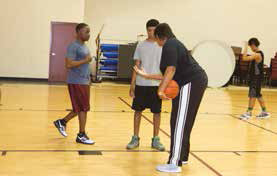 Through their courtship, they continued to connect based on their commonalties, with their love of sports being at the center. Most dates were centered on and around sporting events, with each of them either spectating or often participating. The love of the game soon grew into the love for one another. Dating for less than a year, the couple wed in April 2001. During this time, AJ was active in the Navy. Desiring to get closer to his family, the couple requested orders to be stationed in Texas. Soon after, the couple made the move from Virginia to Mansfield. AJ was happy to settle down and set down roots. Joining the Navy immediately out of high school in 1994, his travel portfolio was extensive. He traveled to Japan, Singapore, Malaysia, Guam, Thailand, the Persian Gulf, United Arab Emirates, Korea and Hong Kong, all before his 21st birthday.
The couple joked, "I think the farthest we've been since having kids is Ohio and Florida." "I miss the days she and I had hanging out all day together from one tournament to the next," AJ continued. Though life with three kids is different, they love their family and its dynamics. They have shared their love of sports with their children and each has their own unique talents. Madison, 14, plays basketball, competes in field events and is a trainer for her middle school football team. Jayden, 12, plays football, basketball and runs track.
Brendan, 11, plays soccer. Brendan's natural athleticism is not his only innate talent. Recently, he has discovered an ability to play the piano and certain percussion instruments by ear. It was during the time Jayden was playing recreational basketball at the YMCA that the couple began developing the idea of their joint venture. While observing countless practices, they noted the basic fundamentals of the game were not being targeted as they should. "We didn't want to complain," Heather admitted. "We wanted to be part of the solution."
One evening when Jayden asked his mom to coach him, the lightbulb came on. Heather signed her son and five other neighborhood kids up at the YMCA, where she agreed to be their coach. This first team would eventually spin off into their current nonprofit company. Arlington and Mansfield Dragons Sports Group, a nonprofit youth sports organization that bridges the gap between youth athletics and high school, was officially developed in 2014. The organization is a community junior high sports league with special emphasis on fitness, conditioning and agility training. "We identify those specific areas in our kids that will take them to the next level — techniques like counting and decreasing steps, advancing down the court faster and foundational training." The organization also gives area youth the opportunity to compete and learn the fundamentals that will help them find success as they move into competition at the high school and college levels. They started with seven kids and have since grown to serve 40 children who learn the fundamentals of basketball, football and overall fitness. The results of their training have been evident in many of their athletes.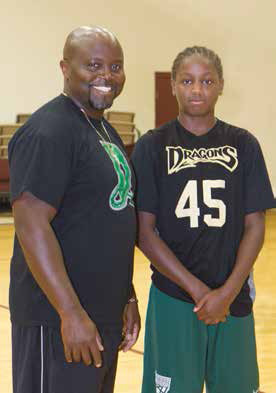 The physical changes in one young man have been amazing. He has lost weight, gained muscle and has improved his basketball and football game tremendously. Another one of the boys has ADHD and struggled on the baseball field. Since training with AJ, his attention and game skills have improved by leaps and bounds. Heather played basketball while growing up and continued while in college at California University of Pennsylvania. She shares her knowledge and skill as coach of the basketball division of their organization. A lifelong football player, AJ uses his expertise to lead the A&M Dragons football team. They each have their roles, but they often share observations and advice with one another.
They have been extended an invitation to participate in a clinic with high school football players. Both of them expressed feeling greatly validated by having their efforts receive this sort of recognition. Parents were so impressed and appreciative of the results they were seeing with their children, many of them began to specifically ask for one-on-one training. These increasing requests led the couple to start a for-profit business. AJ now trains youth and adults in conditioning training.
Their partnership in business, both nonprofit and for-profit, has made the partnership in life that much stronger. "There is always something to talk about," Heather expressed. "It's exciting and so fulfilling for both of us." When not on the court or the field, the two make sure to carve out some one-on-one time with each other. "We are still dating," AJ confirmed with a smile. The two spend time going to movies, restaurants or taking drives just to talk. They also make it a point to spend quality time with their children. They often go for nature walks, have game nights and all gather together for movie nights at home. Heather and AJ have made a life out of sports, health and wellness. They agree that the benefits of what they've created are not just for their participants. AJ flashed a grin and stated, "Although tough at times, keeping up with the kids keeps us young."
AJ and Heather's individual interests would cross at a wonderful intersection to include the passions found in both their personal and professional lives. They share the same desire to develop youth into the best athletes they can become. They continue to bridge the gap between junior high and high school sports with precision and excellence.
Written by Mira Rollins.