Dawn is just rising on the eastern horizon, and from a distance a slight roar is increasing in volume as seconds are counted. Suddenly, prop planes appear flying in formation. No, it's not one of those post WWII black and white movies about that period. On May 14, 2016, WWII vintage aircraft will again be approaching the Corsicana Airport for a day of flying at the annual Corsicana Airsho, sponsored by the Coyote Squadron of Corsicana.
"I enjoy being around a group of guys with such a history. I have flown with a WWII ace and can have a B-17 and B-25 on either side of me," Chip Lamb, a Midlothian pilot and member of the Trojan Phlyers Air Show and Race Team, explained. As planes and pilots arrive for the show, they are lined up on the tarmac in an orderly manner. Planes are refueled and pilots are ushered into a hangar to Candis Wells, a member from Palestine, who is the Airsho's coordinator and the squadron's finance officer. Registration officials also include two Federal Aviation Agency officials.
After completing registration, pilots, crew and team members, and other show participants, such as the jump teams and the pyrotechnics team, meet and greet each other over doughnuts and coffee provided by squadron members and spouses, while everyone awaits the beginning of the air boss meeting. Randy Henderson and his young son, Jedidiah, have flown in from McKinney.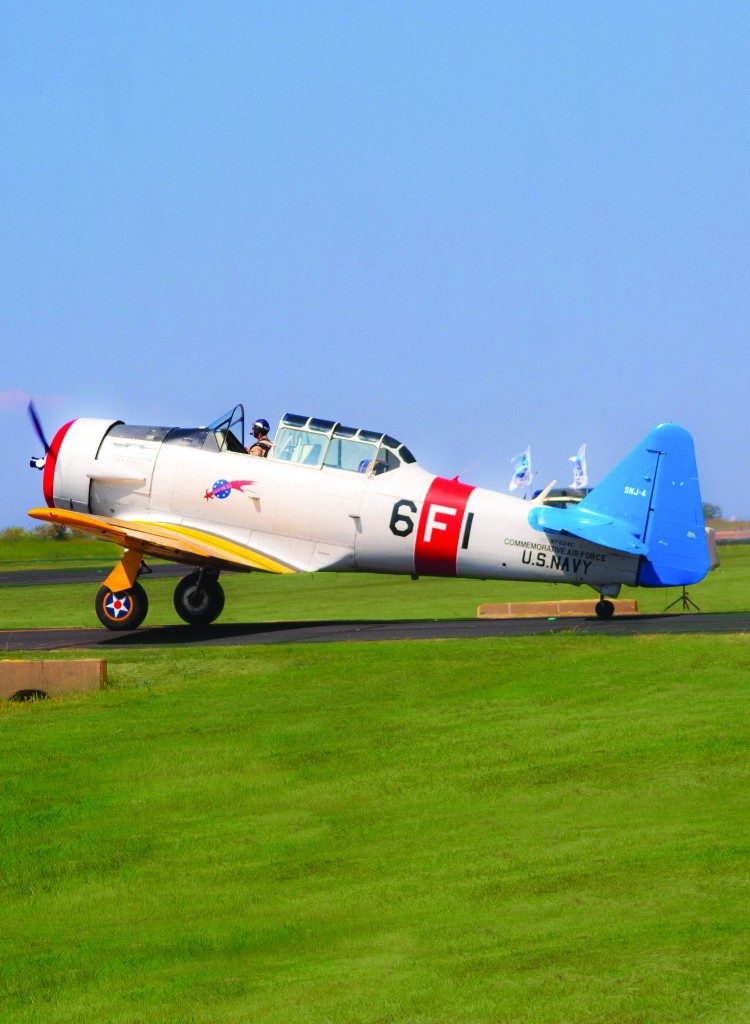 A pilot for Southwest Airlines for 35 years, Randy now participates in international acrobatic competitions and about 15-20 air shows a year. "I used to fly straight and level. Now I explore all angles of flight," Randy said. Many of the other performers are from out-of-state. Colonel (Ret.) Elaine Dill and her husband arrive every year from Louisiana to "keep the security folks in line."
Closed to the public that's beginning to arrive at the field, the air boss meeting is focused business. All show participants are required to attend, since everyone's safety depends on mutual understanding and acceptance of the air boss' directives throughout the Airsho. This year's air boss meeting will be similar to that of last fall's rescheduled Airsho. Last year, the meeting began with Gene Hathorn introducing Air Boss David Anderson.
The sequence of acts was passed out to the pilots and heads of teams and all officials were identified. "By this point we're always fire ready, police ready, EMT ready and refueling ready," said Dan Summerall, an Airsho volunteer and Navy pilot for 26 years. David identified the five-mile radius and 1,000 feet altitude of air space that's cleared for the show and the turning points of that area. Radio frequency numbers were given out, so everyone was tuned in to the boss throughout the Airsho. David gave different groups a chance to instruct everyone on particular requirements unique to their acts. Gena Linebarger with the Blastards Detachment of the CAF, had instructions that were important. "We have dynamite placed between the runway and fence line," she told the emergency personnel. "If we have a fire, stop at the end of the field, and let us guide you in."
The same rule applied to the jumpers. "If you land in the pyro area, stay put, and let us get you out safely." David asked for questions, and several points were clarified. Pilots were instructed to be in their planes two acts before their act and to stay hydrated. These planes don't have air conditioning, so cockpit temps are high. David dismissed the meeting with reminders.
"Safety comes first," he said. "Keep your heads in the Airsho. Don't rush. Don't do anything you're not comfortable doing." After the meeting, David and Dr. Dave Campbell departed for the "War Room" from which the Airsho was run, and the other participants took a break for a quick grilled-on-the-spot lunch also provided by members and spouses. The tone changed from one of enthusiastic greeting to one of subdued focus.
Preparation was over — it was performance time! Dan, who serves as the assistant Airsho coordinator and the Coyote Squadron's operations officer, summed up his reason for being involved in the Airsho. "It's all about seeing the young children, the crowd's reaction to the acts and the veterans going up and touching the airplanes they either flew or flew on while they reminisce about living through WWII or the Korean War," he said. "As a member of the Coyote Squadron of Corsicana, which is part of the Commemorative Air Force, the Airsho kinda gets in your blood."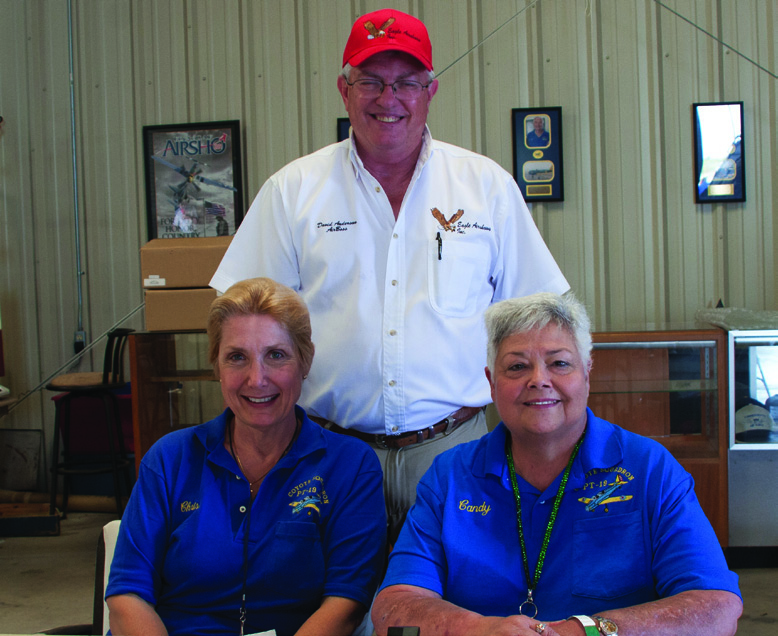 The squadron's nearly 50 members are an all-volunteer staff before, during and after the show. The only requirement for membership is having an interest in WWII-era planes. For nearly six years, Candis has coordinated the show and is the squadron's finance officer. Candis and Dan coordinate and organize a host of individuals and groups. "Dr. Campbell is a busy man, whom we can't do without," Candis said. "He's everywhere and does everything." Eric Myers is on hand to handle any emergencies. Richland Chambers/287 VFD and the CAF Security Detachment handle crowd control. The Corsicana High School ROTC and Tyler's Civil Air Patrol members help direct and park cars. CAF Marshalling Detachment makes sure pilots get safely in and out of the airspace, and the CAF Third Coast Oil Unit services planes. Corsicana Aviation handles the fueling of airplanes. Public affairs, concessions and vendors, fundraising and sponsorships, admissions, veterans' tent and volunteers are just some of the many tasks handled through committees.
"There are lots of moving parts to this show, but we have it down to a science now," Dan revealed. Airsho meetings begin in January, and an outline is followed. "We have found over the years that we still have to be flexible. Things happen, such as the weather that rained us out last spring," Dan added. "We treat performers very well. They like to come to Corsicana," Candis said. Many of the acts are nationally known performers, and there's a cross section of all types of vintage planes. "We also try to have something new every year. Candis' husband, Jim, John Ausley and Dan have worked to procure a new act for this year's Airsho. "It will be an awesome act," Candis promised. "We need to acknowledge the generosity of Corsicana and East Texas sponsors. The money raised goes to producing the show and to operating expenses. It's great to be able to keep planes in airworthy condition rather than just displaying them in a museum," Dan said. "And it's always exciting when David says we're done, and there's been no emergency — just another great Airsho."
Written by Virginia Riddle.