DESOTO, TX — The world of today is widely characterized by drive-through dining and convenient culinary devices. Instant, if not immediate, satisfaction is commonplace. Very rarely do we stumble across those who enjoy the laborious tasks related to home cooking, which marked the days of old. And even more rarely do we cross paths with those individuals who embark on these tasks — not for profit — but for sheer joy and fulfillment. Current trends do not include nor encourage preparing food by way of canning, which is simply unheard of in the households across our community. Who has the time? Who has the know-how?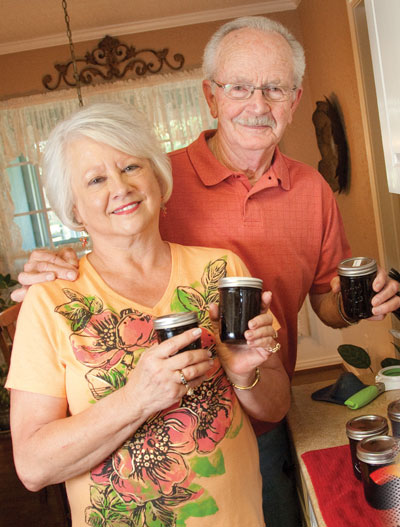 Kathryn Lay, that's who! Not only does Kathryn enjoy canning jams, jellies and pickles, it is a time-honored family tradition, which she is proud to carry on. And while there are many vendors and individuals who offer their canned goodies for sale online and at local markets or festivals, it is highly doubtful you will find a jar of deliciousness parallel with Kathryn's award-winning preserves. "It all began with my grandmother," Kathryn said. "Back then the family lived on their Proctor farm, where Bernyce Crownover, my dearest aunt, grew up learning the art of canning. They used their own home-grown garden produce to can what they ate throughout the year. Naturally, Bernyce became an avid canner and continued making jams, jellies, pickles and other vegetables throughout her life."
Bernyce often gave away her tasty creations to the local fire and police stations as a way of showing her gratitude. She also gifted her jellies, jams, pickles and other preserves to church members, neighbors and various others in the Waxahachie community. More impressively, however, is the fact that Aunt Beace, as Kathryn lovingly called her, submitted her canned goods in the State Fair of Texas Arts Contests and Competitions for over 25 years, and was a well-decorated canning veteran bringing home a minimum of seven to eight ribbons each year. Having learned the art from her own mother, canning was something Aunt Beace, in turn, encouraged Kathryn to learn. "Canning provided the women with the valuable chance to bond," Kathryn recalled. "Aunt Beace would tell me, 'You can do it!' I'd go to her house, and she'd show me what to do. She was a real special aunt to me. I enjoyed working with her, being with her and her helping me. I was always really impressed with her."
In 2009, when Aunt Beace fell ill and was unable to submit entries for the annual competition, Kathryn's journey began. She submitted a single jar of bread-and-butter pickles at the last minute, with much encouragement and support. Lo and behold, that single jar won fourth place. The family tradition had been successfully passed along to the next generation. The family was clearly doing something right with those famous bread-andbutter pickles. The Creative Arts Department of the State Fair of Texas annual competition judges jellies, jams, vegetables, fruits, butters, marmalades, relishes, pickles and preserves from all over the United States. Individuals are allowed to enter up to 10 different items, and each are judged based on consistency, color and taste. "Seeing your very own preserves on display, along with the other winners at the State Fair of Texas, is just thrilling," according to Kathryn. "There is nothing like it. You just feel so good, so proud!" Since that first entry in 2009, Kathryn has won a multitude of awards.
The popular bread-and-butter pickles passed down from Aunt Beace have placed high over the past three years earning ribbons for fourth place in 2009, second place in 2010 and 2011, and first place in 2012. In fact, seven of Kathryn's 10 entries earned ribbons in last year's competition. Clearly, her love for canning has paid off. While the ribbons and acclamation are gratifying, Kathryn doesn't do it for the fame and fortune. In fact, she keeps all of her ribbons stuffed in a sack in a drawer. The road to seasoned canner has not been struggle-free for Kathryn, however. She has learned the tricks of her trade through trial and error. Last year, she found herself in somewhat of a pickle — she needed cucumbers to make her award-winning bread-andbutter pickles, and fast. With limited options, she purchased cucumbers from someone new without tasting them first. After a few phone calls several months later about bad bread-and-butter pickles, she immediately learned never to use an unknown merchant again, and to always taste the produce before using it. Thinking about that learning experience, Kathryn said, "As soon as they started putting them in their mouths, they started spitting them out! I tried some myself, and they were so bitter because the cucumbers were bad. I had to toss the whole 24 jars! But that happens." Lessons such as this are important. "She is a great cook," her husband, Bill remarked. "If she isn't in the garden, she's in the kitchen. I like those pickles, and the jelly — all of it is good!"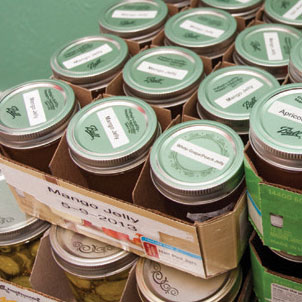 Kathryn uses traditional methodologies for creating her jams, jellies and pickles. "There are no newfangled devices in my kitchen, just the general supplies and my jar tightener," she said. She cooks all of the fruit and vegetables on the stovetop and stores the finished products in her home. She does admit to using the Internet to explore for new recipes, but when it comes down to business, technological advances don't stand a chance against her tried-and-true methods passed down from several generations. Kathryn and Bill, her husband of 47 years, have two children and four grandchildren who all enjoy the fruits of her labor. She hopes one day to pass the canning family tradition to her daughter, Gina, and her granddaughter, Amber. "I "Seeing your very own preserves on display, along with the other winners at the State Fair of Texas, is just thrilling." would love for either of them to continue with this," she admitted. Kathryn carries on this family tradition, because it pleases her giving spirit, which is somewhat of family tradition, too.
Not only did her dear Aunt Beace pass on the lost art of canning, but also the joy of doing for others. Just as her aunt did, Kathryn gives her tasty treats to others and plans to visit the local police and fire stations in her community of DeSoto to show her gratitude. She says the biggest reward for giving to her family, neighbors and community is the feeling she gets when someone truly enjoys something she has made. "It just makes you feel good!"
Written by Sara Edgell.