MANSFIELD, TX — Ice skating is not Cameron Rainey's thing. He tried it when he was 5, even taking a few lessons, but it was too cold, and the ice was too hard when he fell. He told his parents he did not want to skate any more.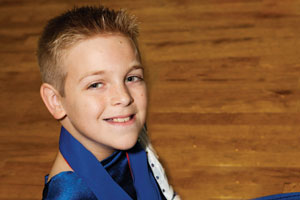 Two years later, he tried roller skating on a field trip and found a sport he loved. He made his mother take him skating again, and now, at age 9, he is a national roller figure skating champion in multiple events and looking with a realistic eye toward competing at the World Roller Figure Skating Championships. "I like skating because it's fun. It's easier to skate on roller skates than ice skates, but some things are harder because you have to create an edge. It takes a lot of time and practice to be successful — I come to practice five times a week, about three hours each time," Cameron explained. "When I first started, I had cheap skates and it was impossible to do what I was trying to do, but I've improved a lot since then."
According to Cameron's mother, Karen, when she first brought him to the Arlington Skatium, he saw a woman, who is now his coach, spinning like she was on ice skates. He began following her around and trying to imitate her until she finally invited him to join the venue's skating club. "A lot of the tricks are the same as ice skating," Karen explained. "Ice skates have toe picks, while roller skates have toe stops. They also have trucks like a skateboard which allow for steering. There are jumps like axels and salchows. Also, the floor of the rink is marked with loops that you have to trace in figures competition, where skaters are required to do compulsory figures much like the former Olympic ice skating competitions. There are also freestyle competitions." "The compulsory figures are especially hard if you have to skate backwards, but I don't have to do that yet," Cameron said. Roller figure skating in the United States saw peaks in participation in the 1970s and 1980s. Roller rinks are about the same size or slightly bigger than ice rinks. Competitions are held prior to the World Championships.
Competitors qualify at regional events, and the top three skaters in each region advance to nationals. Cameron competes in the Southern Central Region, which is the smallest in the country, encompassing Texas, Louisiana, Arkansas and New Mexico. California has the most participants. Cameron's season begins in September, and nationals are in July. His first year at nationals, Cameron earned a single bronze medal. This year, he qualified and competed in six single events and two combined events – juvenile (9-10 year olds)/elementary (11-12 year olds) C freestyle, juvenile/ elementary B freestyle, juvenile B loops, juvenile B figures, juvenile A loops and juvenile A figures. The combined events encompass figures and loops. In his eight events, Cameron brought home five gold medals and two silver. One of the skaters who defeated Cameron lost to him in a later event, giving Cameron a measure of competitive satisfaction. "Nationals took a week in Lincoln, Nebraska. I wasn't really nervous except for the last event, because I knew if I won the figures competition I'd win the combined and get two medals for one event. After I got home, my friend Pedro wanted to know if I was famous now," Cameron smiled.
His success at nationals made Cameron a topic of conversation throughout the week, Karen says, because relative unknowns do not often come around in a sport dominated by skaters whose families have a long history of competing. "Many of the most successful When she describes him, she talks about his DEDICATION and how much he has MASTERED in the two years she has worked with him. skaters in the country have parents and grandparents who were competitive skaters, and a lot of them own rinks, which gives them a training advantage," she explained. Cameron's coach, Caterina Longo, remembers how Cameron kept following her around that first time at the rink, and she remembers thinking, Any kid who can stand up on cheap skates and stay on a figure line needs to be skating. She is one of his biggest fans because of the hard work he puts in and the results he achieves because of it.
When she describes him, she talks about his dedication and how much he has matured in the two years she has worked with him. "Typically, boys have very little coordination in roller skating, and it's well known in this sport that they take longer to mature in their spins and body control. But Cameron has learned single jumps, beginning double jumps and complicated spins. Somehow, he manages to learn the hard ones first, and to get where he is so quickly is something not easily accomplished," she said. "He came in after a couple ice skating lessons, joined a new club and learned what he needed to do. Cameron can go wherever he wants to because that's his personality. He went from watching the kids at nationals and wanting to be them, to competing head-to-head with them and beating them. He's motivated, self-driven.
That's what it takes to be a success." Cameron demonstrates moves for skating classes at the Skatium when asked, and when he tells people outside of skating what he does for fun, it always generates a lot of questions. "People are surprised at what I can do. They almost always ask if I ice skate too," he said. That is not too far-fetched, as Olympic gold medalist figure skater Tara Lipinski started her career in competitive roller figure skating before her family moved where no roller skating facilities were available to her. Cameron has a long future ahead of him in roller skating competition. He competes with the DFW Artistic Roller Skating Club, and he wants to continue his success at nationals and compete internationally soon. His father, Allan, says that roller skating is on the list of sports being considered for inclusion in the Olympic Games and is very popular in Italy, India and China. "I love roller skating," Cameron said. "My goal is to win the worlds, or at least go to worlds. This year's world championships will be held in New Zealand. Last year, they were in Brazil. I want to win. I want to show what I can do. I want to see other countries and show people you can do the same things on roller skates as you can on ice skates. It will be a challenge, and if I win I'll be really happy, because then I'll be the best at my age in the world."
Written by Jeremy Agor.