CORSICANA, TX — When Juliette "Daisy" Gordon Low organized the first Girl Scout troop meeting on March 12, 1912, in Savannah, Georgia, she did it with the dream of creating something that would, in her own words, "bring girls out of their sheltered home environments to serve their communities and develop self-reliance and resourcefulness." Little did she know then that her dream would ultimately blossom into an organization that today is comprised of more than 3.7 million girls and women. Dakota Fanning, Lucille Ball, Katie Couric and Elizabeth Dole are just a few of the household names that count the Girl Scouts as a major factor in their individual success stories.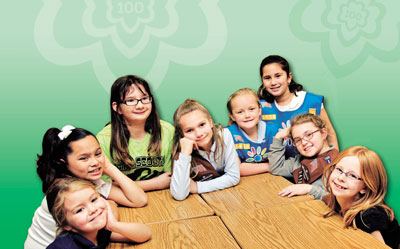 According to Girl Scouts of the USA, Girl Scouts is the world's preeminent organization dedicated solely to girls where, in an accepting and nurturing environment, girls build character and skills for success in the real world.
In partnership with committed adult volunteers such as Corsicana's own Leslie Chamberland, Girl Scouts Service Unit manager and leader of Troop 3418, the organization's goal is for girls to develop qualities that will serve them well all their lives, such as leadership, strong values, social conscience and conviction about their own potential and self-worth.
When the 100th anniversary of the Girl Scouts arrives later this month, troops all over America will hold myriad celebrations, and Leslie's troop will be right there with them. "There are tons of events scheduled to celebrate the anniversary," Leslie said. "We will march in the upcoming Derrick Days parade. In the past, during the parade, we handed out paper bags to the food pantry, supplied coat hangers for coats and sponsored a blanket drive. We're just getting started with the celebration this year."
Girl Scouts of the USA is gearing up nationwide for the centennial anniversary by hosting numerous events open to members everywhere. There will be a National Girl Scout Leadership Institute in Houston in November, and the organization is publishing an illustrated book celebrating the anniversary, as well as minting a Girl Scouts Centennial Commemoration Coin marking, according to the organization's Web site, "the end of the first 100 years and the beginning of the second century of leadership."
Leslie stressed that every event, in addition to celebrating the anniversary and helping the community, will be geared toward growing membership numbers in Corsicana troops. "We have a yearly goal of how many girls and adults we hope to bring in. Our goal for 2012 is 150 girls and adults for all 12 to 14 Corsicana troops combined," she said. There are about 87 members at present, so this goal is not unreasonable. "We have a $12 enrollment fee, and a variety of financial aids are available, too,"
Leslie added. Membership is increased through rallies the Girl Scouts hold at local elementary schools to encourage troop creation, not to mention that yearly mouth watering activity that everyone looks forward to — buying Girl Scout cookies. "We started taking orders for cookies in mid-January, and deliveries  began in mid-February," she said. Leslie's history with girls, campfires and learning necessary life skills began when she was in elementary school.
"I grew up and attended school in Corsicana, and my mom encouraged me to get into Camp Fire Girls, in which she and my grandmother both had been members. If you count me, our history with the essence of scouting goes back three generations," Leslie recalled. "Four years ago, when my own daughter was in kindergarten, I became co-leader of Girl Scout Troop 3418 for a year, and then took over as troop leader, which I've been doing ever since."
As a Service Unit manager since April 2011, in addition to troop leader, Leslie helps at local schools with recruiting new members, answers questions about registration and recruitment for other troop leaders and holds monthly leadership meetings. "There are approximately 12 to 14 troops in Navarro County, and I am a resource for each one," she said.
That's not all, either. "I'm a wife, mother of three wonderful kids, Girl Scouts troop leader and Service Unit manager, events and family photographer, Avon salesperson and I babysit in my spare time," Leslie shared.
Leslie's in her fourth year of beingthe leader of Troop 3418 and considers being a leader an honor and a privilege for several reasons. "I get to teach the girls in my troop the value of settingand accomplishing goals, something that they will continue doing if they learn how early in life," she said. Leslie also shows her girls — who range in age from kindergarten to fourth grade — the importance of self-respect and how to manage money, skills that go hand-in- hand with selling those delicious cookies.
As Service Unit manager, Leslie visits the Girl Scouts of Northeast Texas' regional office in Dallas regularly to provide and receive training, and says there are two women who have had a big impact on her effectiveness in that role and as a troop leader. "Kristen Wear in Membership Services is my manager and has helped me a lot, and I can't  forget Carole Davenport, who was my troop leader when I was a little girl. She's another reason I've stayed involved all these years," Leslie admitted.
In addition to the yearly sale of cookies, local Girl Scout troops perform community service projects at least twice a year, including honoring the men and women who serve in the U.S. military. "We've sent care packages to the forces overseas and made posters welcoming our troops back home, something that the girls really get excited about," Leslie said. "We will be planning future visits to DFW Airport to greet more service men and women returning home."
The Corsicana Girl Scout troops have also conducted toy and blanket drives; have marched in the Derrick Days and Christmas parades; and, most recently, have visited and sung songs with residents at the Friendship Tower II Retirement Living Center and Twilight Nursing Home. "I like to encourage my troop to participate in activities with other Girl Scout troops, as well, such as being pen pals and writing letters to those serving in the armed forces," Leslie added.
A source of pride for Leslie and her Service Unit was when they won the Girl Scouts President's Award in 2011. "We were very proud of that accomplishment," she said.
Leslie shows no signs of slowing down or changing in her dedication to, and belief in, the many benefits of being a Girl Scout. "I can't think of a better way for girls to learn values at an early age than being part of a Girl Scout troop."
Written by Rick Herron.