BURLESON, TX — When he was a student at Polytechnic High School in Fort Worth, Terry Ford enjoyed the times he spent in woodshop. After retiring from 31 years as an educator, he has reconnected with those high school memories, merged them with his lifelong love for birds and discovered a remarkable talent. He creates beautiful wood sculptures.
"I taught math for 20 years," Terry said, "and was [the] principal at Burleson High School for the last 10 years of my career, following Charlie Boren's retirement." Terry's friendship and previous working relationship with Charlie, an accomplished wood sculptor, ultimately spurred Terry's interest in working with wood. "When I retired from teaching in 1984," Terry added, "I told Charlie that I would love to learn to work with wood, so he told me to come  on out."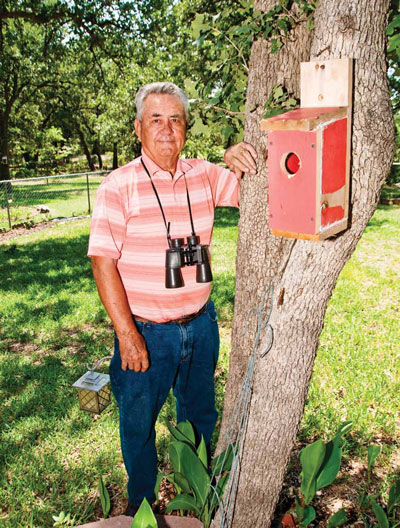 Charlie works at his historic family farm south of Burleson, which he and his wife have developed into the Russell Farm Art Center. The Art Center is a combination of galleries and places for artists and students to work and learn. "I started assisting him with seminars," Terry said. "Charlie would instruct and I helped, mostly by showing participants how to use the tools. I did that for about five years before I actually started sculpting."
Charlie is known for his unique mastery. "He chooses a piece of wood and then just looks at it," Terry explained. "Sculpture is three-dimensional and must work from all directions, so he turns the wood in different ways and stares at it for as long as it takes to know what he will do."
One day, as Terry was looking for a new project, Charlie directed him to the scrap bin. "I had finished sculpting an eagle from mesquite," Terry said, "so when I pulled a piece of live oak from the bin, Charlie said to take it and make something new. I stared at it, piddled with it and finally decided that I could make little birds appear to be taking flight." When he was finished, the live oak scrap had become take-off points for two smoothly-finished swallows — and with the birth of one proud eagle and two small swallows, Terry had become a sculptor.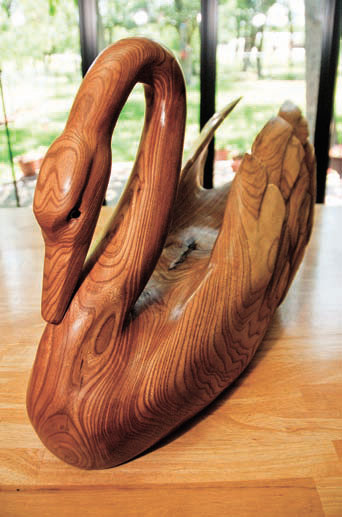 "We call it sculpting more so than carving," he explained. "Some artists painstakingly create reflections of a subject, but most of what I do is stylized and smooth. I like for people to see the tree and the object and, especially, the natural beauty of the wood. When God designed trees, he made grains go in all directions to add strength, especially down by the roots, so there tends to be a lot of waviness in the wood closest to the roots."
Terry's two swallows were followed by an owl made from burl wood. "A burl is an outgrowth on a tree that results from an injury or disease," Terry explained. "Burls are nature's way of protecting a wound, and their intense grains make beautiful sculptures. At first, the burl I used for the owl reminded me of a piece of cauliflower."
After the owl, he worked on his biggest project to date, a life-sized swan made from ash. "My wife, June, and I were visiting our daughter in Bloomington, Indiana," he said. "We were walking in the woods when I saw this big chunk of wood. It was raining that day so I couldn't tell what kind of wood it was. It turned out to be the piece that wanted to be a swan." The eagle, swallows, owl and swan were followed by a tern made from the stump of a cedar tree. "The roots are his wings," Terry said. "He's flying over the ocean with his head turned to look for fish."
While he has sculpted a variety of objects such as bowls and a boot, overwhelmingly, Terry's favorites are birds. "I've loved birds all of my life," he said. The view from his picture window by the dining table confirms at least one birdhouse hanging from each of the many trees and boxes attached along the fence lines. "We've had bluebirds nesting," Terry said. "They're too shy to come close so they stay on the back fence. A mother bird was fussing around her nest the other day, so I unscrewed the top of the box and found a chicken snake. It's a hard life being a bird. Everybody's got to be somewhere and that counts for snakes, too. I usually don't kill snakes unless they get into a birdhouse or keep coming back."
Birds of just about every feather are drawn to the Fords' lush backyard. "I probably know more about birds than most people," Terry smiled. "I recognize all of the bird calls in our region and enjoy listening to recordings of calls from all over. From his window, he is quick to point to a visiting chickadee and a tufted titmouse. "The other day, I was putting feed out and a little titmouse landed on my arm," he grinned. "I think he was more surprised than I was." Terry also eagerly describes the neighborhood roadrunners, cardinals, hummingbirds, cute little screech owls born and raised in the backyard and the brazen Harris hawk that comes looking for dinner. The most treasured of all the animals, though, is one who spends her days inside and usually on the lap of the closest Ford. That would be Amber, the four-pound teacup poodle.
Terry was born in Rome, Texas, and grew up in the Forest Hill area of Fort Worth. He graduated from the University of Texas at Arlington, received his teaching certificate from Texas Wesleyan College and accepted his first teaching job at Burleson Junior High at the Nola Dunn Campus in 1963. He and June were married 49 years ago and have two sons, Terry and Toby, who are both Burleson residents, and a daughter, Julie, who lives in Indiana. Each of the children is married and has two children. "June enjoys oil painting," Terry said. "We have a place in Arkansas on about 70 acres near Fayetteville, and we sometimes take classes at the annual War Eagle Art Seminar."
As for his art, Terry is looking for the right piece of wood to sculpt a wren. "Their little tails stick up over their backs, and they're so cute," he said. "It takes a lot of work with a chain saw and intensity to finish a sculpture, and I wouldn't do it if I didn't have fun." He also has a standing order from his oldest son. "He wants a wolf," Terry smiled. "There is a piece of walnut in the barn that might just be that wolf."
Written by Carolyn Willis.