BURLESON, TX — As Richard Crummel embarks on his 40th year in education, Burleson Independent School District's (BISD) superintendent of schools wears the dual hats of realist and adventurer, and balances them both with a black belt in taekwondo. "When they line us up and do personality profiles of people in administration," Richard said, "one end is 'concrete sequential,' and I'll be down there at the other end labeled 'spontaneous creativity.'" That requires this visionary superintendent to get others to do the detail work. He relied heavily on two people who retired this summer: Pam Ehrich, assistant superintendent for curriculum, and Peggy Barnes, human resources director. "It's hard for me to realize people younger than me are retiring," Richard remarked.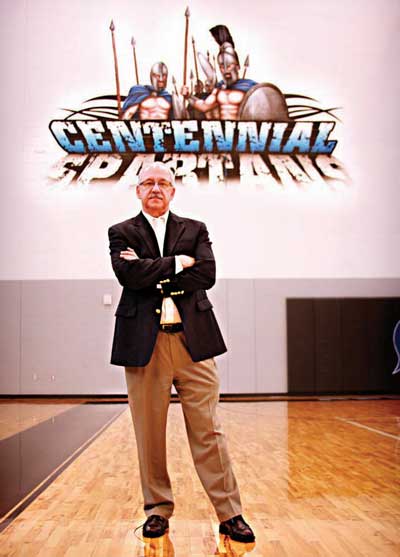 In 2010, when the BISD school board asked Richard to leave his position as BISD chief administrative officer and take the job of school superintendent, he committed to two to three years. After weathering his first, he is curious to see where the next goes. "At some point in life, it will be time to look at another horizon. Who's to say what that is? Maybe a lot of time with my three grandchildren, or a few more of those hobbies …" mused Richard, who sings in Soulful Sound, based in his church, First United Methodist. He also sings with the 150-man a cappella chorus, the Vocal Majority Chorus, out of Dallas. Plus, Richard is a member of the Burleson Rotary Club.
Those outlets will be a fulfilling stress-reliever for Richard during the journey of the 2011-12 school year. The superintendent is proud of the many great opportunities offered for the Elks at Burleson High School and the Spartans at Centennial High School. "Kids can take certified nursing, pre-engineering, cosmetology and auto mechanics, all kinds of computer programs, media and television production, culinary arts, and fire academy [is] starting at Centennial," Richard said. "This year Centennial hosts 11th grade for very first time, and the following year will have a senior class. Both high schools will be about the same size by 2012-13."
Richard grew up in a 12-high-school town, Fort Worth, and that is where he began his career. His inspirations were his mother, herself a teacher, and his high school band director. His first degree, one of many, was a bachelor's in music education from the University of North Texas. "Their Grammy-nominated jazz program is very competitive, and I had wanted to go there since in seventh grade," Richard said. After fulfilling his dream, he taught music in three different FWISD schools starting in 1972. "I think I was always looking for an outstanding opportunity, and every place that I went, I was challenged. And then I was rewarded."
After being invited to direct the Burleson High School band, Richard grew the band to 160 students over the course of seven years. "It was a great community, and one-high-school towns usually end up being the greatest bands, because all your resources go into that band," Richard remembered. "When I came to Burleson, the band earned the right to participate at the State Marching Band contest, and in 1987, the band was invited to tour Ireland, where they performed in several parades, performances, contests and the big one: The Saint Patrick's Day Parade in Dublin, Ireland. The kids did exceedingly well. They were proud of themselves, and the
community was proud of them." Out of the clear blue, Richard was
asked about taking an administrative position. "At some point in your life you say, 'I'm ready for a change.' I took a job as assistant principal for eight years, and then was fortunate enough to become principal of BHS for 12 years. Working more with parents and teachers was certainly a big change," Richard said.
This prepared him to move into the central office, where he directed BISD's Learning Supports Department until 2010-11. "At the time that I was doing the public relations piece, we
were considering the bond package," Richard said. "We had lots of community involvement, over 100 people on a variety of committees, and the community came up with the solutions. I watched it all unfold. In effect, I got to assist with the birth of the plan, and then they asked me to become superintendent after they had implemented the solutions
and constructed all five new school buildings."
Once in charge of the new two-high-school district, Richard focused on academic achievement. "That's what schools are all about," he said. "We have outstanding schools with very good ratings, so my mission was to continue that achievement at the same time that the state was raising the scores required year after year." In this 2011-12 school year, Richard is guiding parents and students on a steep learning curve. "The state has changed the system for rating student achievement. We now have the STAAR test, a much more rigorous test than the TAKS. Depending upon the age of your child, you'll have to finish on the current system while everyone from ninth grade down will convert to the STAAR system. At the high school level, we also have the introduction of the End of Course (EOC) exams, and that will be significant."
Richard's No. 2 issue was fiscal. "My mission was to survive the current financial crisis that's going on statewide. We've already trimmed over $4 million from our budget," Richard said.
Finally, Richard planned to build community partnerships. "My ultimate goal would be that someday everybody in Burleson will be able to say, 'I can go to college if I want to!' I'm always looking for new ideas from the community. We have to put our heads together to propel us forward," Richard said. "The Burleson Opportunity Fund is an example of community partnership. We're still in discussion stages with people about other projects."
This year, BISD is piloting a program at Norwood Elementary School and Hughes and Kerr Middle Schools, called Rachel's Challenge, addressing character education, suicide prevention and diversity. "Bullying is a new term in the last 10 years," Richard explained. "When I was young, they called it teasing, and it was sometimes mean-spirited. Now it's become more hateful. We've got to teach kids that none of it is acceptable, and we've got to learn how to get along."
On this grand adventure of learning and leading, the superintendent's dedication to Burleson guides his course. "I truly love Burleson," Richard said. "My goal is for our students to achieve, for the school district to continue their tradition of excellence and for the community of Burleson to be proud of those efforts."
Written by Melissa Rawlins.