CORSICANA, TX — The RHS athletic department still honors Brittany by listing her name on the softball scoreboard for the most stolen bases. A Regional track performer throughout high school, Brittany tried kicking field goals and was so successful that the football team tried to recruit her. "Her mom wouldn't let her do that," Linda Garrett, Brittany's grandmother said laughingly. Brittany's fondest memory of her athletic career at RHS was made during her junior year when she scored the winning goal in basketball with just 10 seconds before the buzzer sounded to end the game.
Following a four-year break from soccer and health issues in high school, Brittany tried out as a walk-on for the Navarro College soccer team that had established a winning tradition as the 2008 Region IV Champions, 2008 Southeast District E Champions, and as a team known for returning year after year to the National Junior College Athletic Association (NJCAA) national tournament. Brittany earned her place on the team as No.15 by showing her versatility as both a capable forward and a defensive player.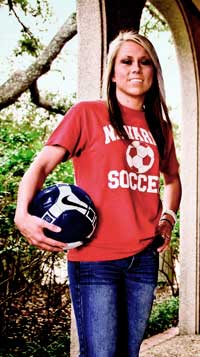 Brittany proved her worth repeatedly during her time as an NC Bulldog, from her very first game when she was a starter to her last game. During the 2010 season, Brittany's quick reaction and incredible speed on the field helped to up the score to a 7-0 win over Mountain View College. By October 2010, Brittany had scored a total of 14 points against NC opponents.
Honors quickly followed Brittany's performance. She garnered a place on the All-Region First Team, All-American Team and was named an All-American soccer player while at NC during both years. NC places a critical importance on student athletes performing just as well in the classroom as on the field or court. Brittany enthusiastically followed Coach Debbie Bonner's lead toward the emphasis on academics. She made the Dean's List during her first year and the President's List during her second year at NC. A kinesiology major, Brittany was named to the All-American Academic Team as both a freshman and sophomore. These honors also earned her a key to the city of Rice, presented to her by Mayor Larry Bailey in December 2010. "I liked that all the Navarro College teachers knew who you were because it was a small school. Playing soccer made the time go so fast," Brittany said. She gives her recipe for success with confidence. "You have to have coordination, know your basic skills, be committed, want to do the job when it's not easy and really like your team," she remarked.
Soccer has given Brittany many other great lifetime experiences and opportunities. Traveling is inherent to playing away games, and Brittany has played in soccer tournaments in faraway sites, such as Minnesota and Wyoming. She has played with and against some wonderful soccer players and coaches. Brittany remembers NC's Venicia Reid well. "She had skills that were awesome," Brittany recalled.
Having already earned her necessary credits for graduation from NC in December 2010, Brittany started her soccer career at TWU with a move to Denton in 2011. She returns to NC to receive her letter jacket and diploma in May, but Brittany wanted to get a head start in preparation for the upcoming seasons that she will play while on scholarship with the TWU Pioneers and Head Coach Fleur Benatar. Brittany is continuing her work toward a four-year degree in kinesiology and education so she can be a coach upon graduation. She now juggles a three-times-per-week study hall and 16 hours of classes. Running and daily sprints are part of her current training to prepare for fall play. Transitioning from the smaller classes of NC to the larger classes of TWU has provided Brittany opportunities and challenges. "I'm meeting a lot of new people, including my roommate," she reflected. "There are 250 people in one of my classes. My teachers are really great, and I am really busy playing sports and studying," she added.
Family is very important to this talented athlete, and Brittany has been returning home often to see her most important support team: her mother and stepfather, Tamra and David Harwell; younger sister, Stephanie; father, David Martin; her fiancé, Adam Robinson and her proud grandparents, Linda and  Doyle, who are otherwise known as "Papa" and "Nanny." Brittany credits her family and God with her success. "They were always at my games, and without God none of this is possible," she remarked.
As Brittany has moved to the TWU team, which will take her to games even farther away, her Papa remarked, "I've had some great times watching Brittany, and even though we may not make all of her games in the future, all she has to do is take a deep breath and Nanny and I will be there."
Written by Virginia Riddle