BURLESON, TX — Blake Ovard knows how it feels to win. Competing with his dogs in agility, rally, obedience and conformation, training dogs part time and heavily involved in dog rescue, Blake works with the Border Collie Rescue of Texas, Bull Terrier Rescue and Second Time Around Aussie Rescue. Before moving to Burleson two-and-a-half years ago, he was the head trainer in the Hobbs (New Mexico) Kennel Club, and worked extensively with 4H students and their dogs for 4H shows and county and state fairs. Every year, he is an invited trainer for the Extreme Mutt Makeover because of his extreme love for dogs.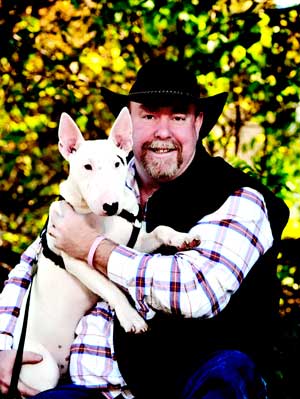 "What the Makeover has to offer everyone involved, from the dogs to the adopters, trainers to the spectators, is something special that is hard to define," Blake said, "kind of like the way you feel when you've accomplished something that has taken a lifetime to accomplish — when you reach that goal that you have been working so hard to achieve. Lance Armstrong has the Tour de France, Tiger Woods has the Masters, Michael Phelps has seven Olympic medals in swimming, politicians have elections and for me, just competing in the Makeover and seeing these dogs do what they do, I know how all of those people feel."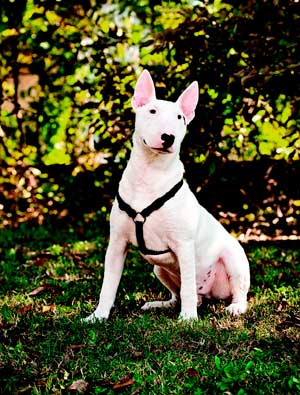 Both dogs that Blake trained in the eight weeks prior to the televised event have been adopted into loving homes, and that is the main reason Blake participates. "There is a competition; there is a first place. But the whole thing about it is if the dogs get a good home, then we all win. It's about knowing that any dog, a mutt, can be a good dog if you take the time to love and work with it." Sophie, a Lab-Shepherd mix, had spent a long time in Dallas Animal Services and was less than 24 hours from euthanization when Extreme Mutt Makeover pulled her for the competition. "Sophie'll do pretty much what you ask her to do if she knows what it is, and it's up to the people to let 'em know," Blake said. "Now, she is in New England with a young couple who are very active. I think her new family is a great fit for her, and I'm excited that she has found the perfect forever home!"
The other dog Blake worked with was Cowboy, a Lasa/ Maltese mix. "Cowboy was actually the first dog from this year's competition to be adopted. He's a little ball of energy that I suspect is keeping his new mommy on her toes, but last I heard, she is extremely happy she made the choice to adopt him.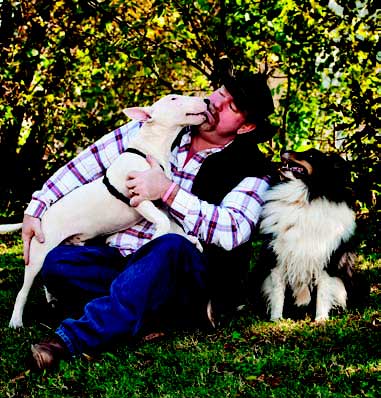 "I'll do the Makeover for as long as they keep inviting me," Blake exclaimed. "It's such a great event that draws hundreds of prospective adopters to become aware of what shelter dogs have to offer. After you see how amazingly shelter dogs can perform with only a short training time of eight weeks before the Makeover competition, imagine what shelter dogs can do with even more training and the love of a forever home."
Since they started fostering dogs 20 years ago, Blake and his wife, Kim, have cared for over 200 dogs that have all been adopted into good homes. High school sweethearts who have reared three children together — the youngest 21 and out of the house — the Ovards sometimes joke that their children were taking up spots that their foster dogs could have. "Now, dogs are spread throughout the house, one in our guest bedroom and one in our bedroom. One is in the sun room! They stay in crates when we're not here. They're out with us when we're home, and they act like wild children. We try to spend a couple hours every day with them. If they don't get along when they get to our house, they learn to get along."
The couple keeps each dog an average of one-and-a-half months, and usually fosters 10 in a year. "I just really enjoy spending time with them every day. When they give me kisses, that's awesome!" Blake said. "For dogs like Sophie and Cowboy and any fosters I train, the satisfaction is in getting them good homes. I know that here's a dog nobody wants, for whatever reason, and I work with the dog and get it to have manners and be a dog that somebody does want — so there's a dog that's spared."
In order to coach people on how to help their own dogs be winners, Blake spends some of his off-duty time in the local libraries, service club meetings and businesses. He gives a talk introducing the Extreme Mutt Makeover, detailing what it is about and answering questions about dogs and dog training. He and some of his dogs have appeared at PetSmart numerous times. "We just go there because it's a good place to socialize the dogs," Blake said. "People like shopping; the dogs like shopping. I want to show people that dogs can be great companions."
Blake and Kim — both animal control officers for the city of Fort Worth — do not leave their work at the office. They picked up a little pup named Tugg last summer. "Eighty percent of Tugg's body was covered with demodex. Because of that he had open lesions, scabs and secondary infections. The police officer that found him on the side of the road said he was wrapped in a blanket, staked to the ground, with a sign that said DOG. He went to the shelter for about a week. After no rescue wanted to take him, we said we'd take him. We took Tugg to the emergency vet, who said he probably wouldn't make it and should be put down. We took him the next day to our vet, who said it would just take time, love and energy. He got better day by day, and is just a little fun character, kind of like a clown in a dog suit.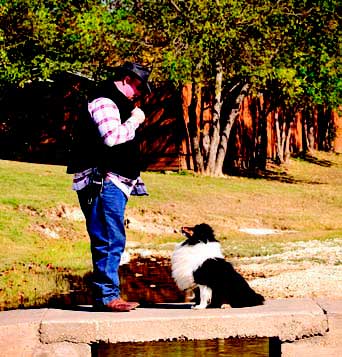 "We knew he would stay a part of the family not long after we took him in. He just tugged on our heart strings," said Blake, who began documenting Tugg's recovery on Facebook in order to show people that it is possible to overcome great things — if you have the time, love and right outlook. "Our goal with Tugg is to take him through therapy training and have him become a certified therapy dog. We then plan on taking him to schools, tell his story and help teach kids all the valuable lessons Tugg can help teach." Now who is the real winner? Tugg? Blake? Perhaps all the little dog lovers in Burleson.
Written by Melissa Rawlins