CEDAR HILL, TX — Blending styles into one home can be a challenge for any family. In the case of Tom and Jan Blake, however, their home reflects the couple's easygoing and faith-filled, busy lifestyle.
Married for 17 years, the Blakes met on a blind date. Though both had experienced heartache (Jan was divorced, and Tom had lost his first wife to cancer), they quickly fell in love and were married a year after they met. Originally from Boston, Tom has been in Texas for almost 40 years and works in the banking world. Jan, a native Texan, grew up in Oak Cliff and is a special events coordinator for a nonprofit organization in Dallas.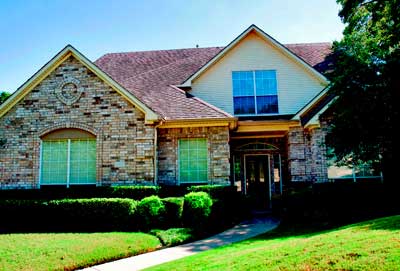 As you step into their Cedar Hill home, the first thing you will notice is the flooring that runs through the downstairs area. The paved concrete floor is stained a rich mahogany color and keeps the home cool during hot summers.
Inside the 3,500-square-foot home, which is set on one-third of an acre, an abundance of natural light brightens the entire downstairs. A painting of bright flowers, in shades of reds, pinks and whites, is framed above an antique console table, which actually matches the couple's dining room set and kitchen decor. Avid antique collectors, the Blakes' home is full of warm pieces.
Across the foyer entrance is the downstairs office. Larger than your average home office, the room has built- in shelves filled with books and photos of the Blakes and their family members. A carpet in the center of the room, its center oval design a blend of red and pink roses, provides a pop of color.
The Blakes' home is not one of angles and lines, but of curves and turns that invite you to explore and take it all in. In the living room, two mauve-colored chairs face a couch, the furniture adjacent to the family's fireplace. The fireplace — framed in green, white and black swirly marble tiles — features hidden panels where small knickknacks are stored.
"Extra storage spaces like this are all over the home," Tom said, "especially in the form of existing closets where, in most homes, only walls would be."
The Blake home was custom-built, and as a recommendation to others who are building their homes, Jan advised, "Don't just take pictures of the home as it goes up, follow the framers as they go about building spaces."
Jan proudly showed off her hidden closets and extra-sized storage areas, including an attic where rows of gently used gift bags hang in a rainbow of polka dots, stripes and solid colors. "If you ever get to build, do. And be there when they frame out. A lot of times, people don't ealize there's a lot of empty space where they put a wall up, and there's a bunch of wasted space where they could put a closet or something."
The Blakes love to entertain and are very active in the Dallas Northway campus of The Village Church. Each Tuesday, some members of their church gather at their home for fellowship. The couple's strong faith, reverence for family and hospitable spirit are truly reflected in their decor.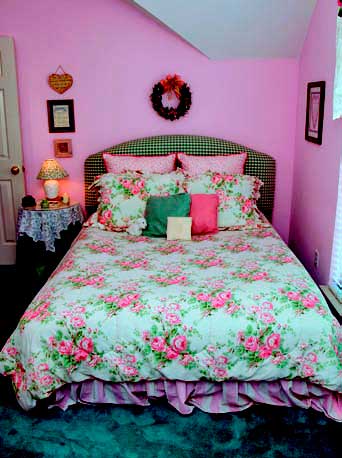 A large table stands in the living room, where a small statue of a tree rests on a trio of ornate and illustration-filled Bibles. Jan refers to this as her "tree of life." A soft gold vase resting on the mantel has the shape of a water jug, which women of biblical times used to gather water. Two wooden statues are also on display — one playing an instrument resembling a guitar and one of a mother and a small child hugging her long skirts. "My faith is reflected in all of this," she said of the symbolism.
The kitchen in the home is painted in cheery yellows, accented by decorative blue and yellow plates adorning the walls — some from local antique shops, while others arrived from faraway lands like Holland, Scotland and Germany. The Blakes and their daughter, Becky, a student in her last semester of law school, are avid travelers.
On the other side of the kitchen is the formal dining room. A chandelier hangs from the ceiling, its decorative, shiny crystals accented by a chain of faux pearls intertwined in its cord. A china cabinet, with a backlit array of beautiful silver and glass dish settings, sits against the wall.
The master suite is also on the ground level of the home. A beautiful, dark wood antique bed and armoire set are prominent and serve as the centerpiece of the room. The adjoining bath features a traditional garden tub and gleaming his- and-her sinks. One of the most striking pieces in the bathroom is an antique stained glass window above the tub. Shades of purple, red and white are the dominant colors of the window, though it is hard to agree upon exactly what the design is. "We don't know if it's a flower or what," Jan laughed.
Tom chimed in with his interpretation. "It looks like a beetle bug to me," he said with a smile.
Moving upstairs, visitors will find an expansive game room, with a pool table and book shelves (there are over 500 books in the house) lining the wall. One wall showcases dozens of the family's photographs and a scattering of picture frames throughout reflects happy faces and fun times. Also upstairs is the guest room, referred to as the "Rose Room" by Jan. The room is decorated in shades of green and soft pink and brings to mind a beautiful rose garden. Immediately noticeable is the padded headboard with its green and white stripes. A white wooden cross with a spray of colorful wild flowers painted on it hangs on the wall.
Entering Becky's room, her vibrant personality and zeal for life are evident. Her athleticism (signified by a football signed by Herschel Walker), her love for travel (represented by the large replica of the Eiffel Tower in one corner) and her dedication to her studies (indicated by numerous books) are all displayed. Directly outside her room hangs a plaque from the 2001 Inauguration she attended, which includes a ticket to the event and a large photo of the student leadership group she was with.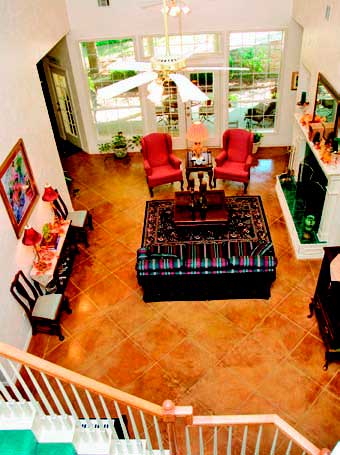 All in all, the Blakes love their home and probably will do just a little bit more to it before it is all said and done. Effortlessly blending a mix of contemporary and classic, they have carved out their own niche on their quiet cul-de-sac. "We truly recognize the blessings we have," Jan said, "in both our home and our lives."
Written by Katrina D. McNair