This summer, Jackie Pittman is following her cardiologist's orders and exercising in her beautiful backyard pool. "My grandkids and their granddaddy loved that pool," Jackie said. "I can still hear their voices say, 'Granddaddy, one more time,' and he would pitch 'em into the water!" Stan has not been with Jackie to enjoy that pool for the past five years, and she has grieved tremendously over the husband whom she ran away from home to marry four days before graduating from high school. Jackie has now completely renovated the 2,300-square-foot home that she and Stan shared for 32 years and has done a lot of growing in the process.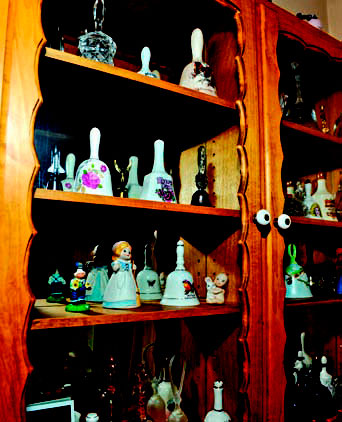 "I knew who Mrs. Stanley Pittman Senior was. But after he passed away, I had no idea who Jackie Pittman was. I was 57 years old when he died, and that's young," said Jackie, who had always been a wife, a mom and a grandmother. "My husband was bound and determined to prove to my parents that he could take care of me! I had never gotten the oil changed in the car; I had never bought insurance. The second year after he died was the year I bought my first car." It was also the year Jackie started making her home into what she proudly calls "a woman's froufrou house." At Easter, Jackie put yellow grass in the bathroom windowsill, and filled it with eggs. She makes her bed daily and sets on it a serving tray with a vase and flower. She has kept a few reminders of her husband but turned her home all feminine.
"My kids tease me about the bookcase in my sitting room. Everything on it was something really important to my husband. None of it is sad memories," Jackie said. "I knew that if I was going to stay in this house, I needed to make this My home, My place, My comfort spot, My security blanket." Jackie received a lot of help from her dear friend from San Antonio, Mary Solomon, whose husband had been Stan's colleague. "Mary was always redecorating her house, and when I decided to do some redecorating she said, 'Let's set a date. I'll come; we'll talk; we'll go look at fabric.'"
When you know exactly what you want, you do not waste time! "Mary sewed the table skirt that we put on the 59-year-old coffee table that myself and my children and my grandchildren learned to walk around. She put a pillow on top where I can put my feet up here if I want to," Jackie said. "She made the mosaic tile serving tray that's on top with a fondue set. It's wonderful to have a friend who loves to decorate!"
Mary sewed the window treatments throughout Jackie's home. On a window seat in the kitchen nook built originally by developers Don and Donna Volkman, Jackie has arranged at least 12 pillows. "Some were made by Mary; the white ones with Battenberg Lace were my mother's," Jackie said. "I'm free now to have as many pillows as I like! My husband didn't like pillows. I love pillows!"
The burgundy guest room gives that bed-and-breakfast feel. From the adjoining bathroom, lined with spring bouquet wallpaper, you gaze through greenish-gold lace onto the tall four-
poster bed, fluffy with a satin comforter. "The rocking chair was my mom's," Jackie said. "She rocked my children and her great-grandchildren in it. The buffet that's in there was my daddy's mother's."
Jackie sleeps on the cast-iron bed that belonged to her parents. "I'm very sentimental," Jackie admitted. "There isn't enough money in the whole wide world to buy my memories. I also love making memories. Every time we took a trip or did something really unusual, Stan would say, 'We're making memories!' How wonderful our life was because we filled it with memories!"
In the extended dining room where Jackie entertains friends and family, her grandchildren, Colton, Bethany and Jack Tanner, like to sit with the adults at the dining table. On one wall, Jackie displays her bell collection in a hand-made cabinet that Stan commissioned from a craftsman in Burleson. Around 2004, Jackie switched to collecting kitchen chefs and now has 72 "little cooking buddies" surrounding her while she cooks for the 13-member small group from her church that Jackie says brought laughter back into her life.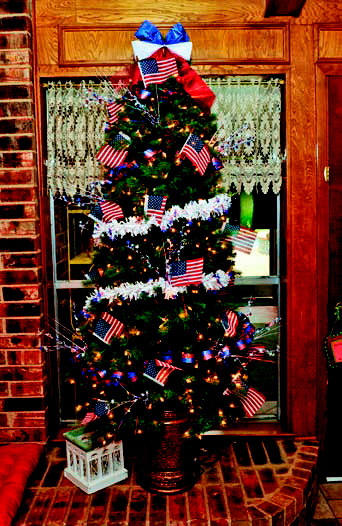 "After Stan died, I had really given up living. I got very involved in church at First United Methodist in Alvarado, where I have been for 18 years," said Jackie, who now co-chairs the bereavement dinner committee, serves on the congregational care committee and leads the new Stephens Ministry counseling program. "I definitely found out who Jackie Pittman is: Jackie Pittman is a caregiver. It's a different direction now from wife, mother and Grammie.
"The biggest thing in my life now is my Stephens Ministry. Not having one at our church, and being asked to start one showed me a side of me that I didn't know existed, the fact that someone saw leadership in me. It's been wonderful," Jackie said. "God leads you in directions where you have no idea you could walk down that road, but He leads you down that road."
Jackie also spends a lot of time putting together pictures of all her generations to adorn the walls of the hall on the way to her red, white and blue Mickey Mouse room. Her favorite ride at the family's much-loved vacation spot, Disney World, is memorialized by a music globe that plays "It's a Small World," just one of the many souvenirs Stan bought her. Jackie is still taking her time getting her Mickey Mouse room just the way she wants it.
Jackie has so many other areas to play with! In the den, she keeps current a holiday tree. For Independence Day, she puts garlands, strings of white lights, flags and any knickknack that is red, white and blue. "I also decorate it for St. Patrick's Day, Christmas, Thanksgiving and Easter," Jackie said. "I just always wanted to have one, so I decided a couple of years ago, Why not?" Most recently, Jackie hired two trustworthy men to retile her screened porch. From Jackie's lounging glider — or from one of the two rocking chairs that she and Stan bought from Cracker Barrel as a gift for his mom before she passed away — Jackie can sit and gaze at the pool. "It's a neat place to drink coffee in the morning and meditate," she said. "Now, I gotta get my happy butt in that pool!"
Written by Melissa Rawlins